January 14, 2013
We wanted to ask your prayers this month during our hectic schedule.  Ed left early this morning for Indonesia.  He will be consulting about Leader Movements with our East Indonesia ministry, then speaking several times at the area staff conference, which begins Tuesday.  He comes back the 20th, then leaves the 23rd till the 25th for Thailand.  There he will be introducing our new Area Team Leader, Cris Uy, to the Thai leadership.  
On Jan. 28 to Feb. 1, our Leadership Forum will take place here in Manila.  Eighty-five people, members of the leadership teams from each country of Southeast Asia, will be coming.  A major goal is figuring out how they can be more effective in building sustainable movements on campuses and in villages and cities, by multiplying groups and house churches.  We also desire to help their teams function more effectively.  Ed will assist in the program and meet especially with the Indonesian leaders during and outside the regular meetings.
I will be leading a prayer team of local intercessors (Lord willing; please pray that several can come) in praying for the conference, and also helping with the special ladies' meetings during the conference.  I hope to spend some time with the Indonesian staff ladies, especially the national team leaders' wives, while we are there.
So, it's a very busy month.  We rested for one day after getting back a week ago, but it's been nonstop since.  We spent the weekend in informal team meetings two hours outside Manila with Cris and his wife Marlyn, to have some time to get to know each other better before launching out into ministry.
I'm attaching our family pic from New Year's Eve in Kansas!  We had such a wonderful time there as family, though my brother could not make it from Wyoming.
Judy and Ed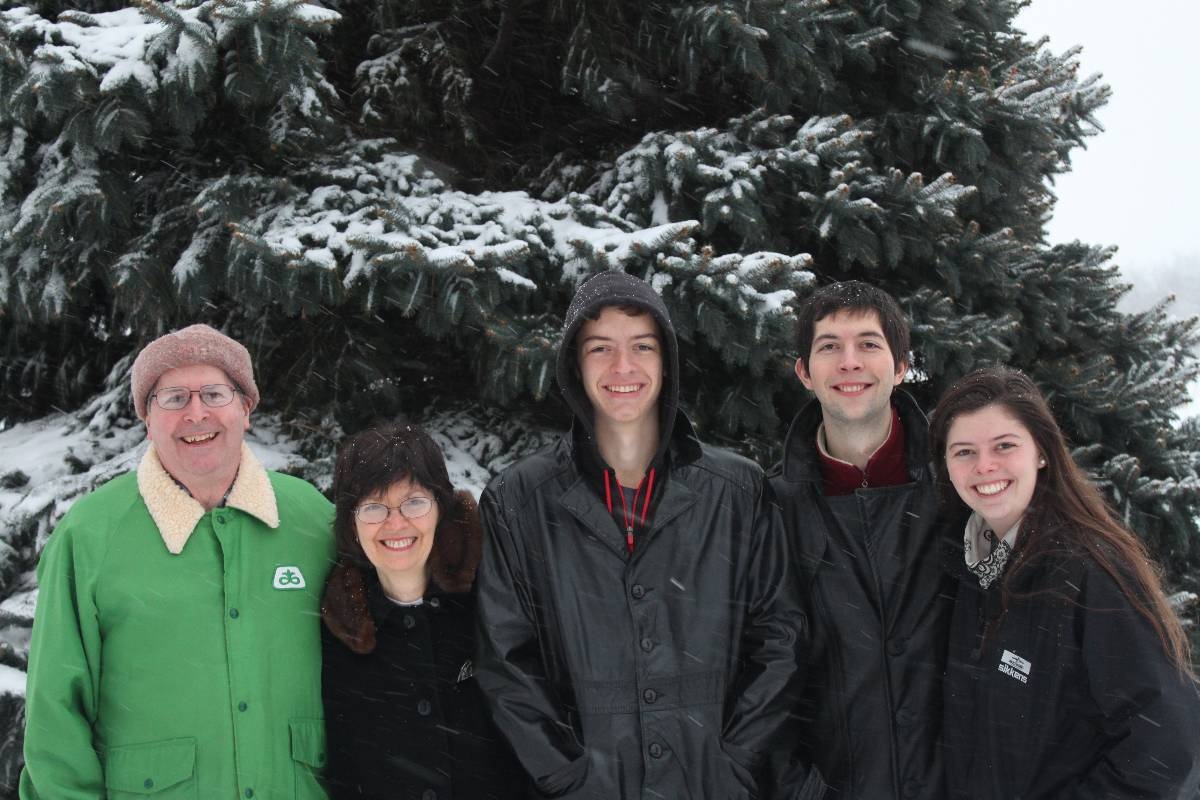 # # #
December 24, 2012
Dear teammates and friends,
What a wonderful privilege is ours to be able to celebrate this Christmas season here in the 'states' together with our children and Ed's mom. We arrived in Kansas on December 14 courtesy of Delta airlines and several hundred thousand accumulated Skymiles. Elisa came up from JBU and Stephen followed a couple days later when he got off work. They will both leave again on January 2 and we will leave for Manila January 4.
In the meantime those of us from the tropics have enjoyed a couple inches of snow and below zero temperatures for a few days now. We have shopped a little and are just hanging out together a lot and enjoying the blessing of being together! Ginny and Dan, Judy's sister and brother-in-love and her brother, Terry, will join us December 28-January 2.  So, we'll have more special family time together with them.
We send you our love  and appreciation this special CHRISTmas season. As we  re-ead the stories, I am reminded of how the main characters–Zechariah, Mary, Joseph, the shepherds and wisemen–were all struck with AWE at what God was doing. May we all have that same response as we consider again the coming of the Son of God, the Son of Man, our Immanuel, to provide salvation for lost mankind. Amazing story of amazing grace.
In HIS grace,
Ed & Judy (with Stephen, Elisa and Andrew) Neibling
785-442-3398
# # #
September 15, 2012 – Family update
September 2, 2012 – Greetings from Manila
Dear Friends,
Greetings from Manila.
We are grateful for several of you who inquired about us because of all the flooding a couple weeks ago, and then after the 7.7 earthquake yesterday. The flooding did not reach up to our house, and it was not as severe overall as the flood three years ago.  Actually the flooding this time took place while I was away in Indonesia, and it was mostly over except for cleanup when I returned. The quake yesterday was in the central part of the country, out to sea.  We were in a Bible Study and did not even feel anything here in Manila.  But cell phones began to receive text warnings and so there were a few anxious moments until details and location were clarified.  The tsunami fears were never realized as only a very small wave came in on the middle part of the country in a less populated area.
Elisa is back from Africa and is now two weeks into her second year at JBU. She is a dorm Resident Assistant this year, and has not had any down time all summer, but she seems to love it all. The Lord has led her to change her major once again, and she seems at peace and set to work toward a Physician's Assistant degree. She anticipates serving overseas some day with what will be a very practical and needed skill.  Some of you should be hearing from her soon.
Elder son Stephen got a job on his second interview.  He now works in the Student Union at the University of Arkansas in Fayetteville doing media and support services.  He likes it a lot since it is similar to his workstudy and summer jobs which he had the last few years at JBU. Since he lives in Siloam Springs, which is 30+ minutes away, he had to go out and buy his first (used) car the next day.  So he is gladly getting settled into a new phase of life.
Andrew is enjoying a lighter class load his senior year of high school here. He is playing soccer and his team is doing better than expected, with four wins and only one goal scored on them so far. He does most of the throw-ins, since he can throw it far over most defenders.  He already has two assists by throw-ins, and once threw it into the goal directly from the side.
My last two trips to Staff Conferences in Indonesia went well. The Lord seems to have blessed His Word through me as my messages were well received.  Judy enjoyed ministering with me in Southeast Indonesia on my earlier trip.
I will be in Thailand starting September 2-9 together with another staff from our office. We will have various meetings with our new TCCC Leadership Team there for the first few days, followed by a 3-day planning time with some other staff who lead a nation-wide church partnership effort. Pray for wisdom, discernment, unity and sensitivity to the Spirit's leading as we meet with these Thai leaders. Pray for fresh faith and vision to overcome many spiritual barriers in this country whose people are largely Buddhist and somewhat resistant to the gospel. The country is open to hear the good news, but the response to the gospel is low. Pray for the spiritual breakthroughs that are needed!
Thank you for praying for us!!  There are specific answers to what we asked you to pray for in the updates above. So please continue to bring us before the throne for this next trip. We are attaching a few photos of us in Indonesia–me speaking through a translator, Judy with the ladies, us with a special staff couple, and one for fun.  
Let us hear from you!  How can we pray for you?
In HIM,
Ed & Judy Neibling
July 14, 2012 – Family update
Dear praying partners,
Judy and I returned home (gratefully, a very uneventful trip) to a rainy Manila last night from our U.S. travels. It's always a joy to see who the Lord has placed us with to share His Word along the way!  Several individuals heard the gospel, while a couple of believers were encouraged.
The time in Orlando at the Global Leadership Conference went well. It was a blessing to see and interact again with leaders from around the globe.  I was pleased to see how well our SE Asia area was doing in terms of overall ministry development and direction compared to global goals;  some weaker areas needing our teams's attention were identified as well.
We also enjoyed time with Judy's family in Orlando, and several visits with Elisa, who was there at our HQ for her training to equip her to help lead the students going on the project to South Africa this summer. She left July 9 and will be there until August 9. She is shepherding a group of high school girls, while also leading and doing ministry outreaches.  Pray for a healthy, safe and spiritually fruitful summer for her.  Judy traveled to Akron, Ohio, where she and her brother and sister (and brother-in-law) attended the funeral of their uncle, and worked on closing out his affairs and disposing of the long-time family home he had left behind.
In Kansas, I got to visit almost daily with my mother, who is now living in a nursing home. It was sad to see this new reality of her life, but we were glad to see how well she has adjusted to it.  Stephen was able to get the week of July 4 off from work, so we really enjoyed having him join us for that time. He is working full-time at John Brown University through the summer, but things after that are not so clear yet.  Join us in praying for him and his long term job/work search there in NW Arkansas. On July 10 Andrew flew alone to Iowa to join a friend in detasseling corn near Waterloo for Pioneer Seed Company.  He will fly back to Manila solo on July 29.
Though Judy and I just arrived late last night, July 13, we won't be home long. Sunday morning, July 15, we leave for Indonesia, so we hope and pray for strength and a quick turn around from jetlag. We will spend a couple days in Jakarta with ministry leaders, and then go to the SE Indonesia staff conference in East Java July 19-23. Both of us will be leading several sessions, so please pray for our preparations for those. Pray for a spiritually enriching time for the staff there, for clarity of direction and action, renewed vision and faith to see spiritual multiplication and movements launched in dozens of new target areas.
Thank you for praying us through the last month; it was full of blessings, many safe travels, good times with family, along with some sorrows and sadness too, but those are few. We thank God for you often.  And we ask you to continue to lift these requests before our faithful Father's throne.  Please let us know how we may pray for you as well.
In HIM,
Ed & Judy Neibling
# # #
June 12, 2012 – Our month in the U.S.
Dear Friends,
We are celebrating Andrew's 17th birthday today, but also busy packing.  In just a few hours, at 3:30 am, Judy, Andrew and I will leave for the airport and begin the 27 hours it will take to get us to Orlando, FL.  A busy month in the U.S. will follow!
This trip had been planned quite a few months ago for me to attend meetings at our U.S. ministry headquarters. Later we added Andrew to the trip so that he might visit a few colleges in the U.S. for next year. Then, a few days ago we learned that Judy's last surviving uncle had died, so with the help of relatives, and scrambling with airline reps, she is also now flying on most of the same flights as I am. She will go to the delayed funeral in Akron, Ohio, and help her sister and brother as they take care of the old family house and other affairs.
In Orlando, I will start off with two days of meetings on funding needs in the SE Asia Area.  After the weekend, I will join a full week of meetings with CCC/Cru leaders from around the globe at the Global Leaders' Conference, which takes place every two years. A highlight for all of us will be getting to see Elisa, who just started a month of training in Orlando that will prepare her to help lead the MK2MK summer project of high school students to South Africa July 8-Aug. 8.
By June 26, Andrew and I will fly to Kansas to visit my mother, who is now confined in a nursing home. We look forward to visiting friends and other family for those two weeks.  When Judy joins us by July 1, we will visit new graduate Stephen, who is working full-time this summer at John Brown University.  He is hoping that his summer job will turn into long-term employment on campus in the "Technical Department."  We will be in the KS area until our departure back to Manila on July 12.  Andrew will follow a few weeks later after he works at de-tasseling corn for Pioneer in Waterloo, Iowa. That July 29 flight to Manila will be his first solo international travel.
So, a lot is happening, and lots of prayer is needed!!  Praise God for His enabling us to travel back for a short visit this summer.  Pray with us for:
> Wisdom for Judy and her sister and brother as they close out the house and the last affairs of their uncle in Akron.
> June 18-22 in our Global Leaders' Conference; for clarity in evaluation and planning; unity and oneness in purpose and direction in our meetings; sensitivity to the Spirit's leading in all decisions; fruitful "side meetings" over meals and breaks; fresh vision and faith for all of us in the conference.
> For Stephen to hear soon about his acceptance for a long-term job in technical support at JBU, which is his preference of several job openings he has found.
> Safety in all our travels, divine appointments to be His witness along the way, good health, quality times visiting family and calling friends, wisdom to plan these days, and maybe some rest!
We are blessed to have a team like you who prays for us and sends us into HIS fields. You enable us to be a part of God's handiwork and Kingdom!!!  THANK YOU!!
In HIM,
Ed & Judy Neibling
c/o 405 South Avenue
Highland, KS  66035
# # #
May 11, 2012 – Update from Judy
Dear friends,
It seems strange to be the one traveling.  But it has been great!  So special to be with Stephen and Elisa at John Brown University.  Stephen now has a Bachelor of Science degree in Digital Media Arts!  We enjoyed visiting with Ed's Mom and brother and family and friends in Kansas, too.  I was happy to see a bit of spring, with irises and peonies blooming, something I haven't seen in years.  And it has been fun to share the gospel with my seatmates on my flights…a Japanese, Filipina, Sri Lankan, Chinese, American and Malaysian so far!  And I had some needed and encouraging fellowship with a Korean brother as well!  What country is next?
I am now in the Singapore airport on my way to Jakarta after two days at home since I arrived from the U.S.  I will be part of meetings of the area Campus Crusade prayer coordinators from around the world, and leading the worship for the next three days.  I would greatly appreciate your prayers that I will do it under the guidance of the Holy Spirit.  Then I'll attend the World Prayer Assembly May 14-19.  Check out the website to see what it is all about.  I am sure the Lord has much for me to learn in both these meetings.  Next Tuesday Ed travels back to Thailand for orientation meetings for the new Leadership Team there. Thank you for praying for us!
I should get to my gate.  We appreciate you so much!  
Sending love from all of us,
Judy
# # #
April 27, 2012 – Missions update
Dear friends,
Greetings from Bangkok, Thailand. Let me share some brief updates.
I asked for special prayer a couple weeks back as Ed traveled to Indonesia and Malaysia.  Thank you for praying, and I'm pleased to report that God showed up in a special way in Indonesia.  The leader transition there worked out very well; we saw the Spirit move in individual's hearts and several issues were easily solved.  PTL.  We went on to Malaysia from Jakarta and had a very good relationship building time and learning/evaluation time with the Malaysian Leadership Team.  This past week we had some very good meetings of our own Area Team as well. Yes, really praise Him.
I and another person from our office, and a couple from Orlando, will be here in Thailand for the next week meeting with TCCC leaders and staff and planning for the transition of our long serving director to a younger man. Transitions are never easy, but this one is a particular challenge, so this is an URGENT CALL FOR SPECIAL PRAYER for us all this week.  We want HIS work to be done through our hands and effort, HIS will and HIS ways to be discerned on some unclear issues, and all of us to be clearly led by HIS Spirit in unity and love through the process.  We hope that the transition process will be implemented by the time of the TCCC staff conference in mid April.
Next week will be spring break for Andrew, and we will have some of his classmates from the dorm (whose parents serve in other countries) staying with us through that time.  I will only get back in time for the last weekend because of the time here.  Our two college students face lots of study and mid term exams before their break the following week. Pray for safety for Elisa as she travels with some friends to Arizona. Pray for Stephen as he recovers from a bout of sickness that put him behind in his studies, and that he can get catch up well on major senior projects even over break.
Pray for Judy as she thinks and prays and considers what a movement of prayer looks like;  also, how can we as CCC staff encourage that kind of vital spiritual activity that is foundational and essential to building spiritual movements everywhere?!
Judy and I are very conscious that we see His blessing and fruitfulness only because of saints like you who pray for us and lift us up before the throne of heaven.  THANK YOU so much for that labor of love on our behalf.
In HIM,
Ed & Judy  Neibling
# # #
April 6, 2012 – Good Friday greetings
March 27, 2012 – Family update
Dear Friends,
 Many of you have prayed for us as a family, and you know how God has been at work in Elisa in the last couple of years. She is taking another step of faith this summer, and we thought you would be interested to read about that. We'll let her explain in the attached letter. Thank you for praying for her!
 In Him,
Ed & Judy
January 27, 2012 – Missions update

# # #
November 23, 2011 – Prayer Requests
Dear Teammates,
While many are preparing for Thanksgiving holidays, as usual we have been enjoying Christmas music since September 1. Most homes and buildings and public places have had their Christmas lights and decorations up for several weeks already. It is still raining most days, but the temperature has cooled off, and morning walks at 76* are much more comfortable. Aahh!
Thank you for praying for my trip to Indonesia. Our time there went well as we completed a long-planned transition from a very senior national leader to a younger leader in the Central Indonesia region. There were also some visits with 9 believing Members of Parliament and some other influential individuals during the time there. A surprise issue came up, but it will take a while to work on and resolve.  I cannot give details, but pray for God's Spirit to heal a couple of broken relationships among some prominent leaders and friends of our ministry there; pray for our local ministry to do a better job of reporting and involving leaders in the ministry.
Last weekend our director and our pastor spent two days at a marriage enrichment retreat organized by the Philippine Air Force Chief for 19 of his military couples–all generals and full colonels. Several of these influential men and their wives trusted Christ during the weekend. Pray for effective follow-up of these strategic leaders; for their spiritual growth personally, their families and that they may pass on what they learned to the men and women they lead.
This past week we had 2-3 campus ministry leaders from each country in SE Asia here in Manila with us for a time of reporting, evaluation, refreshing and direction-setting for the next year.  There has been significant growth in new campus ministries–from 293 to 637 in the last year!–being opened up and led by students themselves in almost all of our Southeast Asia countries.
Tomorrow our whole Area leadership team will go to Thailand for several days with our Thai leaders. We will spend a couple of days with the staff there who have been struggling through the severe floods in many parts of the country, especially Bangkok.  About 20 have been directly affected by high waters in their homes and/or offices. We will be making plans for the transition of national leadership in this country as well. This could be more challenging than other places, so please pray for the hearts and staff responses to the plans and for the processes and planning to go smoothly November 23-26.
From Bangkok, 4 of us will go on to the western part of Turkey (the country, not the bird or holiday–which we will miss!) November 27-December 7 for 3 different, but simultaneous, meetings with fellow Area leaders from around the world.  I will join a special track designed for those who serve as Chiefs of Staff or Assistants to Area Team Leaders. Hopefully there will be a lot of learning going on from others and one another. At the end there will be a short time for visiting some ancient cities where the Apostle Paul ministered and that the Apostle John mentions in Revelation 2-3; I really look forward to that!  Pray for this time to help grow us/me into more effectiveness in our ministry-leading roles.
On December 12-14 the new leader and his team members from Indonesia will be here in Manila with our team for a time of orientation and training.  Pray that this will be effective in growing them into a strong team, ministering to their hearts, reviewing core values, and enabling them to lead their staff from ministry activities into building spiritual movements in many places.
Pray for safety in travels, and for Judy and Andrew in my absence. Andrew is now into rugby season, and loves it, but it is quite rugged, so pray for him.  Stephen is working to finish big senior projects; Elisa continues to adjust to the U.S. and to college.  They would both appreciate your prayers as they finish the semester. We are eager to see them again during their Christmas break–thanks to frequent flier airline mileage, they can both come for about $50. Please pray too for about $8,000 in additional support which we trust comes in during this end of the year 2011. For new partner information, go to the secure website:  www.give.ccci.org/give/0035810.
To our North American friends, we trust you will have a blessed Thanksgiving celebration!  We are very thankful for each person who supports us through prayers and giving!  Praise Him for His mighty works!
In Him,
Ed for all the Neiblings

# # #
September, 2011 – This isn't Kansas anymore!
Dear praying partners,
I am going to paraphrase Dorothy's famous line from the Wizard of Oz: "Toto, (team) I don't think this is Kansas anymore." After an enjoyable summer furlough, I returned from Kansas to Manilaon September 14, and these are some of my observations that made me feel a little like Dorothy.
- Christmas music that starts playing on the radio and in the malls on September 1. I like this!
- Back to rains nearly every day, and two typhoons in one week making near misses of Manila. But the floods in Central Luzon were worse than two years ago when the big typhoon Ondoy hit us.
- Heavy, swerving traffic in which it takes as long to go 5-6 miles here as it would 30 in Kansas. An errant motorcycle swerved into the side of our car during a rainstorm a few weeks ago. We didn't stop, but he left a nice long scrape on the car.
- Our church services with 3,000 clapping, singing, praising people, who eagerly listen to hour-long Bible teaching. And that is just one of 5 Sunday services. Another daughter church started meetings two weeks ago in another part of metro-Manila. The second Sunday they had 1,000 attend, and the rented hall is full already!
- Hanging out this afternoon with Aussie and Kiwi friends at Faith Academy as we watched their Rugby World Cup semi-final match on a big screen. The All Blacks won handily due to Wallaby penalties. Of course, knowing only U.S. football, I had to keep asking our school's Australian coach what this and that whistle or penalty was for.
- Two weeks ago several of us got to the airport in the middle of driving wind and rain, wondering if flights would be cancelled. Nope, planes were landing and taking off just fine. But our flights on Philippine Airlines to Bangkok were cancelled–due to a sudden labor union strike. Not to be outdone, we transferred to another terminal and were able to reserve and buy new seats on Thai Airlines instead, and the trip went ahead anyway.
Yes, I guess I am back home. Back to lots of emails and meetings and ministry updates and
decisions and travel. Back to a neighborhood Bible Study where I could share the gospel with 6 of the staff from the office of Ben, our Bible study host. I could show the Bible study members a creative way to share the gospel using a personal testimony, and Christine trusted Christ and gained assurance of eternal life that night. Last weekend, Judy and Andrew bought food supplies and packaged up enough for distribution to 50 families in a hard-hit area of flooding north of Manila. (See photo below.) The river these people live along had flooded their homes chest-high. Tomorrow I leave for a week in Indonesia (Oct. 17-23) along with three other staff. While there, I will have personal meetings with our four national staff leaders and evaluate ministry progress; we will install a new director for the Jakarta and Central Java region; and there will be a lunch meeting with 8-10 members of the Indonesian Parliament. Hopefully some follow-up meetings with
individuals will come out of the time. Some have asked how the summer fund-raising went. Basically, it was much slower than previous years, as many people are concerned about the economy and the future. Still, we saw God's faithful provision of about two-thirds of the goal reached. I left the U.S. with about $8,000 still needed to come in by the end of this year. By faith, we expect to see God's provision of this remaining amount by December.
Please pray:
- For safety in all our travels, and good health.
- Wisdom for all the conversations, meetings, and times with our staff leaders.
- Smooth transfer of responsibilities from our long-serving director in this region to a younger leader.
- Protection for Judy and Andrew while I'm away. Andrew flies to Taiwan next Monday for a regional soccer tournament with other Christian schools. He returns on the 31st.
- For Stephen's senior projects in Digital Media, which take a lot of time and determine a lot of grades this year.
- For Elisa as she continues to adjust to life in the U.S., as well as to college. She is doing well, we think, but we do covet your prayers for all three of our kids.
- God's provision of the remaining funds needed by December of this year.
Thank you so much! Your intercession makes happen all we are privileged to see and do.
In HIM,
Ed & Judy Neibling
Campus Crusade for Christ
Southeast Asia Area
August, 2011 – It's Good to be Back Home!
Dear friends,
Wow, it's good to be back in the Philippines! As we arrived this morning I found myself noticing the contrasts with the U.S…like the steamy heat that hit us when we came out of the airport. Everything is damp because of the typhoons that have been passing through. It was baking in the U.S., but it's hard to top the humidity here.
I found myself taking in my breath quickly at a close call as we sped through the traffic in the taxi on the way home. "Well, I haven't done that in a while," I thought. We arrived at our house about 5:30 a.m. Soon the garbage truck was ringing its bell to notify the neighborhood that it was coming through. The church around the corner rang their loud bell at 6. Neighbors cooked some not-so-fragrant-to-me dried fish for breakfast.
I needed to come to Andrew's school to pay the bill for this year. Since each day different numbers of license plates must be off the road during busy traffic hours, I had to ask myself, "OK, what day is this? Can I drive?" Andrew gamely set out for school this morning after our 37-hour trip (door to door). Thankfully we slept quite a bit along the way. Miraculously, our flight from L.A., which was supposed to stop over in Honolulu, was changed while we waited, to a non-stop flight to Manila! So we got in at 4:30 instead of 6:10. That gave us time to come home, and for Andrew to shower before the school van came. (I hadn't meant to have such close timing to the start of school, but I had looked at the itinerary wrong when I purchased the ticket.)
Say a prayer for Joyce, the lovely Jewish lady I sat by on the way to L.A. We talked almost the whole time, some of it about the Lord. Of course, we had many values in common. She said she had always wanted to meet a missionary and find out about their life! She felt very sure that she would never change her beliefs. On the way to Manila, I sat by Jun, a seaman returning home after 10 months away. He had been attending Bible studies on his ship. He listened carefully to a booklet explaining the gospel and then re-read it himself. Pray for him to take the step of putting his trust in Christ, as he seems to be on the verge of doing so. Thank You, Lord, for these divine appointments.
Well, here we are, waiting for Ed to return in three weeks. He will take Elisa to John Brown University by Aug. 11 for soccer work-outs with the team, in preparation for try-outs. International student orientation starts Aug. 17, and then school begins for her and Stephen on Aug. 24. It's hard to have her and Stephen both away now, but we are glad for them to spread their wings.
We appreciate your prayers for the rest of Ed's time in the U.S. We are trusting the Lord with the rest of the needed support. Ed will decide soon if he should stay longer to work on it, or if he can come back as scheduled Aug. 24.
It was a whirlwind two months for Andrew and me. Andrew got to "de-tassel" corn for two weeks with a friend in Iowa—his first real job. I feel challenged, refreshed and blessed by times with the Lord…in devotions on Mom Neibling's back porch, looking out at the cornfields and listening to the birds…in staff conference…in meetings with our wonderful family and friends. It went quickly, but it WAS sweet.
I missed getting to visit with many friends, but hope to be in touch still through various means. We appreciate your part in our lives and ministry! We love you and look forward to hearing from you also. May the Lord help us to walk in a manner worthy of Him.
Love, Judy
# # #
May 25, 2011 -Missions Update
Thank you for praying for our heavy schedule of conferences, meetings and travel May 1-18. Here is a brief update.
The time in Malaysia went very well with our National leaders and their wives. The Lord encouraged all of them/us through the extended times of devotional messages and personal reflection. We threw out our pre-planned schedule as we listened to them and were sensitive to the Lord's leading about what was needed. Several men shared in tears of their struggles and difficulties they faced in the lonely role of leadership.  But also that they were leaving with refreshed hearts and renewed vision for the giant tasks of sharing the gospel and building spiritual movements in their countries. A highlight for me was to see a new leader being installed for the Jakarta and Central Java region of Indonesia.  That event capped off a multiple year succession plan to bring in younger leaders, while preserving the influence of Nus, a gifted senior leader of our ministry in this great country.
Just a day later on my trip to Thailand, it was exciting to see 4,000 Thai pastors and leaders gathered in Bangkok to spend a week being inspired and challenged to continue mobilizing their churches and congregations to reach out to their countrymen.  Actually there seems to be a lot of unbelief among church members to be overcome that large numbers of Thais can come to Christ.  Nevertheless, this national church-planting congress set a goal to see the number of believers in their country grow from 400,000 to 1 million by the year 2015. The longer term goal is a new church in every village of the country.
The following weekend we went out of Manila for two days to a family retreat of our Area office staff.  After the families returned home, our Area Leadership Team met with two of our CCC Vice Presidents for three days. There was a lot sharing back and forth.  This was a good for learning from one another time for both teams, as well as time to confirm certain values, clarify direction, and figure out how to be more effective in assisting in the task of empowering national leaders, who will be take these things down to the local level in every country.  We also looked at longer term leader transition plans of our team and of several other countries.
Last Friday night was a sleepover birthday party for Elisa with 9 of her best girl friends. About 12:30 she simply rolled over in bed, and dis-located her shoulder! So we spent most of the night until 4am at a hospital. The next night was the Jr/Sr banquet, for which she decided to disobey the doctor and not wear the sling over her gown. I hear it was a lot of fun, and uneventful thankfully. Yesterday we celebrated her actual 19th birthday. Where has the time gone?
Friday through Tuesday is supposed to be her class's Senior trip.  However a large storm out in the Pacific is changing direction and coming more toward the mid-part of the country and Manila about the same time. If that doesn't move away, it would effectively cancel their planned trip, which involves several island-hopping trips in smaller boats. It is already bringing heavy rains off and on each day as the storm gets nearer.  Pray for wisdom about that trip and activities, safety and a great closing event for their class.
June 1 will be their Baccalaureate service, June 2 is a senior student-parent tea (which Judy is helping to plan–pray it will come together and go well).  June 3 is graduation, followed by an all-night party–the final farewell of a great class of students.  This is especially poignant and emotional since their classmates (as is typical of international schools) will then scatter and fly off all over the globe. So we would ask for prayer for Elisa as she says her goodbyes and finishes well this chapter of her life the next two weeks.  Pray for Andrew too to finish well in his finals by June 2.
A few days later, on June 7, our family will fly off for a short summer furlough in "the States." Please pray for Judy and me and all our preparations and many details/things to do on both sides of the ocean until August.  Pray we can relax in HIM, and enjoy it all even in the midst of the busy-ness. Of course, pray for safety in our travels and adjustments back there.
We'll send more summer details later.  THANK YOU for praying us through the past three weeks–you have enabled us to see Him bless.  Please continue this ministry of prayer covering for us!!  We are weak, but HE is strong.
In HIM,
Ed & Judy Neibling
# # #
January, 2011 – Missions  Update
As I write, Ed should be in the air on his way to Jakarta. Starting tonight, for the next 4 days, he will be attending the Indonesian staff conference, the first all-Indonesia staff conference that they have had in 6 years. It will be an exciting time for them all to be together. Steve Douglass, Campus Crusade international president, and his wife Judy, will be there, along with our director, Tom Roxas and his wife Cynthia, and others from our office. Ed is looking forward to meeting with all four regional Indonesian directors for two days of strategy meetings after the conference is over. As always, we appreciate your prayers for safety in travel, health and strength, and most of all, for the Lord to work powerfully in their midst.
We appreciate your prayers for us at home, too, for a good semester for Elisa, now in the last few months of her senior year, and for Andrew, who is winding up his rugby season in the next few weeks. I also need prayer for wisdom in my new role as prayer coordinator. Our prayer and fasting time with the office team January 10-14 seemed to be a very special time for all, so I am thankful for that.
Please pray for God's work in Stephen's life, too. After a wonderful, warm visit here over the Christmas holidays, he is finishing up his junior year at John Brown University.
How can we pray for you?
Much love,
Judy for Ed, Stephen, Elisa and Andrew too
May -Ed and I are here with some of the men and women we are privileged to work with … the four regional directors of Indonesia and their wives. In 2010, Ed visited Indonesia several times to teach, encourage and plan with these men and their staff teams. He just returned from the first all-Indonesia staff conference in six years, attended by 370 staff members. It was a spiritually rich time.
June – July-Ed and Andrew, and Andrew and I made quick trips to see Stephen at John Brown University in Siloam Springs, Arkansas, where he had a summer job in the media lab. He also works there during the school year and was able to solve a lot of our technological questions while here for Christmas. But expertise aside, it was great having him here.
Elisa's life-changing trip to Ethiopia with MK2MK took her to a squatter village near the college campus her team visited. She had dreamed of going to Africa to help people there. How wonderful it is that this dream was fulfilled, and that she discovered the joy of seeing people put their faith in Christ. 
July – August-Back in the Philippines, I certainly learned a lot teaching a New Testament Survey course to these Filipino and Indian ladies. It was part of their diploma as "Partners in Ministry" at our International Graduate School of Leadership here in Manila.
November-Elisa played two seasons of soccer and one of basketball in 2010, but it was also very special to see her on the stage.
Elisa played the role of Rahab's sister in a performance of the heart-wrenching evangelistic play, "Lifeline," by Kevin Stone . The play portrays the harlot Rahab's journey to faith (Joshua 2, 6, Matthew 1:5).
November – January- Playing another international school with his JV rugby team, Andrew, thankfully, made it through the season with mostly minor scrapes. I was tickled to hear him comparing notes on injuries with teammates, then their agreement, "I love this game!"
We can't thank you enough for your partnership through prayer and giving. God bless you! We pray your 2011 is off to a great start. May we love Him more by this time next year! Please continue to pray for Ed as Southeast Asia Chief of Staff and Coordinator for Indonesia and for me as Prayer Coordinator. And let us know how to pray for you.
Warmly in Him,
Judy & Ed