December 26, 2012
We hope you all had a blessed Christmas celebration and pray that your New Year would be blessed.  Stan and Jane.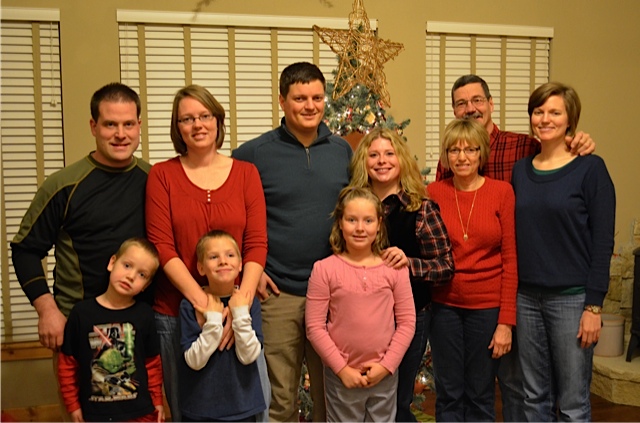 This is our family as of two days ago! Troy and Adriane and their three children, Tyce 5, Ezra 6, and Alexa 8. They still live in Olathe, KS, Troy working sales in a carpet store and Adriane in human resources with CLO still. They have a good church close to home. We love opportunities to have the kids for weekends.  Next are Mark and Dawn. They are still in Cincinnati. Mark just passed his test to be a licensed electrical engineer. Dawn, currently interviewing for residency opportunities is also in the middle of Masters of Public Health program. Both are busy!  Jane and I keep the home fire burning, I continue to mobilize with Perspectives and Jane is still with the Lyons Co Health Dept as a dietitian. Lisa made the big change, She moved from Fayetteville to Pasadena, still with USCWM, but left the Perspectives program to pursue a MBA and work at the program level of the USCWM. So possibly she is still something of my boss!
I had two absolute highlights this year! In September, Karel Rigters, the Dutch agriculturist I worked under in Ghana 1970-73 visited the US. Between 1968 and 1978 eleven Mennonite volunteers worked in Ghana. We had a reunion at our house and eight of the eleven showed up. Talk of a joy-filled weekend as we hugged, told storied, laughed, cried together. What an experience!!  See picture below.
Then in October I drove Lisa's moving van from Fayetteville AR to Pasadena CA. Traveling there I was able to stop in Las Vegas for two nights, staying with Sisay, a dear Ethiopian brother in Christ. By God's grace, my meeting him in the middle of Sudan in 2009 led to a partnering relationship between the Ethiopian Kale Heywet Church and Grace Baptist Church! My arrival in Vegas was only one week after Sisay's arrival in the US from Ethiopia. It was so good to have those two days of fellowship with Sisay and his wife, Addis. By God's grace Sisay and Addis will be in Manhattan in late February 2013 for the Grace Baptist Missions Banquet!
Another year is sliding past. Thank you for the many cards and greetings we have received here at Christmas. For me it remains such a joy to stay in the 'Mobilizing' role. Go to www.perspectives.org  to check out a class, starting in January, near you. Twenty-five classes are soon to start in my North Central Region.  Time is dwindling, but if you are looking for that good end of year investment/partnering in the Gospel (there is kingdom return on this investment), as much as I love and appreciate my current partners and supporters, I would welcome your joining the team. For that you can go to  http://www.uscwm.org/index.php/donate/donate_amount?ma_number=390 to join my support team with your year-end gift or to start new in 2013!
Again, blessing in the New Year!
Stan Freyenberger
In order of arrival in Ghana '68 Larry Borntrager IN, '68 Dalla Meyers AZ, '63-'74 Karel Rigter from Holland, '70 me,
'71 Rick Hostetler IN, ;72 Randy Stucky OH, '72 Rol Leichty IN, '73 Paul Chrisophel KS, and '74 Curtis Yoder IA.
(Not present, '70 John Gascho TX, '75 Leonard Bergey NC, and '76 Peter Rupp OH (deceased)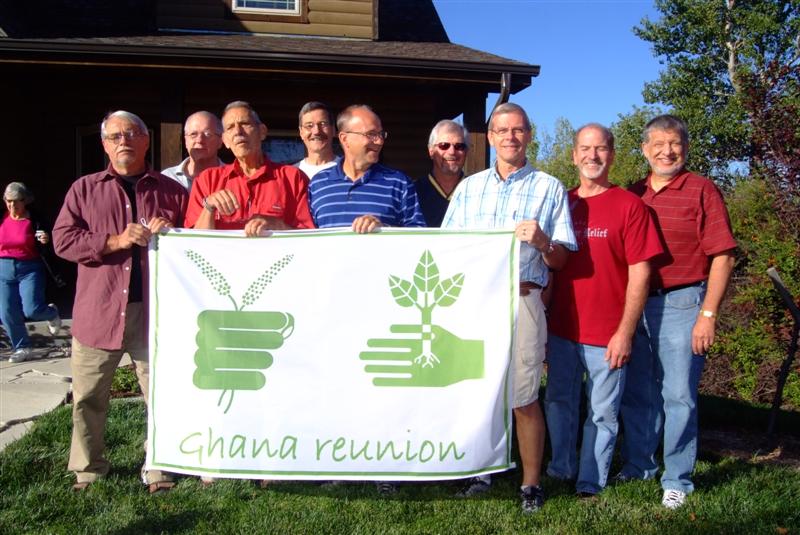 # # #
December 20, 2012
April 5, 2012 – Update
Dear friends, At the last Missions Leadership Team meeting, at church Jerry opened with an Isaiah 53 reading. "He was pierced through for our transgressions, He was crushed for our iniquities; The chastening of our well-being fell upon him, And by His scourging we are healed." It is amazing, 700 BC our God in heaven spoke through Isaiah what was coming. Now, 2700 years later, we are at Easter weekend and these verses continue to ring true. Some more amazing words come a couple verses later: "But the Lord was pleased to crush Him, putting Him to grief; If He could render Himself as a guilt offering, He will see His offspring, He will prolong His days, And the good pleasure of the LORD will prosper in His hand."
It was not a mistake, it was in His plan. This is a special weekend, we are remembering God's plan: Jesus redeeming all peoples back to himself. The blood of sheep and goats would not do it. May this be a weekend of huge encouragement for you.  May the joy of Christ be with you today.
Perspectives Spring 2012 started a bit hesitantly with initial low registrations, but once established we are only slightly below last year this time. There are a couple of classes struggling with small numbers. But on the other side, as in previous years students are now coming out of the woodwork, amazed how God is working on their hearts through this class. Pray for class coordinators and students, that coordinators would remain strong to the end and students would find a life of purpose.
Today I had three inquires asking about coordinating a Perspectives class next year.  I am beginning to gear up for my 'new coordinator' trainings that will be held in KC, Minneapolis, and Ames over three June weekends.  Pray for my preparations for that time. I also anticipate being in W KS and in SE IA later this month to follow up with classes. Lift up Jane in prayer as I am out of home and the interactions I have as we anticipate what God will do in future classes.
Just yesterday I was reflecting how Perspectives has changes our church's missions focus. We loved, and continue to love, our regular long-term missionaries. But in the last 10 years, with Perspectives exposure, we just began a partnering agreement with a church in Ethiopia, plus we are investing in quite a number of college students as they are seeking to know what their role will be in His mission of redeeming all peoples to Himself.
Family cycles continue, Mark's birthday was this week. We thank God for him, his wife, Dawn, and our entire extended family. We look forward to a weekend in Olathe with Adriane and Troy, Alexa, Ezra, and Tyce. They grow so quickly. Next weekend Jane, Adriane, and Alexa get to have a weekend with Lisa in Arkansas. God created the family 'tribe' as a medium for his message to move. Jane and I are grateful for our parents and siblings. Until He comes there is always a next generation to carry the message of his love. But simply reproducing in my/your family and tribe is not enough. There are other tribes where cultures have to be crossed. How are we involved in discipling those who have no one in their tribe to share the Good News? Are you a goer, sender, intercessor, mobilizer, or welcome?
Wishing you and yours a blessed Easter weekend,
# # #
December 24, 2011 – Merry Christmas from the Freyenbergers
Dear Family and Friends,                                                                                                              Blessings as we all join in worshiping the King during this special Christmas season.
This morning we went up the hill on the ranch across the street for this photo.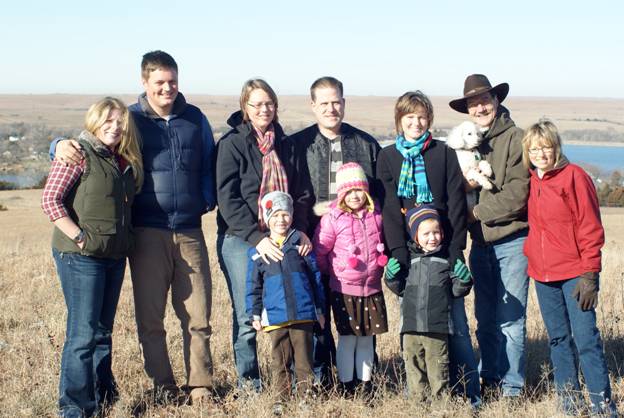 Dawn and Mark                Adriane and Troy              Lisa         Poppy, Stan and Jane
                                                                                Ezra, Alexa, Tyce
The year went too fast. God has provided bountifully for our wants and needs.  I continue with the US Center for World Mission and the Perspectives Study Program.  Jane now has been one year working in the Lyons Co Health Department in the WIC program.  Troy and Adriane, along with Alexa, Ezra and Tyce continue to live in Olathe and work in KC, Troy with a great carpet company and Adriane now heading Human Resources in CLO.  Lisa continues in the Perspectives national office in Fayetteville, AR,   Mark and Dawn continue living in the Cincinnati OH area, Mark is now with a local electrical engineering company. Dawn is in her third year of surgery residency.
Jane and I also thank God for a much wider circle of family and friends. You have blessed us.   May you sense the leading of Jesus in your lives in 2012.  Have a blessed Christmas celebration
Stan (and Jane) Freyenberger
308 E Flint Hills Drive
Alma, KS 66401
S -785-341-4275 J- 785-341-6941
September 16, 2011 – Perspectives Update
Greetings dear Friends,
The last month I have been glued to my computer. Sept 15 (yesterday) was the first deadline for coordinators who desire to run Spring 2012 classes.  You may remember my June training of potential new coordinators? These and some veteran coordinators have hoops to jump through annually. Each year they have to come up with:
1) A coordinating team – who they will work with to put on the class.
2) Prayer plan – people who will pray during this preparation time for the planning, during the class for instructors and students, and after the class for lives impacted!
3) Recruiting and Promotion Plan – how they recruit and promote for the class.
4) Course Plan – for the 15 weeks of class, what is the general outline each night.
5) Syllabus – college credit is possible and a Perspectives certificate is possible, what are the expectations/requirements?
6) Budget – each class has to pay for itself, how many students will come, what to charge to manage the class and per student expenses.
7) Coversheet – basic web setup info that all is done
So multiply these seven documents by the planned 32 classes in my region and I had to go through 224 documents, many of them with multiple exchanges as I commented back and revised versions came to me for approval.  I am smiling today, nine classes, with only 19 documents are outstandingJ. I have the best group of coordinators to work with!!
Now the next push: I want them all to have their web sites up by Oct 15 at the latest so online registration can begin for Spring 2012, which begins in January. Pray for these 32 classes (search them out at www.perspectives.org after Oct 15) that God would use them to show His glory! Alongside planning for Spring 2012, I have two Fall 2011 classes in Minneapolis, with about 75 enrolled. This is good.
Pray for Jane and me this month, she will be working and home while I am out. Beginning tomorrow, through church we have an Ethiopian visitor that will tie me up four days. Then I am off to Minneapolis for a Desiring God Conference, home a day, then to Phoenix for the North American Leaders Conference. Then thirteen more days out in October!
The home front is good, though some things are not getting done with all my travel. I would love to get a little 10'x14' storage shed built and steps from our upper deck to the ground before winter. Since mid August, Jane and I were in Ohio to see Mark and Dawn, then I was to Fayetteville to help Lisa settle into her new apartment, and over Labor Day weekend we got Troy and Adriane's kids while they want to a meeting. All was a joy!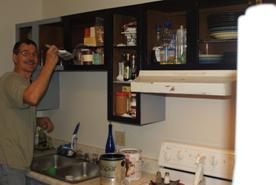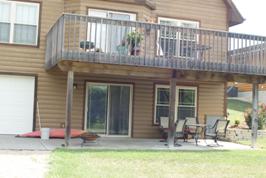 Painting for Lisa in her new kitchen!                    Steps down needed.
# # #
July, 2011 – Update on the Perspectives class in the Midwest.  To God be the glory!
Greetings dear Friends,
Wow, three months since my last note, time flies!
The Spring 2011 PSP classes are ended and closed out (nearly). I would say it was a good year in terms of lives interrupted and impacted! This year our numbers are up from about 1,000 in Spring 2010 to 1,400 in Spring 2011. This was anticipated in that last year there were nineteen classes, this year thirty!  Iowa is presently a hotbed for classes and students. I thank God that the Every Ethnic group has been strong there and they have facilitated much of the growth. The strong university associated classes in at Iowa State, University of IA and University of Northern IA have all churned out graduates who have gone home and classes are erupting all over. Thirteen of my thirty classes were in IA. The strength of the K-State class has also resulted in more systematic growth in Kansas: Topeka, Manhattan, Salina, Hays, Great Bend and Dodge City. I would like to see more random erupting! It makes me wonder, what about the University of Nebraska-Lincoln, or University of Kansas, or University of Missouri-Columbia, or South Dakota State or North Dakota State, or University of Minnesota or Wisconsin. Such potential. I think the University of Minnesota may be the next to take off. Columbia MO is also a step ahead of others. Numbers are not everything by any means, but for a sustained class in a community you almost need the university setting where new students continue to come in. Then, as in IA, we will see those students go home and start classes in their home communities.
I had a good round of coordinator trainings in Kansas City MO, Minneapolis, MN, and Ames, IA over three June weekends. Forty-nine went through training, which is great. Pray for the coordinators, new and old who will be submitting class plans, that they would lead by God's leading and not in their own strength. Spring closeout is nearly done, as well as the coordinator training workshops. There are two fall classes to follow in Minnesota, but major focus in terms of work will be helping the Spring 2012 classes get on the ground for their recruiting and promoting as soon as possible.
The Fall 2011 school semester will soon be on us. I hope to pursue some of the school contacts mentioned above in the months to come. In Sept I anticipate being in MN again and then in Oct to Oklahoma for meetings.
End of June took Jane and me to Southern California for a US Center for World Mission retreat. There were probably two hundred people there. The 'under 40' crowd has increased significantly in the last year. It is exciting to see the mobilizing passion that the USCWM focuses on grow as it is.  After the retreat Jane and I took a couple extra days in San Diego. We learned to get about on bus and rail. It worked nicely and was a relaxing extra two days.
We got home after our kids, who came to our house for the 4th weekend. It was fun towatch the Lake fireworks and swimming. The grandkids threatened to stay here all summer.
The Ethiopian partnership initiative inches forward. We had a significant visit form the General Director of the Ethiopian Kale Heywot Church in May for giving more church ownership. Looking forward, we anticipate two more visits this fall and then a return trip to Ethiopia in January. I will do the organizing, but this time it is doubtful that I will go. I am beginning to anticipate my phasing out of the Grace Baptist missions program as Jane and I desire to reduce our Manhattan trips (90 mile minimum round trip) to my 6:30 Tuesday morning men's prayer times. That group has been a strong support group for me.
Our desires is to grow our lakeside relationships more. We have one couple that we are getting close to and would like to grow other relationships. I would like to challenge our 'retirement' mentality; that our work is finished and it is time to play.
John 17:4 is continually before me: Jesus said "I have glorified you on earth, having finished the work which you gave me to do."  Jesus could say that to his father and our God. Will you/I be able to say that when we stand before our Father and God? For me, that means daily being prepared to say that line. It is not a heavy burden; it is a joy to have such opportunity to show gratitude in our work daily for the work that He has done!
I was blessed last week, I went to IA to do some training, but also had opportunity to see my 94 year old uncle who, with cancer, is near the end. He was faithful. Because of God's mercy he will be able to say "I have glorified you on earth, having finished the work you gave me to do." Thank you, Uncle Glen, for your faithful example of walking with the Lord.
And with thanksgiving to the Lord for all of you,
Stan
# # #
March 19, 2011 from Perspectives
Greetings To Our Friends,
Note: Moving to Lake Wabaunsee we had terrible cell phone reception so we got a land line and shared it will all of you. Well, Sprint then gave us an AiraveJ — like a mini-cell tower in our own house, we have 5 bars again! So we got rid of our land line and are back to our old cell phone numbers: Stan 785-341-4275, Jane 785-341-6941.
This letter is nearly a month overdue: I returned with Bob and Jerry from Ethiopia on 15 February, then a quick trip to CO for my sister's birthday, then home, with catch up and preparation for the actual teaching of a Perspectives class, #9, The Task Remaining (first time). I presented in Springfield and Joplin MO last Monday and Tuesday, will spend time in St Louis this next week and then present in Cape Girardeau MO on Thursday night.
Our prayers go out to Japan as they face some difficult times ahead (and Libya with its braking news!). When Voice of the Martyrs says a church in Egypt is burned I would shake my head, breath a brief prayer of comfort, then go on with life un-impacted. Last week reports came out of Ethiopia, from the Ethiopian Kale Heywot Church (EKHC) saying that fundamentalist Muslims had destroyed 55 churches in western Ethiopia, 38 of them being EKHC churches. Homes were also destroyed, there were many refugees. After our recent trip to Ethiopia, I know the EKHC church leaders that now have to deal with this difficult situation. Breathing that brief prayer of comfort and going on is not so easy now. Do pray for Pastor Woyita and other EKHC leaders as they deal with this issue, the many refugees as the church in Ethiopia steps forward to give aid and comfort, and the Ethiopian Muslim community.
Our February Ethiopia trip, I would say, exceeded my expectations. My only criticism would be that we only got into one home while there. Sahle and Aberesh, and their children were a wonderful host the first Sunday night. We shared a wonderful Ethiopian meal and had wonderful Ethiopian coffee. Sharing around the family was wonderful with a brief song program by the grandchildren and a time of prayer. Praise God for two new grandchildren born to their family in the last several months.
Though we did not get into any other homes, by no means were we left alone and out of relationship and fellowship with the many within the EKHC that we were introduced to during the week. Pastor Woyita and Esayas greeted us on arrival. Esayas, Director of Discipleship stuck with us like glue most of the week. Into the week Pastor Berhanu caught up with us after his departure from Egypt (while that country was in uproar). That is another story, his being cared for in Egypt and their getting from Egypt to Ethiopia!
It is too much to give a blow by blow of our week, we had a schedule that, with variations, we stuck to quite well. Times of waiting were not too stressful in that we always seemed to be into conversation with someone. We had a great time of relationship building during the week there, getting to know a church that is strong and growing in the Lord. They have qualities that could fit well into a potential partnership with the goal of reaching out to the unreached in Ethiopia and regionally. Pray for Bob, Jerry and me as we continue to debrief and share from our experiences, and wisdom as we strategize forward.
One of the side joys I had was meeting Dr Samuel who is working with the infant Ethiopian Perspectives Planning team. They have great vision for an Amharic version of Perspectives in the near future. Translation of the Perspectives Notebook is in process.
This leads back to my North Central Perspectives role here in the US. Regional class coordinators seemed to get on well without me. Praise God. There have been a bunch of computer bugs to deal with this year, yet as classes move forward, the life-changing impact of the class is evident. I thank God for the 30 classes and official 1390 North Central students recorded!
PSP First Reporting was 15 Feb (establishing that 1390 student number). Now nearly all classes are past Lesson 8 and the mid-term test for credit students. It will be a busy road till the first weeks in May when this year's classes will end, sending out a new set of alumni, hopefully intent on living a life of purpose, God's purpose, in the life work they may do.
Jane and I are well. She is really enjoying getting into her new work with the Lyon's County Health Department and WIC (Women, Infant, Children) counseling. She likes the team she is working with in Emporia during her four 10-hour day work week.  I hermit and work at home in my loft office area, using internet and phone as I focus predominately on Perspectives. I also have some Grace Baptist missions issues, and things like household laundry. When I am not traveling, one of my weekly highlights is going in to Manhattan on Tuesday mornings to join 6-12 other men in a prayer time at Grace. With breaking news all around, in our weakness we need the strength of the Lord.
May God's blessing, compassion and mercy be on us and all peoples.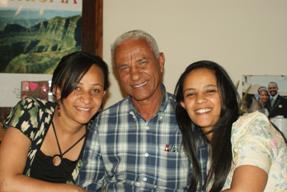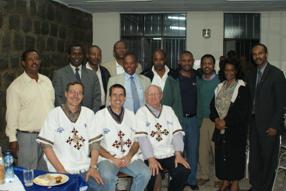 Sahle with two daughters Farewell gifts from EKHC Ex Council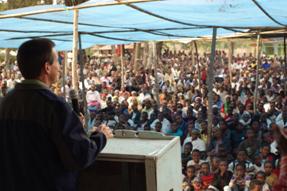 At one of two outdoor church conferences we joined       Men of Grace at 6:30 a.m. prayer
Finally, Let me express my appreciation for all of those of you who have prayed for us the weeks we were in Ethiopia. This skims the surface, if you want further reporting or have questions, do not hesitate to ask.
Blessings,
Stan