Just Because is a page created for those we don't "officially" support, but would like to share their news, or blog, with you.
Follow a blog:
# # #
Sharing news:
November 1, 2012
Just Because you want to give  a gift that will continue giving….
India Gospel League and Christian Missionary Fellowship international are two Pathway Partners combining gospel teaching with loans.  IGL gives only to women in rural areas.  CMFi is presently concentrating loan efforts in the Mathare Valley of Nairobi, Kenya.  It grants loans to both males and females and also infuses the management skill classes with the gospel.  Both sites pour payment of loans into loans for additional people.  It is a gift that keeps giving.
June 7, 2012 – Update from Luke Gray
Dear Friends,
Greetings from Juneau, Alaska. This is roughly the third week since I arrived, and my days here working on the Cru Juneau Summer Project have been full, to say the least. However, I did want to update you all on the last month of ministry, so here is my  monthly letter.  Thanks for your involvement in what I'm doing.
In Him,
Luke Gray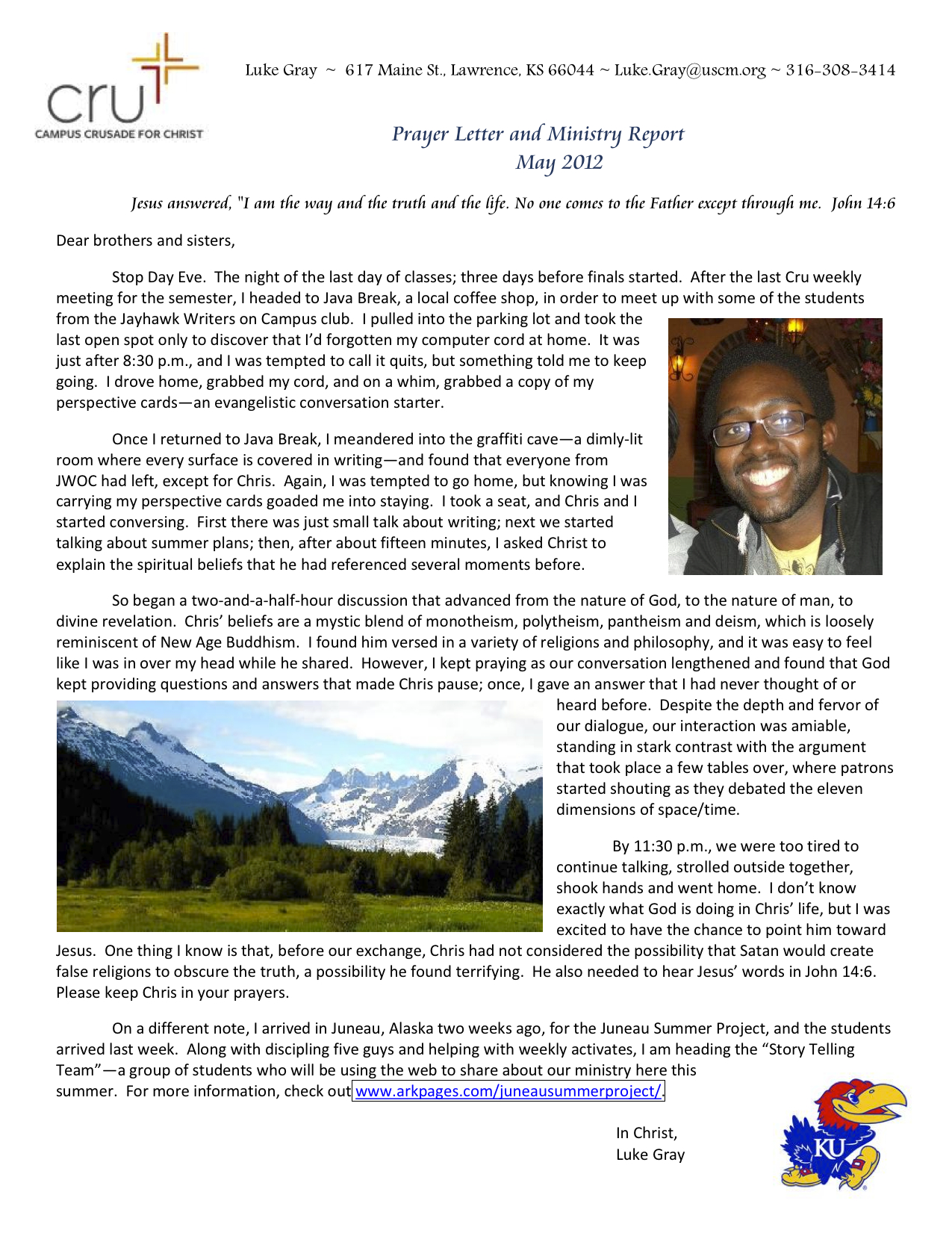 # # #
February 21, 2012 – Update from Luke Gray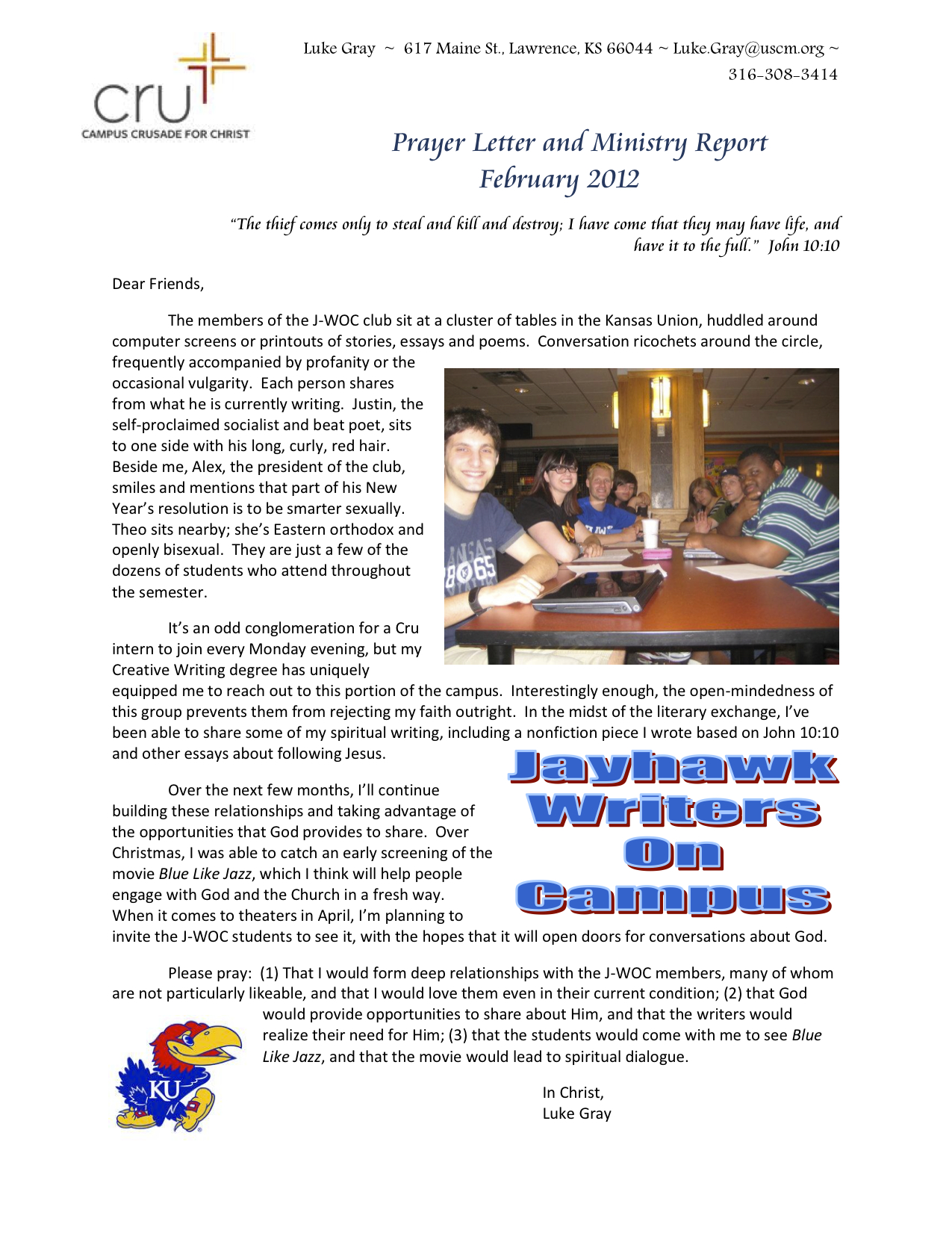 # # #
February 11, 2012 – From Nathan Old
Dear prayer warriors and supporters,
I wanted to take just a short moment to update everyone on some recent happenings here in Northern New England. I am very excited as I am starting to see more and more how God is at work.
Last fall, I was contacted by a friend from Youth With A Mission's School of the Bible who was excited about God opening the doors for their ministry to lead an outreach to this part of the country next July. As plans have progressed, they are now planning on running a VBS for children and 2 seminars for adults, one discussing aspects of Christian Life such as victory over sin, and another focusing on methods of revival, what does the church need to do to prepare, etc. They will also be teaching and preaching in various churches and ministries in the area. Those of you who know my heart for this region will know that THIS is a HUGE prayer of mine answered (& others', too)! Also, as part of this, they would like to begin planning and developing a team that will launch a new permanent YWAM campus including a School of the Bible and perhaps even starting a Christian school! This would, of course further contribute to our overall vision to "saturate our community with believers in and servants of Christ." All of these ideas are still in their infancy, but please be praying!
A couple of weeks ago, we gladly received a sermon from a brother in Worcester, MA (pronounced Wooster, not Wor-chester

who reminded us of the necessity of being continually filled with the Spirit if we are to see any movement of God in our community. As part of the worship service, we dedicated a significant time to prayer for a missionary we support with the Navigators ministry at Boston University. They have had a most difficult time getting any students involved; it seems that among the 18,000 students, hardly a one has any desire for the things of God. He reported to us later that week that God had certainly started to move as he had the greatest response among students he'd seen in the 3 years he's been there! Praise God! Please continue in prayer for that campus; "Lord, pour out Your Spirit on our nation's youth, that they might know You, the one true God and Jesus, whom You have sent!"
Piermont Church's prayer for some time has been for other churches in our area who are currently in the same state in which we were just 10 years ago: devoid of the Gospel, ignorant of the Scriptures and mere months away from having to close the doors for good. Last week, we received a call from a local congregation that is seriously considering dropping out of its apostate denomination and once again receiving the Gospel and returning to the Word of God. They asked for prayer and support from us should this come about. As for now, the issue has been tabled, but where the Spirit is stirring the hearts of man, it cannot for long be resisted. Please pray for this congregation and for our ability to be a real help to them.
Lastly, ever since returning to New Hampshire, one of the things that has been heavy on my heart is the need to mentor youth who have had an upbringing absent of any instruction in Godly wisdom, and are perishing as a result, not knowing how to properly govern their lives in such a way that will allow them to live successful lives. Last week, my prayer was answered! I have begun mentoring 6 boys, aged 10-17 years for 1 hour per week; and I'm getting paid to do it! The program is offered through a local pediatrician's office and is funded by his own charity to the community. It has been a tremendous blessing to get to know these boys and pray that God will use me to lead them to the truth of the Person of Jesus Christ.
Thank you for your continued prayers! As always, please keep me informed of how I might be able to pray for you as well! God bless.
Nathan Old
Piermont, NH
# # #
December, 2011/January 2011 – Update from Luke Gray
Hey everybody,
I hope you are all doing well, as the first month of 2012 is coming to an end.  Here is the latest update on my internship with Cru.
In Christ,
Luke Gray
December 21, 2011 – Dear Lakeview family in America
At this most wonderful time of the year, we would like to wish you a Christmas filled with God's love and grace and a new year filled with the hope only Christ can give. It's a pity that we stop to wonder at the glory revealed in a manger just once a year. I am sure God would like us to often reflect on His awesome love for us because this truth brings joy and strength like nothing else.
At Lakeview we had our annual Christmas festivities on December 16. Well, actually the celebrations began the night of the 15th. A campfire with fireworks and hot soup and fun games got everyone in the mood for the next day. We heard that some students were up till 4 am decorating the dining hall to bring in the Christmas mood. The result was incredibly tasteful.
The program for the 16th was planned and executed entirely by the graduating class and they did an amazing job! A superb combination of fun, meditation, and a multi-cultural extravaganza showed us how Christ came for all. We are blessed to have such a rich mosaic of cultures on our campus. And this Christmas gave us a little glimpse of heaven where people of every tribe, tongue and taste
(!) will join in praise to the glorious Lamb of God. (The attached pictures say it best!)
We covet your prayers as construction of the men's dorm is progressing fast. Looking at the workers today, we can bring ourselves to believe that it will be ready by the time school begins on January 9. The guys are excited to finally have a home of their own, after spending over a year in a make-shift lean-to shelter on the roof!
Thank you for being such stalwart supporters of God's work at Lakeview. Celebrating our 13th Christmas on our own campus brings back rich memories of God's amazing grace and faithfulness.  We pray that the Rock of Ages will become your Immanuel in a newer and closer way this year. And His love will be your shield all through 2012.
For our King,
Your Lakeview India family
# # #
December 12, 2011 – Update from Luke Gray

I appreciate you all.
In Christ,
Luke Gray