February, 2013
December 17, 2012
# # #
November 15, 2012
# # #
October 8, 2012 – GNM quarterly update
Dear ones -
Greetings from Mexico City!  Here is the latest Good News to Mexico newsletter and pictures.
I am in the home stretch of another on-line class through Manhattan Christian College – it is crunch time for me as I am working on my final project for "Issues in Lay Leadership."  It has been an excellent course and just happens to be taught by our former GNM president and good friend, Dr. Cal Habig.  I am getting closer to my degree completion, and for the churches that have contributed to my scholarship fund – I thank you so much!  Your investment is giving wonderful returns in our ministry!
We are preparing for another surge of ministry activity over the next couple of months, so we would greatly appreciate all of the prayers possible.  Please join with us in praying for the hundreds of people that we will be speaking to over the next few months.  May their hearts be softened and prepared like freshly tilled soil – ready to receive the seed; and that it may produce a bountiful harvest for the Lord!  
We thank God for your faithful partnership through prayers, finances and personal encouragement (e-mails, phone calls, cards, letters and facebook)!  Together we are making an impact for Christ on the people of Mexico and beyond!  Only the Lord truly knows the ripple effect of everything we do as He sends us all into the world.
God bless you!
Lynda and Pecos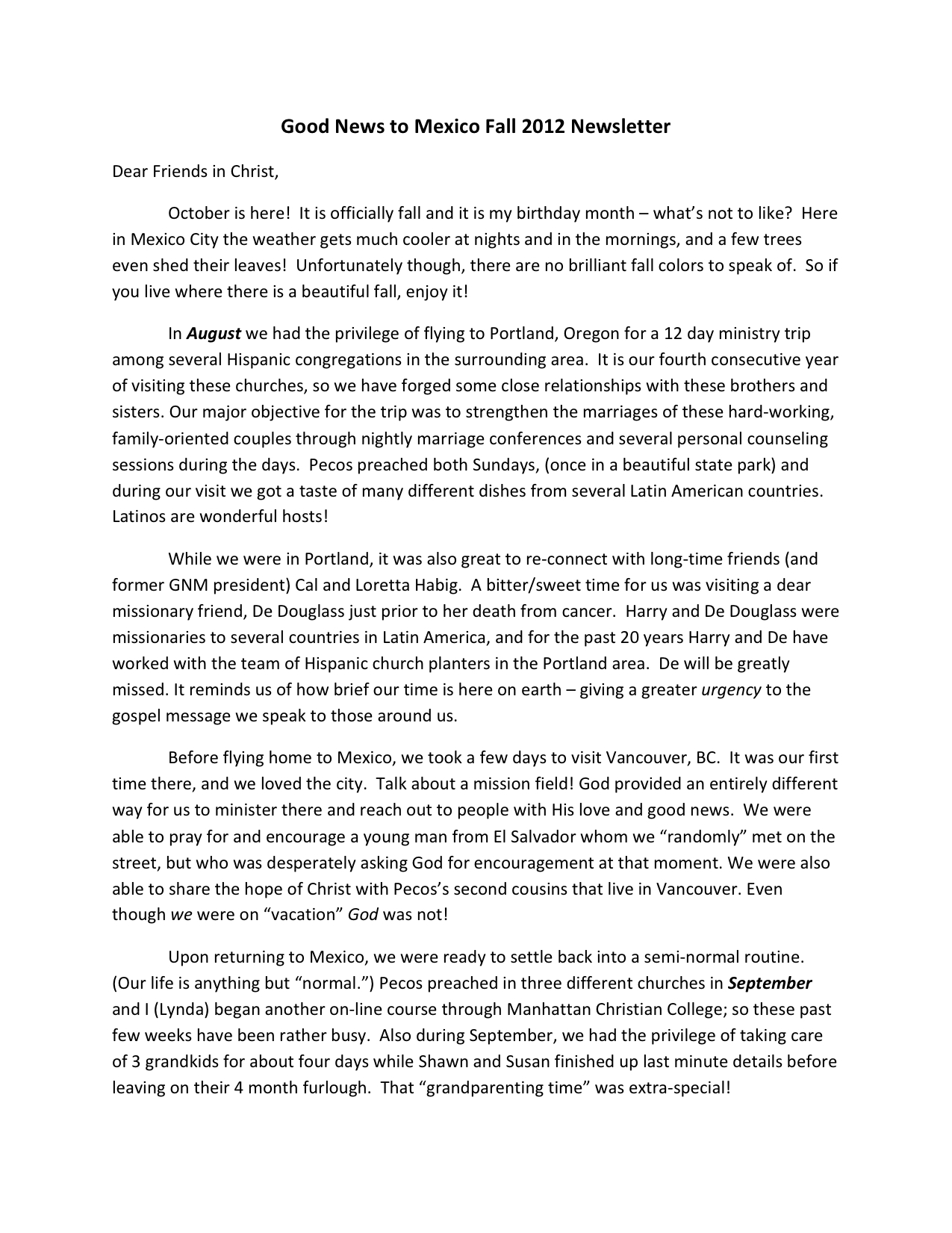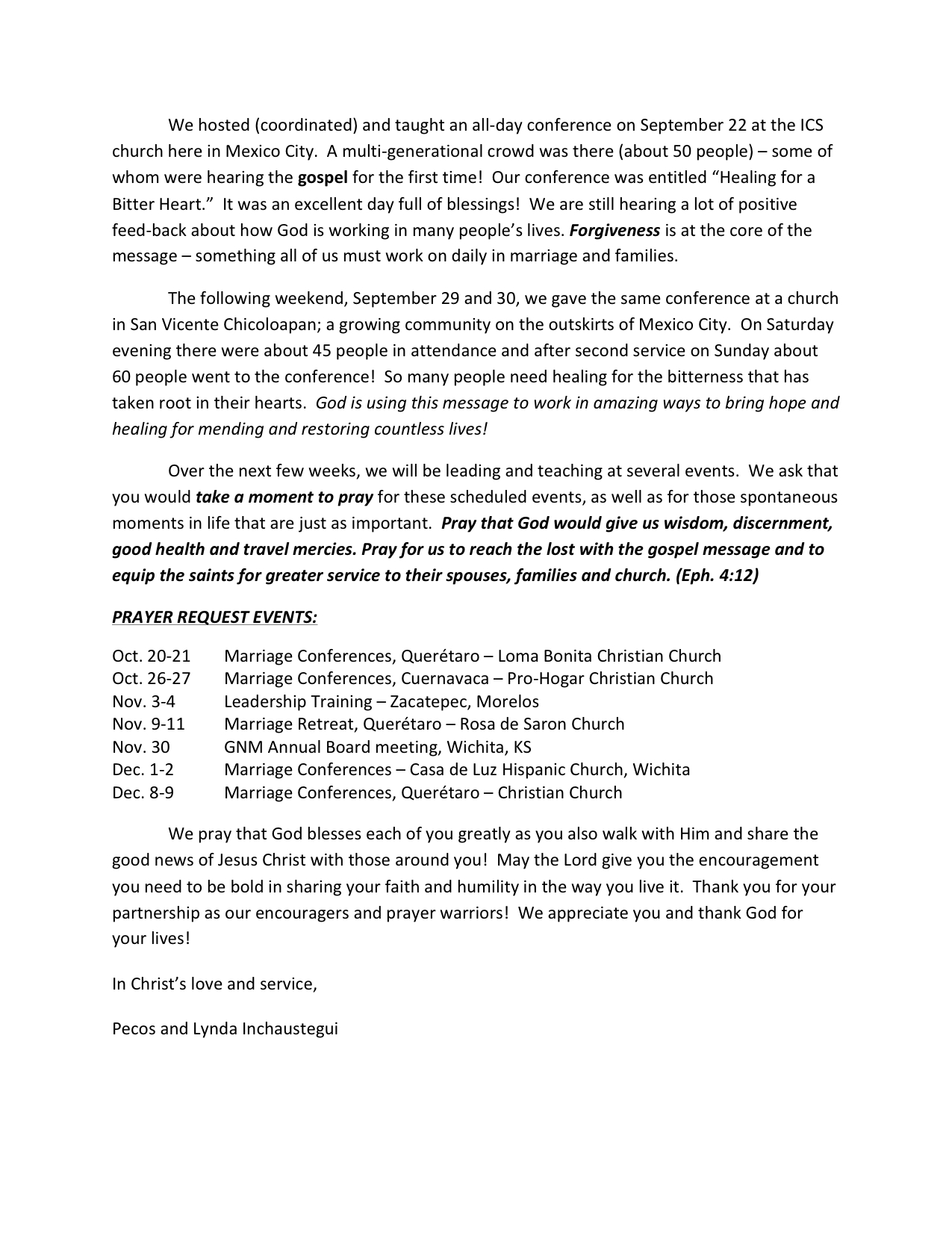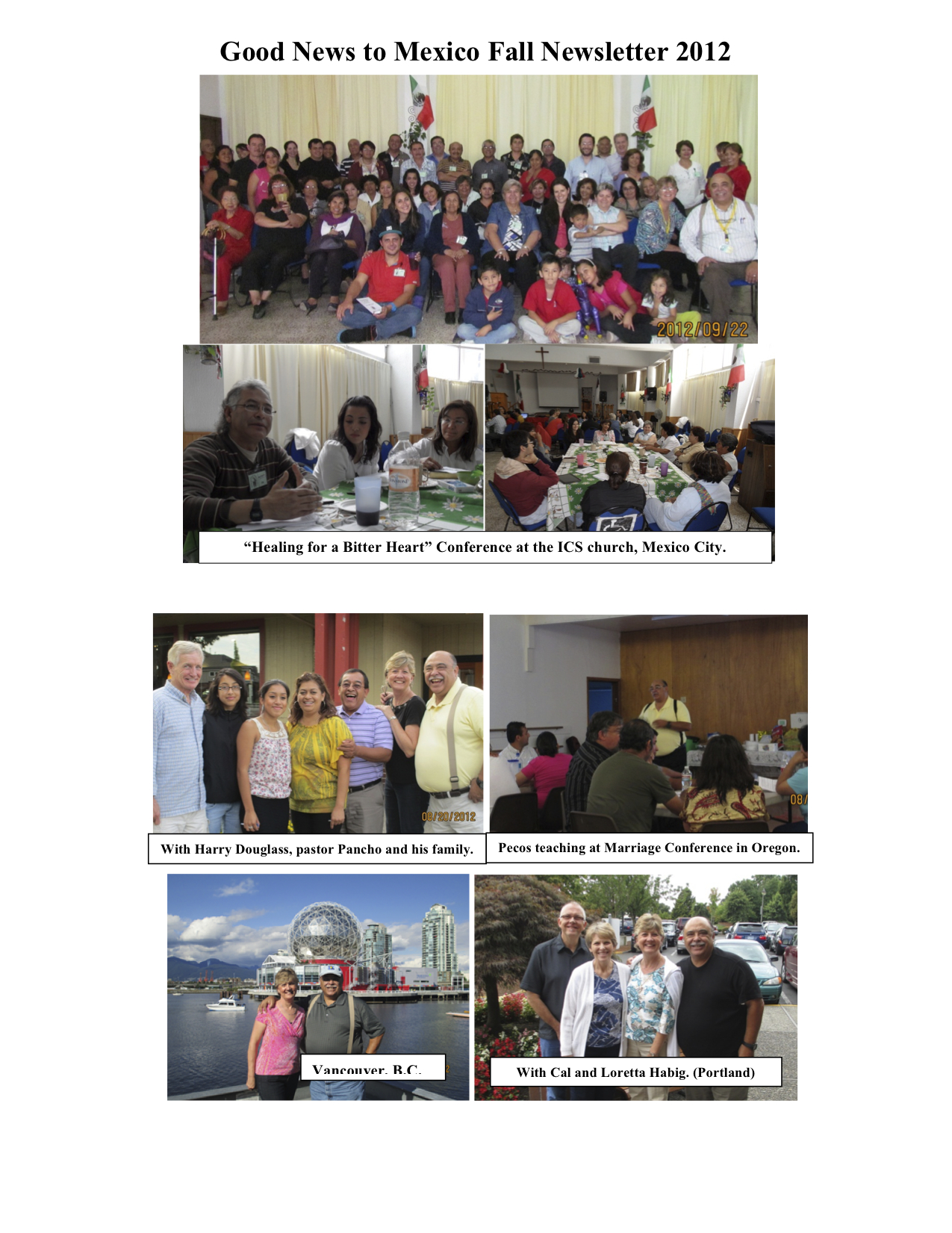 # # #
July, 2012 – GNM quarterly update
# # #
March, 2012 – GNM quarterly update
March 1, 2012 – Happy 1st Day of March!
Dear friends of Good News to Mexico (GNM)
I cannot believe we are already into the 3rd month of the year! I hope you enjoy reading our first Quarterly newsletter of 2012!  We are so thankful for all that God is doing through our ministry in Mexico.  There are seeds for the Gospel being planted all over the place and in all kinds of "soil."  We ask you to pray with us for the Lord of the Harvest to bring about a bumper crop this year of souls who have been reached with the good news of Jesus Christ!
Our upcoming trip to Chihuahua, Mexico (on the border) is a big prayer request!  This is our first time in the city of Chihuahua, and the church there is so excited for us to visit them.  We will be flying there on March 14, and will be conducting a series of several Conferences for 5 full days and some individual marital counseling, before returning home on March 20.  We will send a little e-mail update about how it went afterwards!
May the Lord bless you richly for your faithfulness to Him, and for your partnership in this ministry! We love ya!
Blessings,
Lynda and Pecos
 January 2012 – We're doing well!

Pecos and I are doing well!  We had lots of yucky sickness during the holiday season, but we are both doing great now! Thank the Lord!  I am busy with my on-line class  - trying to finish up the college degree.  This one is a tough one – lots of reading and work.  But I know when it is finished I will have learned so much.  I already have learned tons, and it is just the second week!
We are headed to Cuernavaca tomorrow – to see the grandkids and then Pecos will preach on Sunday at a 5th Sunday rally for several area churches in that state.  Our older son, Shawn, and his wife, Susan and their 3 kids live in Cuernavaca.  (as you probably already know!)  Anyway, it's been a month since we've seen them, so we're ready for our grandparent "fix" as my mom would say.
Last weekend we had an all-day Marriage Conference at a church here in Mexico City.  It went very well, with several new couples that had never been to a marriage conference of ours before.  There were 32 people that went, which was a little lower than what we had hoped, but it was a great size of group to work with.  They were very responsive and during the break-out sessions we could hardly get them to stop talking!  Which is what we wanted!  We could see from the responses of people how the Holy Spirit was working in hearts and lives.  At the end of the day, we all stood facing our spouse, and said to one another "I accept you as God's gift for my life!"  (Yo te recibo como el regalo de Dios para mi vida.)  There were definitely some tears and hugs!
Well, I need to run.  I will write later.  Lots of love!
Lynda
# # #
December 22, 2011 – Christmas blessings to you
Dear Family and Friends -
Christmas blessings to each of you whom we hold very dear to our hearts. May everyone enjoy this time of the year and always remember why we are celebrating and whom we are celebrating!
In Mexico there is a wonderful tradition of the "Posadas." When you have a Christmas party you call it a Posada, which means "Inn." Traditionally the party guests at the Posada, stand outside the front door and sing a candle lit litany about Mary and Joseph looking for a place to stay. Each verse speaks of an Inn keeper turning them away, until the last verse. When they realize it is Mary and Joseph, then the household members, i.e. the Inn keepers, joyously invite them in. I love this tradition because it brings back the true meaning of Christ's birth and how WE should invite Jesus to come into our hearts as well.
We thank each of you for the many acts of love and kindness that you have shown us during this past year. We treasure our relationship with all of you, even if we haven't seen some of you for a few months or years. You never know, 2012 might be our year to have the joy of face-to-face fellowship!!!
May the Lord show himself to you in this New Year of 2012 in ways that are "immeasurably more than we ask or imagine, according to his power that is at work within us!"  (Ephesians 3:20).
Merry Christmas and Feliz Navidad!!
From our house to yours,
Pecos and Lynda
November 16, 2011- We made it to KS!
Dear ones in Christ,
Just wanted to let everyone know that we made it safe and sound to Wichita, KS  this afternoon!  PTL!  Thank you all for your prayers!  God is faithful!
How many of you have checked out our website?  If you haven't taken a little tour, we encourage you to do so!  The website address is:  www.goodnewstomexico.com
 Thank you, once again, for your prayers, love and support!
Blessings on you and yours,
Lynda and Pecos
# # #
November 13, 2011 – Lynda & Pecos heading our way!
Dear Ones in Christ,
Lord willing, tomorrow we will begin our trip to Kansas!  We will be driving all the way, so we would appreciate your prayers for safety, no automotive problems and great weather!  The hope is to reach Wichita, KS by Wed. evening, Nov. 16.  Our annual board meeting is the 19th, so we want to be rested and ready for it.  During our Kansas visit we will be reporting to a couple of missions' boards; presenting our ministry to a prospective church for support; and giving two Marriage Conferences for Spanish speakers.  One of the conferences will be in Wichita, and the other on our way back to Mexico City in Laredo, Mexico.  Of course we plan to spend Thanksgiving with family and we pray that you will be able to spend time with your loved ones also!
We also want to let all of you know we have joined the 21st century and now have a web page for our ministry!  (one small disclaimer, sorry Dave Erwin, Pecos spelled your name wrong!  we will try and have that fixed soon!)
The web page is:  www.goodnewstomexico.com
We think you will enjoy it!  You even have the option of viewing it in Spanish or English!
Must close for now.  Need to finish loading up the car!
Blessings,
Lynda
# # #
September, 2011 – Good News to Mexico Update
Dear Friends in Christ,
We have just returned from another full weekend of ministry!  Although Pecos and I have been sick for almost a week, our voices held out for all of the teaching times!  Now for a little rest and recuperation.
Here is the latest newsletter for our ministry.  God is doing such amazing things in the lives of so many people wherever we go!  We feel humbled and amazed at how He is using us to speak into people's lives.
Thank YOU for being part of this ministry as well.  Your prayers strengthen us and encourage us!
May the Lord continue to bless you and keep you in the palm of His mighty hand!
In His love and service
Lynda and Pecos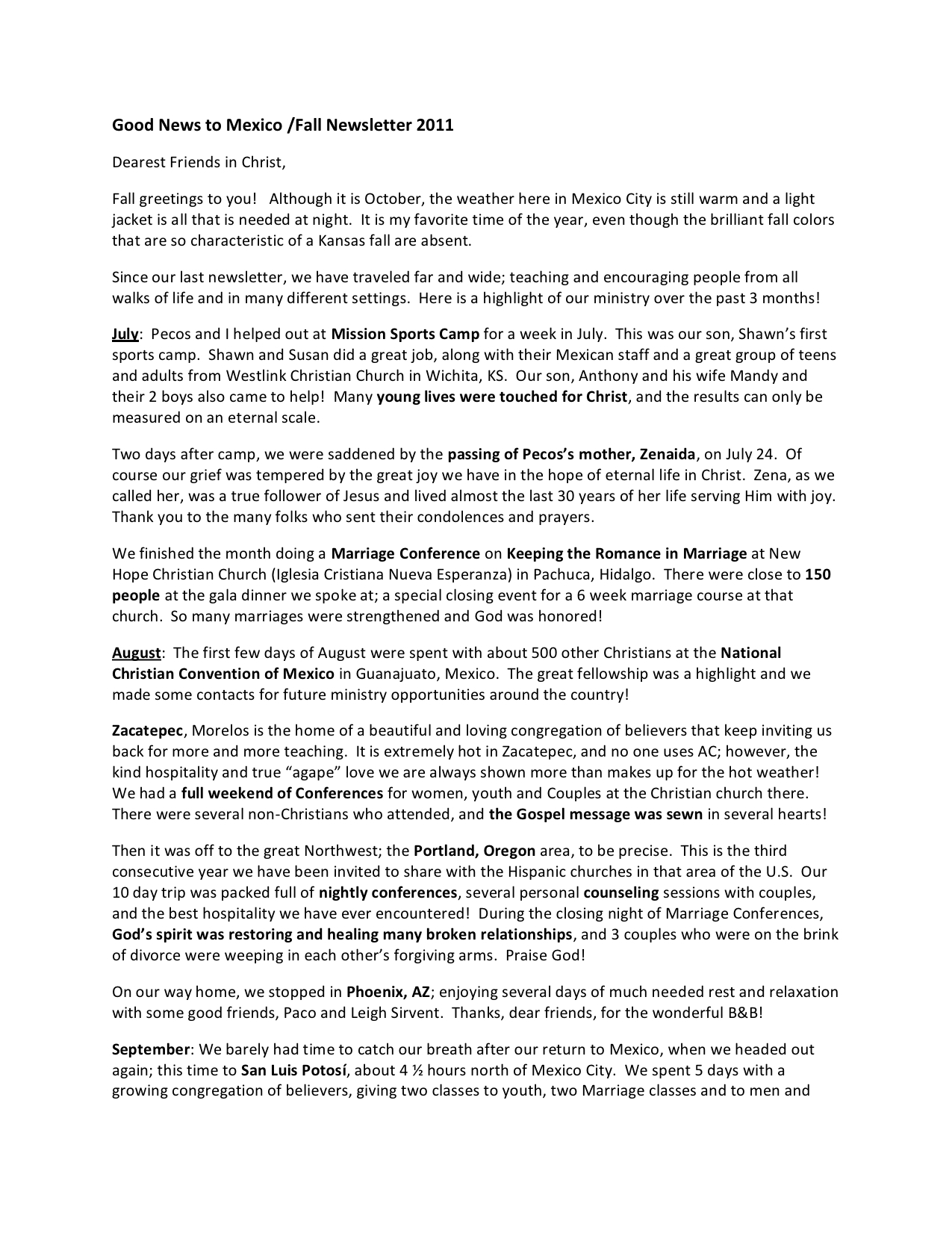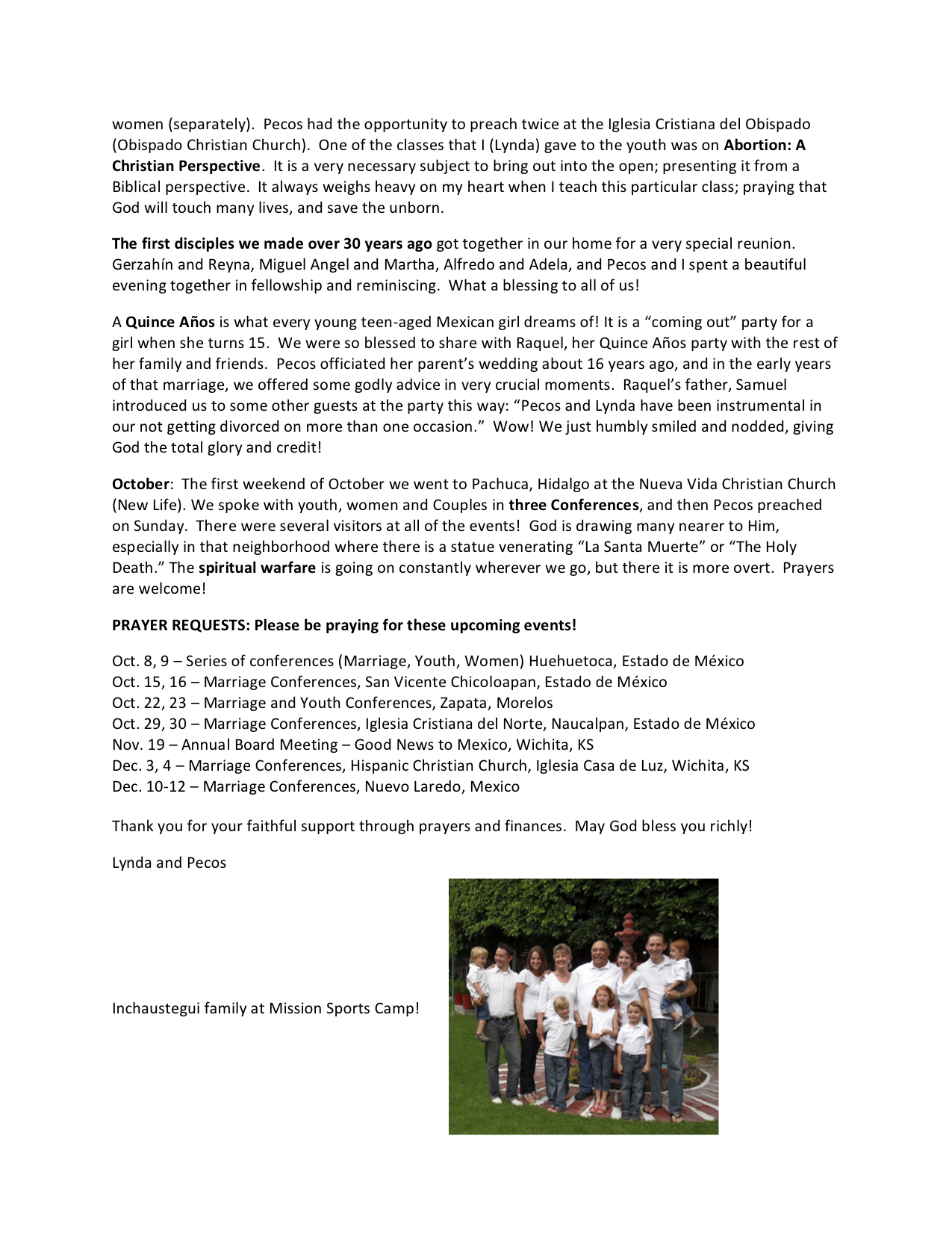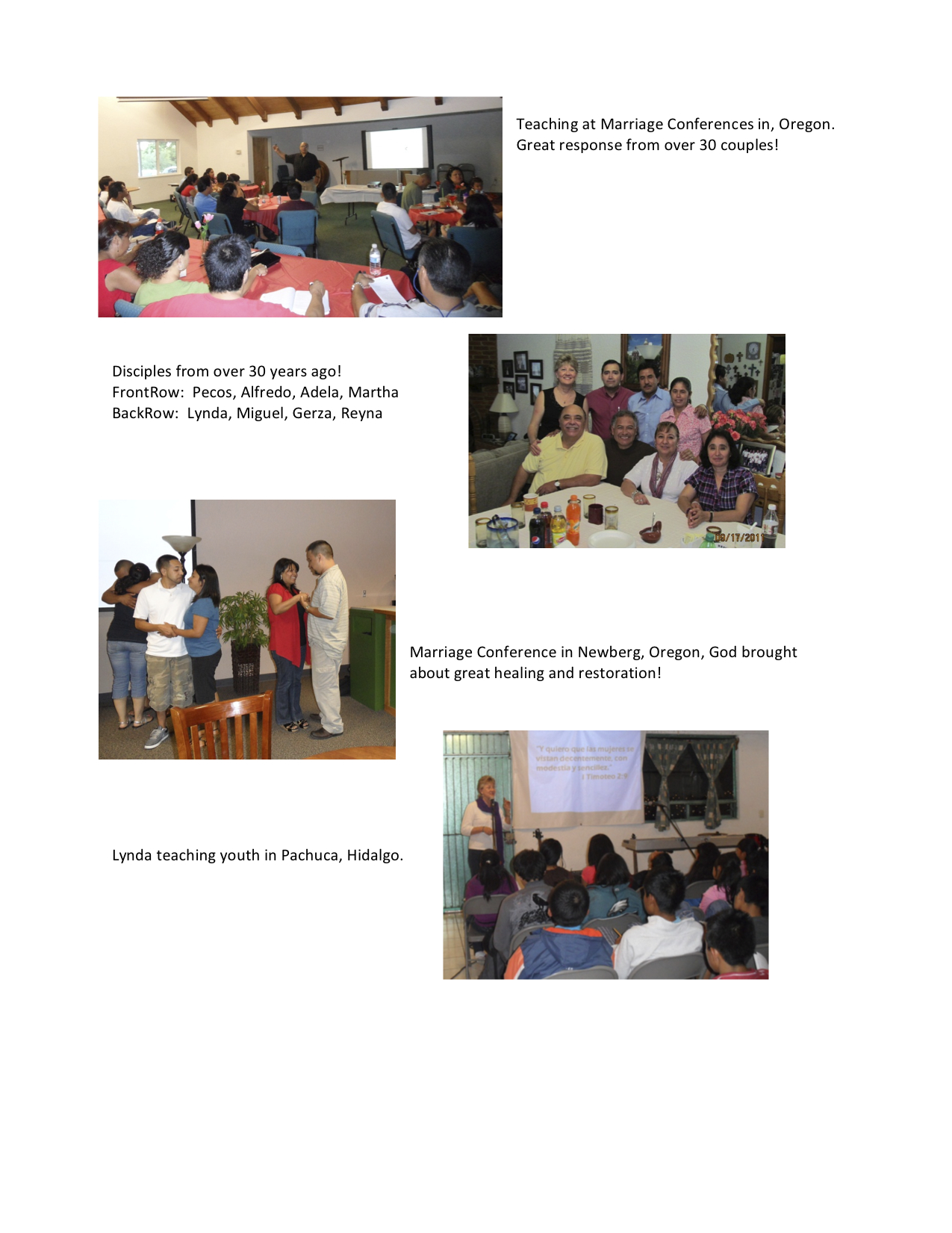 # # #
July 29, 2011 – Summer plans & excitement for 1st Christian soccer camp-Westlink sent a team and God was glorified!
Dear family and friends in Christ,
Summer greetings to you!  After a quick trip to Kansas for the month of June to visit some supporters (churches and individuals) as well as some family; we are now back home enjoying Mexico City's typical cool, rainy summer weather.  It was a welcome change from the scorching heat we were experiencing in Kansas!  Despite the heat, we truly were blessed beyond measure to have the opportunity to reconnect with many of our faithful partners in our ministry.
A huge "thank you" to all who hosted us, fed us, prayed for us and loved on us during our 2,500 mi. trek around Kansas.  It meant more to us than you'll ever know!
Highlights from May:  A special weekend for us in May was at the New Life Christian Church in Pachuca, Hidalgo; a vibrant and healthy two-year old church plant.  During that weekend we spoke to the youth, to the women's group (Lynda), to a group of men at a rehabilitation center (Pecos), and to a very receptive group of couples!  At each of the events there were about 40 people; a great turn-out for this new church built on the side of a mountain!  On Sunday, Pecos preached to about 150 people at their 2nd Anniversary celebration. There were many non-Christians who received a healthy dose of God's word that weekend.  Please be praying for the seeds of the Gospel to take root and grow!
One of the most rewarding things (for us) about this specific church plant and their many ministries is the history we have with the lead couple, Gerzahín and Reyna Zaragoza.  Over 30 years ago, we began discipling this couple, pouring our lives into theirs for years. Later, Gerzahín and Reyna moved to Pachuca to help with a successful church plant.  Now they, along with their 4 children, are helping with this second church plant!
To see this mature couple serving Christ so completely brings a level of thankfulness within us that is difficult to express.
Upcoming Events in July
Camp: July 17-24. In just a few days we will be helping Shawn and Susan (our son and daughter-in-law) with their first Christian sports camp in Mexico!  The roles have been reversed now – we are assisting our son with the ministry God has placed on his heart. How awesome is that!  A mission team from Westlink Christian Church is coming to help for the week and our son Anthony and his wife, Mandy and their two boys are coming as well!  (family reunion! yeah!)
Please pray for the campers (Jr. & Sr. high) and staff to be open to God's moving in their hearts.  Pray that many campers will receive Christ as their Savior!  We are also asking for safety in travel and in the various sports activities during the week.
Marriage Conference:  We will be speaking at a rather large gathering of couples at the New Hope Christian Church (Iglesia Cristiana Nueva Esperanza) in Pachuca, Hidalgo on the weekend of July 31.  At least 150 people are expected to attend this Conference, many of whom will be new believers or non-Christians.
Please pray for God's spirit to be actively working among all those who attend this conference!  For hearts and lives to be healed!  For marriages to be restored! For many to surrender their lives to Christ!
Prayer & Travel Schedule:
July 18-22  Misión Sports Camp – pray for changed lives, travel mercies, injury-free camp, decisions for Christ
July 31 – Marriage Conference – Pachuca, pray for healed marriages, evangelistic outreach
Aug. 2-5 – National (Mexico) Christian Convention – for spiritual renewal and new contacts for our ministry
Aug. 6-7 – Marriage Conference, Querétaro – pray for God's moving in hearts and lives, decisions for Christ
Aug. 12-13 – Marriage Conference, Zacatepec – pray for evangelistic outreach
Aug. 19-29 – Portland, Oregon – week of Marriage Conferences and Counseling – pray for outreach among Hispanics in the Portland area, for wisdom in counseling and physical strength and health during trip.
It is so encouraging for us to know that we have your continued support and prayers as we serve the Lord in Mexico!  May He bless you and keep you in the palm of His mighty hand.
In His love and service,
Pecos and Lynda Inchaustegui
 # # #
April/May, 2011 Good News to Mexico
Grace to you and peace from God our Father! Easter is still fresh in our minds, and hopefully many are still savoring the sweet times of corporate worship and communion with our risen Savior! Our prayer is that the same excitement, gratitude and devotion to our Lord Jesus Christ will remain constant and ever-growing in our daily walk and in yours as well!
On the road again. . . Our ministry has taken us to 5 states in the country of Mexico over the past 2 months; Colima, Hidalgo, Morelos, Puebla, the State of Mexico and Mexico City (which isreally a Federal District like Washington, D.C.). We have spoken at more than 15 gatherings ofcouples, youth, men and women; to over 430 people. After one Sunday morning sermon, five people came forward to accept Christ as their Savior. That is what it is all about! Thank you for your faithful prayers, as God is touching many lives.
At our latest Marriage class, a young, muscular police officer shook Pecos's hand and said, "I thought I would fall asleep at the marriage talk tonight, but it was very interesting! It gave me a lot to think about!" Obviously this man had been coerced into attending our class that night by his wife, but God had so much more in store for him than he had ever expected! Yes!
Making what God says about marriage, family and our personal lives RELEVANT – is what fuels us and drives us. You see, God really does care about making our lives better. So many people miss that point! They think the Bible is some archaic book that has absolutely nothing to do with our modern day lives, and even less to do with things like how to treat our spouse, sex, money, raising children, etc.
Helping people see the need for Christ in their lives is at the core of RELEVANCE. We always stress the fact that apart from Christ we "can do nothing." (John 15:5) Life in Christ is the key to activating all of the tools that we try to equip people with at our conferences.
Over the past two months we have taught hundreds of people about how to implement God's word into their lives in a practical and real way. We never tire of speaking the "good news of Jesus" to those around us. Please pray that we will always be prepared to speak the gospel in season and out and that the people who hear our message will have open hearts and be willing to listen.
A highlight of our recent travels would have to be a personal visit to see our younger son, Anthony, wife Mandy and their two sons Xander and Elijah. Our frequent flyer miles came in handy and we were able to fly to L.A. for a week with the kids. It was a tremendous blessing for us and we are so thankful for the amazing gift of family. This past week our other son, Shawn, wife Susan and children Isabel, Kaleb and Isaac, spent a few days of their Easter break with us. Our cup runneth over!
As we look towards May and the various scheduled events, we would ask for your prayers. This coming Saturday, Lynda will speak in Mexico City with several young women on the topic of "How to find Prince Charming without kissing any Frogs!" (I rather look forward to that one!) Then a weekend full of ministry is planned for May 13-15 in Pachuca, Hidalgo at the New Life Christian Church. We will speak to youth, women, men at a rehab center, with couples and Pecos will preach on Sunday. Always keeping busy!
In June we will be visiting four of our supporting churches in Kansas. We look forward to seeing some of you soon and sharing with you personally what God is doing in our ministry and our lives.
Thank you for your prayers; they are what gird us up in our ministry. Thank you for your generous gifts and offerings; they are the physical sustenance that allows this ministry to continue. Thank you for your partnership; it is what gives us the encouragement to keep our spirits high and the motivation to never be discouraged. May the Lord bless you and yours!
In Christ,
Pecos and Lynda
# # #
February, 2011 Good News to Mexico
Dear Ones in Christ,
Greetings to all!  Most of you who will be receiving this letter have had a very cold and snowy winter already, and it is only mid February!  We have been having gorgeous weather in Mexico City, and the beautiful "jacaranda" trees will soon be in full bloom with their lilac-colored flowers.
Here are some highlights of our ministry activities so far this year! In January, we traveled a short distance to Cuautla, Morelos for a weekend of conferences for men, women and youth.  I spoke on the topic of "Edifying Christian Homes" with the women, while Pecos spoke to the men on the topic of "Anger" and how to deal with it.  After church at "La Palapa," we spoke with teens and young adults about the "Three Most Important Decisions in Life."  Faith, Spouse and Vocation are those life-changing decisions that will determine direction and purpose in life; with faith being the solid basis for the other two.
One weekend we stayed in Mexico City to visit a small congregation of believers and share with them about God's plan for marriage and the responsibilities that both husband and wife have in being "one" as a couple. We encourage young single adults to sit in on these types of conferences – as it is a great opportunity to begin teaching singles about God's design for marriage. Giving them a snapshot of what marriage is meant to be is a big dose of "preventative medicine" that we pray will produce much fruit in future marriages!
Just yesterday we returned from a trip to San Luis Potosí, a growing city of about 1 million people found in the high desert of central Mexico. This city is engulfed in a state of insecurity and fear because of the violence produced by the drug wars.  This morning I saw on the news that two U.S. agents were ambushed along the same highway we had traveled just hours before.  We know that God is with us and we are so thankful for his shield of protection around us!  The brothers and sisters in San Luis Potosí are such an encouragement to us and our ministry.  Our objective on this trip was to encourage the youth and adults to always trust in God as our rock and our fortress!
The Friday night couples' study continues to stay strong and vital as we encourage one another in our walk with Christ and with our spouse.  We have also begun pre-marital counseling with a young couple who plans to be married in June.  It is a great reminder for us to reflect on our own marriage, and to allow God's Spirit to continue molding us as well!
As we look forward to the many scheduled activities on our calendar, we would ask that you pray for us and for those people whose lives we will be touching.  We realize that all of these plans depend totally and absolutely on God's will for them to come to pass.  Our prayer is that we may always be open to what He is doing and follow His lead.
Praises and Prayer Requests:
February 19 – Pecos' 60th Birthday!!! (big Praise!) phone calls and e-mails quite welcome!
February 26, 27 – Marriage Conference / preaching – Iglesia de Cristo, Zacatepec
March 5, 6 – Marriage Conference / preaching – Iglesia del Pacto, Cuautla, Morelos
March 12, 13 – Marriage Conference / preaching – Palabra de Vida, Cocoyoc, Morelos
March 19 – Marriage Conference – Mexico City
March 23-26 – Mexico Missionary Reunion – Cholula, Puebla
April 1-3 – Women's Weekend Retreat – Tulancingo, Hidalgo (Lynda)
April 15-18 – series of Conferences / Manzanillo, Colima
April 22-24 – series of  Conferences / Iglesia El Camino, Mexico City
April 30 – Marriage Conference / Iglesia Las Aguilas, Naucalpan
Thank you for being a part of this exciting Ministry in Mexico.  We value your partnership greatly and know that together we are making an impact on many people's lives throughout Mexico!
In His love and service,
Pecos and Lynda Inchaustegui
e-mails: lyndainch@hotmail.com and pecosinch@gmail.com
toll-free number: 1-877-889-0395 – rings in to our home in Mexico City
# # #
February 16, 2011 GNM Newsletter
Dear Ones in Christ,
We pray this e-mail and attached newsletter will find you enjoying God's many blessings in your lives!  Although many people are faced with financial uncertainty, health problems, and a myriad of other challenges; we know that God is in our corner - giving us the victory in all circumstances!  Romans 8:31
Thank you for being our partners in this ministry!  We appreciate all the prayers lifted up on our behalf, as well as the financial support given in such a generous way.
Blessings on you!
Lynda and Pecos
P.S.  This Saturday, Feb. 19 is Pecos' 60th Birthday!!!  he would love to receive e-mails and/or phone calls!!
his e-mail address is:  pecosinch@gmail.com
our toll-free number is:  1-877-889-0395  – it rings in to our house