January 1, 2013
# # #
November 11, 2012
Dear Friends,
Greetings in Jesus' mighty name! A good word to remember is found in Habakkuk 3:17 and 18, "Though the fig tree may not blossom, nor fruit be on the vines, though the labor of the olive may fail, and the fields yield no food, though the flock may be cut off from the fold and there be no herd in the stall — YET I will rejoice in the Lord, I will joy in the God of my salvation."  (emphasis mine) We remember that no matter what happens on earth on this side of eternity, Sovereign God is on the throne, amen.
Bear with me with yet one more update with simple attachments; I am trying to get used to a new program and finally decided it would be better to send a brief update with some news rather than allow another week to go by without any news. We hope you can open all of the pictures attached.
First – we are both in good health; thank you for your prayers. In fact, the Lord has blessed us with renewed energy, and we need it! During this part of the year, as you know, the river is at its lowest, so our team takes advantage of this slow season to travel to their home churches to give a report and rest. This time happened to coincide with a split in a local church here in Humaitá, due to heresy. The leaders who left sought Stan out and asked if he would step in as interim pastor until they found a fulltime pastor under the covering of another leadership. After praying about it, he agreed to it, with an emphasis on "interim". We are particularly invested in this group of people, as they are the ones who welcomed us to Humaitá when we first arrived here in 1997. We are greatly relieved that they have come out of serious doctrinal error, and Stan has been able to teach sound doctrine and minister to many wounded hearts. This has been in addition to usual mission responsibilities, so things have been very busy.
It's interesting how the Lord orchestrates His plans for building His kingdom; many in this group of people (close to 100, now), have had a desire to be involved in the ministry to the river people, but had been forbidden to do so. Now, God is raising up a group of people locally who will be a partial answer to our prayers for more missionaries. Our full-time staff is down to six of us now, as Marcos and Claudia decided to accept a pastorate in another region, and Nildo and Marília are packing up to go to seminary for five years. The Lord has also answered prayer by providing two new churches here in Brazil who are coming alongside us to reach the river people.  In September and November, we traveled to these churches to speak at their mission's conferences. Attached are pictures with these couples, and they have great missionary vision! We have been very encouraged. They have already been involved in ministry with us, and it's possible we will be blessed with full-time missionaries from these churches in the future.
In the meantime, they are working with us through short-term trips, and God has greatly blessed our fellowship. They only send mature believers who share the same vision, and much is accomplished during their time with us among the river people. We are beginning to see that this may be a more viable way to "do" missions – maintain a smaller staff on base and work with local believers as well as from other Brazilian churches at large; this eliminates the need to raise full-time support and the trips coincide with our planning.
We are also preparing a new missionary, Ronda Vankley – we have mentioned her to you before. She is from Michigan; after two trips to Brazil to "spy out the land", she is now enrolled in language school in São Paulo. She will be here next weekend before returning to the US to secure a different type of visa (please pray for favor!), her picture is also attached.
I continue to teach English and have added three of our missionaries; the picture attached is Andréia and Kátia, and they are highly motivated because they have become quite close to Ronda!
To sum it all up – thanks be to God who has supplied every need and is answering prayer for more laborers in this white harvest! This has kept us at an accelerated pace, but He gives the strength to match the task at hand. We also have the great joy and blessing of our two precious granddaughters, and our children keep us supplied with fresh pictures several times a week! Our prayer is that we will be able to be with them when they turn one next spring and early summer. I wanted to come home for Christmas to see them, but Stan told me that the money tree he planted in the back yard hasn't taken root, yet, ha ha!
Grace and peace,
Stan and Rebecca   
Key:  1. Sven with Gracie, 2. Marcelle with Zoe,
3. English class with Andréia and Kátia (Kátia looks great, doesn't she!),
4. teaching missions in Pastor Toni and Marlene's church – the couple in picture 1210, partners in missions; 1243 Pastor Mário Jr. and Adriana's church, also partners in missions; 1174 – Ronda and Andréia
3.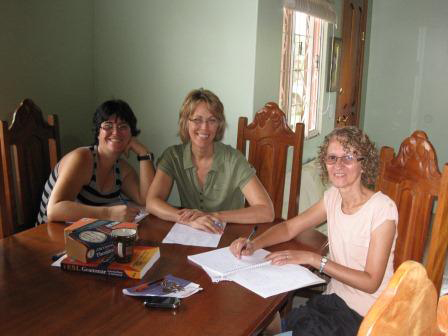 4.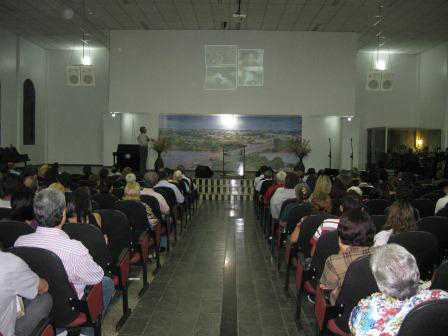 5. 
6.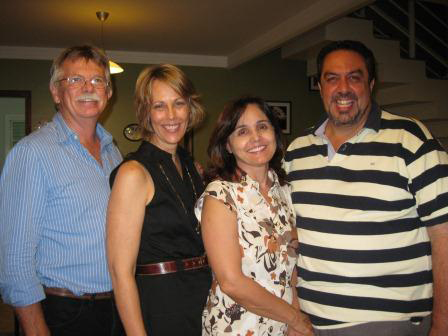 7.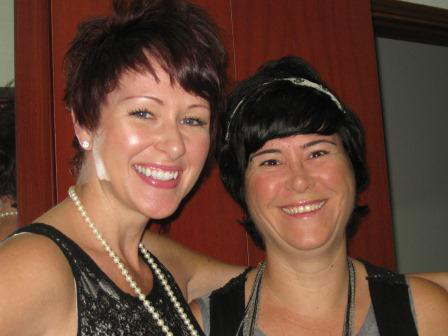 # # #
August 21, 2012 – BOMU update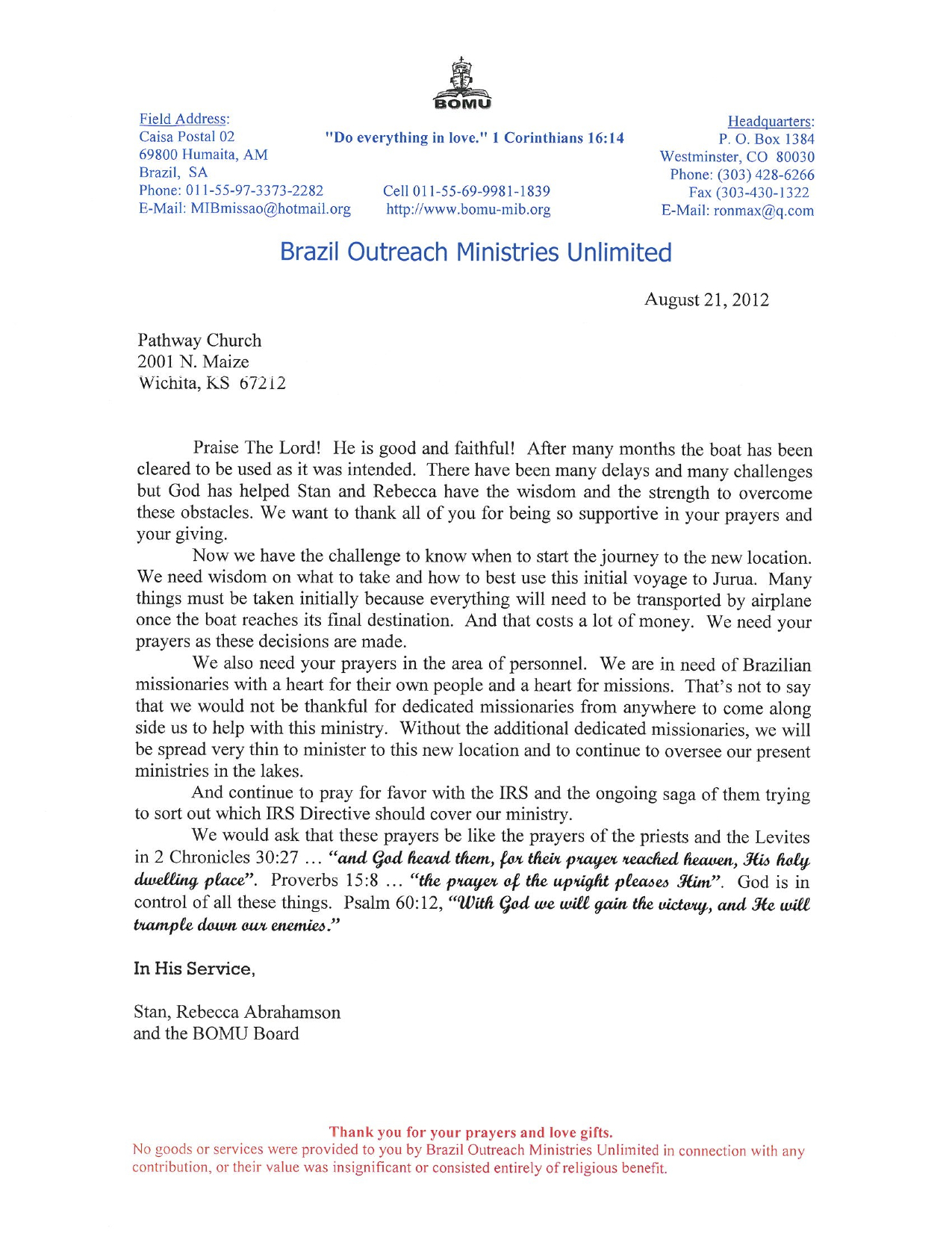 # # #
July 12, 2012 – Praise God x2!
Dear Friends!
Praise the Lord, we are blessed!  Today we received the documents for the boat , Atalaia!  It has been more than eleven months, but we are blessed that the Lord is faithful.
I went into the Port Authority on Monday to resolve the issue concerning  the category of pilot license we would need so the final document could be issued.  Through this whole document process, I have had to stay current on all the maritime laws and once again, when I went in to see the Captain, I was well prepared.  I know the Captain personally, which was good, as someone hadn't written our appointment down.  When he saw me, he motioned me to come into his office and asked what he could do for me.  I proceeded to explain to him the difference between what I had been informed we needed versus what I understood was really necessary, based on my study of the laws.  He laughed and said, "You are absolutely right."  He said we did NOT need a pilot rated with a master's license.  He let the lieutenant know that our documents were to be on his desk immediately so he could sign them.
So, today we went down to the Port Authority, and sure enough, they gave us the official document to legally operate the boat. We are rejoicing at God's faithfulness to fulfill His plan according to His timetable.  Now we await His bringing us more missionaries to use this boat to build His kingdom. Thank you so much for your prayers .
Praise the Lord, our blessings are DOUBLE! On a personal note, our second grandchild, Zoe Elise, was born June 29, weighing in at a healthy 8 pounds, 13 ounces! Her name means "life consecrated to God", and everyone is doing great! JR and Marcelle are very happy that Rebecca is there to help them as they begin life with Zoe, and judging by Rebecca's reports, she's glad to be there, too. I have the wonderful privilege of joining my family in another ten days to meet my two little granddaughters.
All we can say is "To God be the Glory" – truly, great things He hath done. Thank you for being a part of this wonderful journey with us.
In Christ,
Stan for Rebecca, too
# # #
June 14, 2012 – BOMU update


# # #
June 5, 2012 – News from Brazil
Dear Partners,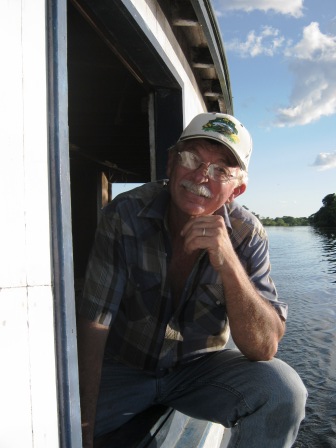 I just got back from spending some time out on the Uruapiara lake. The congregation of local believers had reached a point in their maturity as a congregation that we had a formal ceremony of dedication or consecration to declare them the established "Evangelical Church of Uruapiara". I went out there to "Consecrate" this local church plant. This is one more step in the missions' overhaul method of church planting. We had trained them in knowledge of church life and waited to see them grow in this knowledge to the place where they now can live Church on their own. We will from now on provide mentorship in various forms, but the life of the church is up to them. It is amazing that we can plant a small grain of wheat which grows into a plant that then produces many grains, that in turn blesses many people.   I was once again blessed as I saw the results of the small grain of the gospel that had been planted into these souls and was now a flourishing plant that will bless many. What a blessing to see Christians sit around in the fellowship time in the afternoon, even though it was 100 degrees with sweat rolling down their faces.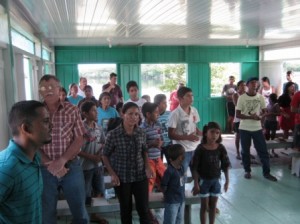 They sat around and were devouring the Word by themselves. When you have God's faithful into reading the Word, you have God's possible in action. They spoke of how the Lord had changed their lives by changing attitudes or by letting them pass through hard times so they learned trust in Him, or how one single verse caused them to not be ashamed of being a Christian. I was blessed.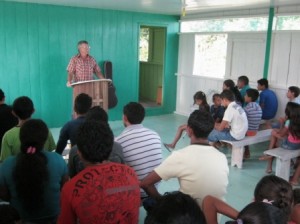 I was blessed to be able to lead the service, which is a strong declaration of the Christ-like maturity they are now at. I was able to challenge them that there are many members in the church body and each must do their part, which always starts with "serving one another". God established the government of the office of the elders to guide and govern the church, but the real government was the members submitting to these elders as they are guided by the Holy Spirit.
I wanted to give them an example of serving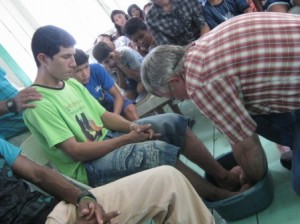 and to also declare a blessing on the direction of lives of the new elders, and what better way than to wash their feet. I thank God for the blessing to hold and wash the feet of these men whom God has called to guide His flock in Uruapiara. What a blessed day.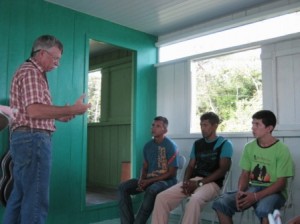 I then spent two more days in the lake to observe up close the ministry of our missionaries. The Lord has truly great workers in the harvest of the Kingdom. The challenges they face are huge, and yet with faithfulness they pursue building the kingdom. As I sat at night in meetings with the fruit of their ministry, my heart was blessed. What a joy to teach them as they love to listen and learn new things of Christ. Pray for this part of God's kingdom as they so desire to serve Christ.  Pray for the young people as they are excited to share Christ.
The excitement of our increasing family still glows over us and now we await Marcelle's delivery of our next granddaughter. What a blessing for Rebecca to be able to be a " present" mother to our two daughters. Right now I am just living off the pictures, but hope to soon see my little granddaughters in person.
God is so good. Thank you all for you love and blessings.
Stan and Rebecca
# # #
May 20, 2012 – Brazil update
Dear Friends,

Rebecca and I are blessed, as our first beautiful granddaughter, Gracie, was born on May 14 to our son Sven, and his wife Samantha. Family is always a blessing, so the more the grander the blessing. Mother and daughter are doing fine and are at home resting. We were pleased that it is possible for Rebecca to be in the USA for this birth and will remain there for our next granddaughter's birth in June to our daughter Marcelle. It has been such an encouragement to us that our children have grown into solid Christians with Christian spouses, and to have blessed us with such wonderful extensions to our family circle. We can hardly wait to receive our next bundle of love.
Just as there is a process to the growth in our Christian walk, so there is a process to the growth in the local church plants. We understand this and are patient to guide the local Christians into a path of hope and trust in the Lord. It has taken some time for the leadership to emerge in the church in the Uruapiara lake, but they have now taken ownership of their congregation. Even as there is a gestation period for a fetus to become a baby ready to live in the world, so there is a gestation period for the local congregation of believers to grow to the place that they are ready to serve the local church as leadership and functioning members. At this time, we have a consecration service to publicly declare the "Evangelical Church of Uruapiara" officially established as a congregation under their own local leadership. We will be having this service the 27th of May. I will being going down to the lake to officiate the service . The local Christians are excited, as the Lord has done much in their lives and they want to be active in their lake for the Kingdom. We need prayer as we now start a new phase of pure mentorship in this lake. Sometimes it is hard to just coach and not play.
Edson and Kathleen just got back from three weeks out at the Carapanatuba church plant. The ways of the Lord are just that — HIS — and He knows what He is doing. This church has struggled with their identity as Christians, and anytime one of them had some sort of spiritual fall, they let the world beat them down. We keep encouraging them that redemption covers that and you come back to your walk with Christ to continue on. To be a light to the world, our walk with the Lord must come first. This last month while the missionaries were there, they had to engage in a deliverance session for demonic possession in the daughters of one of the church families. Our enemy tries to destroy and dismantle God's work , but his actions are often missteps on his part. These events opened the door for the missionaries to minister to the local Christians on renouncing their past ( the father had been a "healer") and taking a stance together as a congregation over the actions of the enemy. This helped the local Christians understand the importance of the fellow believer, who can be a support in prayer and deliverance. There is always a spiritual battle for souls, and although we sometimes don't like the sights and sounds, we are dealing with eternity so we must be ready at all times. The Lord had a great victory .
I continue to do the last required changes on the Atalaia for the major inspection which is tentatively set for the first part of June. We are praying that the inspector will be impressed with the thoroughness of all our installations and we hope and pray to have our operating license issued. Thank you for your prayers.
Keep praying with us for new missionaries as there is much to be done and lost souls who need Jesus.
Serving Christ in Brasil,
Stan for Rebecca
P.S. Prayer request would be
- for the boat to gain the approvals as soon as possible.  The Port Authority who must sign off has an enormous area to cover.  This is a new type of boat so the process is new.
- Licensing exemption for the River People.  They handle boats from almost infancy and are very skilled on the rivers.  However, new regulations require them to be literate and many have not had educational advantages.  They are losing their boats which is transportation and livelihood.  Pray for either alternate testing or exemptions.
- A new missionary is coming on boat!  May her funds come quickly, language be learned easily, and acclimation be easy.
# # #
May 12, 2012 – BOMU update

# # #
April 22, 2012 – News from Brazil
Dear Friends,
We had prepared the greatest photo update for you several weeks ago when our Internet server failed; unfortunately, our Internet is still running slow so we decided to forego the pictures for the moment and bring you a brief update.
We are grateful that our timing is dependent upon God's sovereignty. The Port Authority will not issue any provisionary boat licenses before the Commander writes off the inspection. However, the Commander of this port is over a huge geographical region and is rarely in Humaitá – so we are still in line. God has blessed us with a personal relationship with this man and his wife, even to the point of having a special meal at their home on Good Friday, ironically. Several weeks ago when we were asking for permission to travel over Easter for the church dedication (which has been rescheduled), the second-in-command in the port office handed us a new list, quite long, and said we needed to fulfill another set of requirements because the Federal government had come out with a new type of classification for our boat size. This was a bit of a shock, but Stan went online and printed out the entire law and requirements regarding this new development so he could study it. Interestingly, it turns out that this official was wrong, so Stan went back down there and went over the list with him. He was surprised and asked Stan if he could make a copy of it…trust me, we were thinking the same thing you probably are right now. Anyway, where it stands now is that Stan was right and we are back to just waiting for the Commander to get to our boat. Anything could happen during the inspection, so please continue to make this a matter of prayer. We have done everything humanly possible and can only rest in confidence that God's timing has something to do with things we don't know. It has tested our patience, but that's probably wasted energy.
This morning, three of our missionaries are arriving from the interior and two other of our missionary men will continue there; the church in Jacundá has taken a leap forward in their spiritual growth and the believers can't seem to get enough teaching. We are very interested in Andreia's report because she spent considerable time teaching on spiritual warfare and leadership – these are important tools for the church to understand and be able to use and our prayers are that the Holy Spirit will give His understanding to the believers. They face hostility from surrounding neighbors; please also pray for your brothers and sisters in this remote place to stand strong and stay encouraged, only possible as they keep renewing their minds in the Word.
I have quite an active schedule here in town with various English students and it's just thrilling to have opportunities every single day to evangelize. They come to our home; I have individual students as well as one larger conversational English class. Lately, I have also been doing a lot of cooking classes – this forum is even better for friendship – the women open up and I am able to respond to them from a Biblical perspective and have had opportunities to pray for some of them, even though they have not made a decision for the Lord, yet. The thing is – getting close to people who do not know Jesus personally makes us vulnerable; these women have become friends and precious to me and I so desire their salvation. So much is at stake! The same thing is true for the river people; they cease to be statistics and are people we love and care about their eternal destiny. My constant prayer is that God will bless our work with fruit, that our labors are not in vain.
Stan and I want to include a very personal prayer request in this email: our daughter-in-law, Samantha, is full-term in her pregnancy but they suspect she may have pre-eclampsia. I have a ticket for May 8, but it looks like our granddaughter will arrive before I do. Please pray for both Samantha and Gracie Ann, that God will bless the end of this pregnancy with a safe delivery of a healthy mom and baby.
Grace and peace,
Rebecca for all
# # #
April 19, 2012 – BOMU update

# # #
February 5, 2012 – News from Brazil
Dear Friends,
We are so happy to be writing to you from Brazil this time! We had an uneventful trip back, and were received by our staff with open arms and big smiles. We took a couple of days to settle in and get organized, no small feat after being gone five months. This past week, we met with the missionaries both as a group and individually. After listening to their reports of the work in the interior among the river people, Stan and I were immensely encouraged about the spiritual growth taking place among the believers in the churches out there. Have you ever had that sense of delight when you return to a garden after having been gone a while, and there is a rich display of foilage that wasn't obvious to you when you left? That's a little like the feeling I had as I listened to the missionaries share. All of what follows is a huge praise report to the King of Kings, our Sovereign Lord who does all things well.
Soon after we got here, a large van pulled into our yard and a group of eight or nine young people piled out. Nildo had arranged for them to participate in a youth camp in Porto Velho with one of the churches who had been involved in Teen Missions in years past. Now that TMI no longer operates an overseas boot camp here in Brazil, this church is trying to fill in the gap that was left, as the TMI ministry bore much fruit here. This was the first time many of these young people had even been outside of their community! All of us missionaries are disappointed we missed a photo op, but we got caught up in greeting these excited young people — they were literally glowing. One family in the interior released their three oldest kids to participate, which left the nine-year-old with the job of the family laundry at the river edge. Everyone was joking that she'll probably be the most glad of anyone for her siblings to get back! The moment was so significant — these kids who were hugging everyone are the same ones we had in Vacation Bible School ten years ago as little children, and they have stayed firm and grown in their faith, a new generation of believers.
In the same lake, Uruapiara, there are several communities with groups of firm believers, but they are spread out along the lake. This translates to a long canoe ride and the cost of gasoline to run the small motor. However, they love coming together for worship and one of the brothers has suggested they put up a structure beside the church so they could spend the day for both the morning and evening services without being a burden on the missionary family. This way, they don't have to make two trips and they can make their own lunch and rest in a hammock between services. This is encouraging because they are the ones taking the initiative to solve their own problems, borne out of a desire for fellowship in the Lord.
In the Carapanatuba, one of the brothers has emerged as the leader of that church, brother Jesus. All of these years, he has been in the background, a quiet man, but through various trials, this man has matured and gained respect among the whole community, including non-believers. Over the course of several years, Pedro and Sula made a decision to move to Humaita, and with their strong presence gone, the church went through a major transition. Kathleen and Edson have been working in there intensely during this time, but with the objective of helping the church make their own decisions. The man to whom Pedro sold his house is not a Christian, and although the agreement was that the church next to Pedro's house was separate from their deal, once Pedro left, this was not upheld. Ouright hostility made it very difficult to operate the services — deliberately turning the radio to loud music stations during service so nobody can hear,  actual confrontations with false accusations about the house owner's rights being infringed upon, etc. Finally, Jesus took the initiative to resolve the problem. He shared that the Lord convicted him about doing more in light of the many things he had received through years of faithful missionaries serving him in great difficulty. So, with his own money gathered from the gold mine, he moved the church building to a quiet part of the village, near his house, where he can keep an eye on it. This sent a strong message throughout the community as to Jesus' commitment. Once again, that church is beginning to grow.
There are other stories to share, but perhaps that can wait until another time so this doesn't get too long. We are facing some major transitions in our mission, as well, among the staff. As things become more clear to us, we will share specifics with you, but in the meantime, please pray for wisdom for Stan and I. Also, pray that the Lord will bring us more missionaries that will be willing to commit to the long haul, with gifts and talents that will make a difference.
I've included one picture of the boat with her name painted on it — the documents are coming together! Don't stop praying until we're at the other side of it!
Blessings to all in our Lord's name.
Grace and peace,
Rebecca

# # #
January 8, 2012 – Belated Merry Christmas & Happy New Year
Dear Friends,
Belated Merry Christmas and New Year's greetings to each one of you! We are expecting exciting things for 2012, and all of it is based on what God is doing.
First, we want to formally announce that we are going to be grandparents for the first time in May, when Sven and Samantha present us with a granddaughter. Then, in June, Marcelle and JR are going to give us grandbaby number two! What a great Christmas gift that will last for the rest of our lives! We spent a wonderful Christmas in California at Marcelle and JR's home, and Sven and Samantha were able to join us. We are quite aware of the blessing the Lord has given us to have two Christmases in a row with our children.
After logging over 9,000 miles on the vehicle Rebecca's parents provided for this furlough, we are glad to be looking forward to our return to Brazil. We want to thank all of you who so graciously hosted us along the way, providing food, fellowship and hospitality. There is nothing quite like being in a fellow believer's home that brings you into closer friendship, and it's always so satisfying to be able to share in person what the Lord is doing among the river people in Brazil and all that surrounds this ministry. Although we have not been so frequent in our updates during this time, we assure you that things continue moving forward down there.
Nildo and Katia have been at the front of getting the documents moving for the boat, but as we shared, this is a bit of a slow process, full of illogical red tape. Please continue making this a matter of prayer. Things have progressed, but we've hit a snag that revolves around a needed signature from one of two men who have a long-standing feud, and neither one wants to budge. That's the quick version, and trust us, it's enough. Nildo and Edson also graduated in high standing from the Master Pilot Liscensing program, and we're so proud of them. Kathleen and Andreia have completed the course in Naval Culinary and also passed at the top of their class and have that document in hand. There are still things that need to be completed in order to satisfy all of the government requirements, but we are well on the way.
Another area in which we are preparing for the new outreach in the Rio Jurua region is in the medical department. Kathleen has been accepted into a Microscope Technician program and has started those studies. This will be vital for us, both as a staff and as an outreach, as she will be able to test for malaria in that remote region. The Lord has provided a microscope for the Mission through a specific gift for this need, another blessing for which we are grateful.
When we get back later this month, we will be able to update you with more details and observations, rather than just relating things second-hand. We are so privileged to serve the Lord with such a competent and dedicated staff of Brazilian missionaries. They really are an extended family to us in that part of the world, and we know the feeling is mutual. They are eager for us to get back! That's another thing to be thankful for, isn't it?!
Speaking of returning, we were originally scheduled to fly out of Denver on January 10, but we've had an unexpected last-minute snafu, so we've had to reschedule for January 23rd. Thanks for your prayers to get everything taken care of and to be on that plane. We look forward to seeing our team again and to rejoining them in the ministry on the field.
Grace and peace,
Stan and Rebecca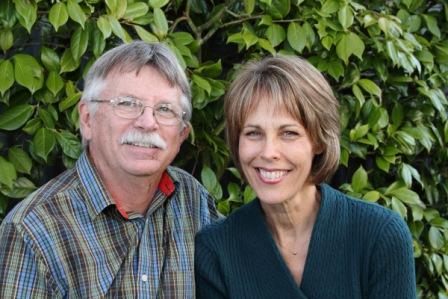 # # #
October 15, 2011 – Update from Stan & Rebeca
Dear Friends,
Just a quick update! First, the reports from our staff in Brazil are good. One of the new maritime laws is that anyone who cooks on a boat must take a government-approved class in Naval Culinary, and also pass a swimming test. There aren't that many options out there, but the women have found one that works for our location and are in various stages of working through that requirement. Yesterday, Kathleen wrote that she passed her swimming test, a major victory for her, and Andréia also has that behind her. Please continue to pray for the rest of the women who still need to get past this hurdle. I will also have to go through the process when we return to Brazil.
Nildo and Edson are busy with classes that will lead to their certification as boat pilots under the new law, and they've been interspersing short trips to the interior to check on the believers and give them encouragement. Also, Nildo and Kátia have been working with a naval engineer to get all the necessary documents together to submit to the Port Authority for approval. This is a special prayer request, that the Lord would move things along to completion in a reasonable amount of time and that we won't hit any major snags.
Stan and I are five weeks into a seven week speaking tour through the eastern part of the US. We are in Florida right now and will head towards Kansas next week. We've enjoyed great fellowship along the way with family and old friends, as well as new. We'll be in Colorado for the month of November, California in December, and Lord willing, will return to Brazil in January.  God has blessed us with comfortable transportation and safe travel, and the change of scenery (literally!) has been refreshing for us.
Grace and peace, Rebecca for Stan, too
# # #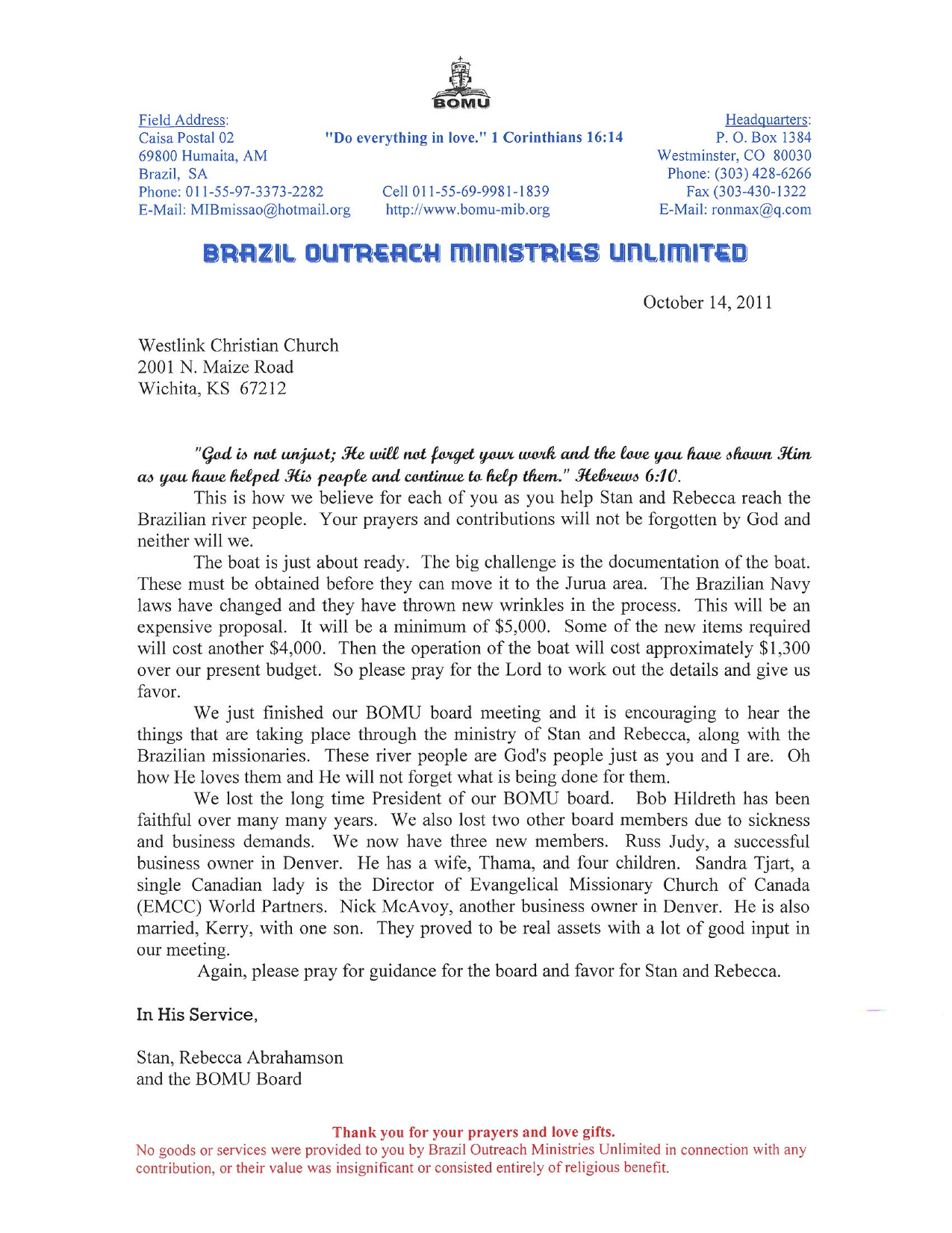 # # #
October 7, 2011 – Update from Stan & Rebecca
They will be here at Westlink the weekend of October 22-23, 2011
This morning in church, we started by speaking out reasons to praise the Lord, and there are many! One of my favorite songs here is music put to the words of Habakkuk 3:17,18, "Though the fig  tree may not blossom, nor fruit be on the vines; though the labor of the olive may fail, and the fields yield no food; though the flock may be cut off from the fold, and there be no herd in the stalls — YET, I will rejoice in the Lord, I WILL joy in the God of my salvation." (emphasis mine)
With an eye on the economy in the US, Brazil, and around the world, and with talk of war around the nations, we are compelled to draw even closer to the Lord through His wonderful prophecies, and to ask for strength to continue on in that which He specifically asks of each one of us. Stan's message today was exactly that, one of serving the Lord's kingdom and His purposes, no matter what. We are greatly looking forward to traveling to the States for a period of time and reconnecting with many of you, to give testimony of what the Lord is doing here, in our part of the world.
AND! Now that the new boat is finally sitting at the port in the Madeira River, Stan feels like a weight has been lifted off his shoulders. It finally happened! We are rejoicing for this victory — the engine is running smoothly and everything is working as it's supposed to. This is a great motive for praise! For the many people who carefully questioned whether or not the boat was top-heavy — let me assure you, on Stan's behalf, that he would not have designed a boat that would tip over! It's an optical illusion; the base of the boat is definitely wider than the top, and heavier. He tried to get a picture of it this morning that shows this visually, but perhaps you'll just have to come down here and see for yourself?! This was the most-asked question throughout the project, and the second most-asked question is, "What's the boat's name?" We still don't know! It's narrowing down and we're still open to suggestions! There is definitely a front-runner at this point, though. We also had our first service on the boat last week, which you can see in the picture of what will be the kitchen/dining area.
Starting tomorrow, the men will be moving all the pre-built furniture into the boat, which will be a complicated process involving a lot of jockeying around with both the boat and a truck to make one trip from the mission base. Stan will finish up as many little projects as he can before we leave in two weeks, but it's at the point now where he can turn most of it over to Nildo and the other guys. We will meet the Captain of the Port before leaving, as well.
# # #
# # #
August 1, 2011 – New Pictures from Stan & Rebecca Abrahamson…enjoy!
Stan just walked in the door with these
pictures of the boat –
we thought you'd enjoy seeing them!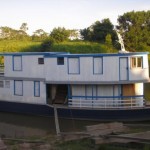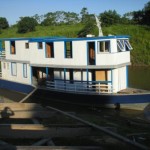 Okay, so I can't resist the babies…what can I say??
But these are just too cute not to share!
1.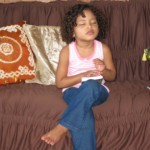 2.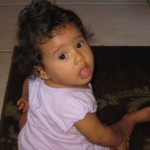 3.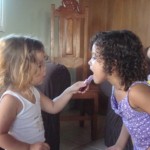 4.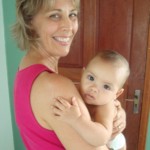 5.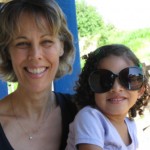 1. Sophia praying — is this precious, or what?
2. Lorena — what a doll!
3. Sophia and Gabriela putting lipstick on each other!!
4. Me with Ester (Kathleen and Edson's little gal)
5. Sophia and I at the boat yesterdaday, playing with my sunglasses.
6.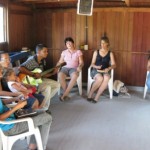 7.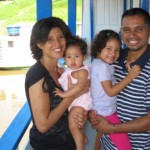 6. Yesterday on the boat, having church
7. Marilia, Nildo, Sophia and Lorena (I love this picture!)
# # #
July 23, 2011 – Great news on Katia. Check it out!
Dear Friends,
The Lord worked a wonderful miracle for us this week, especially benefitting Katia! We give Him all the glory and express our joy! The doctors wanted Katia to repeat the cerebral angiogram back in January so they could verify how the embolism was holding up, but her new health insurance plan has a three-year hold on that specific test since she had a pre-existing condition. We tried, as did Katia, to raise the money to pay for it, but every door seemed to shut, so we just continued taking it to the Lord. Several weeks ago, Katia began having some different symptoms, so she scheduled a check-up, and more exams were ordered, but these were within the time frame of her policy to be authorized. One of them had to do with mapping the area around her optic nerve, and that exam came back with increased pressure on the nerve. Dr Ivan, the chief neurosurgeon for her surgery last year, told Katia the pressure could have already been there, but coouln't say for sure since the other exam hadn't been done, and he explained that it was also possible that the aneurysms were filling up again, perhaps requiring a second emobolization. He told her it wasn't an emergency, but stressed that she needed to find a way to have the angiogram done.
Katia had managed to save $700 of the $2600 needed for the exam, so she decided to approach the insurance company with the proposal that she pay what she could and they authorize the rest; she called here the other day crying, very excited, saying that the company told her that after examining her records, they decided to make an exception and authorize the angiogram, and that she could keep her money! She was able to schedule the exam for this Tuesday, July 26, so Andreia and I will be taking her to Porto Velho to accompany her. The exam is set up for 8:00 AM, and we are on Eastern Standard Time right now. Please pray that all goes well and that we will receive a good report — none of us want Katia to have to go through yet another procedure.
Please also pray for us as we continue working on the boat, and in particular, for Stan. If it only depended on him, the boat would have already been out on the river, but he has to wait on others to move things forward. The boat builder will be back here on Tuesday with the last part necessary for the boat to run on its own power. The stream where the boat was built is dropping at an alarming rate, and if we don't get it out by this week, it could be stuck in there until rainy season starts again. This would really be a serious situation for several reasons, including security for the boat because of the surrounding neighborhood. Also, Stan wants Nildo to be using the boat in this region while we are in the US so we can "tweak" anything that might not be apparent while still docked, before actually moving it to the Juruá river system. We are hopeful we will be able to get provisionary permission to run the boat until the documents can be issued. It looks like we may be able to meet the man who is the top authority in issuing the documents for boats here in Humaita, so we will be able to get reliable and complete information in the most amicable way possible. We aren't looking for any special favors — we need to have adequate information, so please pray with us! But, having said that, we also need to have favor with the authorities.
Because of the time pressure surrounding the boat project and our imminent departure for furlough, Stan had to cancel the trip to the interior this week so the guys could help him at the boat. Nildo commented to Stan the other day that it seems like they work and work and there is still so much more to get done. Stan told him that "Now you know how I feel." It's been a great blessing for Stan to have Nildo and Marcos at the boat this week and last. Lord willing, we'll get the boat out onto the Madeira River, and it's still possible the teams could squeeze one more trip into the interior before we leave. Soon, Edson and Kathleen will be back, and then Marcos and Claudia and Andreia will be heading off for deputation. Please agree with us that the Lord will bless their presentations and that they will be successful in raising their support level.
In spite of the many prayer requests, we have many more praise reports. I am so glad to say that I've had multiple opportunities for long and frank discussions about the Lord with several of my students and unsaved friends around town. Because I grew up in a Christian home and can't remember a time when I didn't know the Lord or have constant access to good Bible teaching, it always surprises me when a highly educated friend tells me they've never even seen a Bible and don't have any idea about Bible doctrine or Bible stories — it reminds me that we must never assume that just because someone has a respectable profession or is well-traveled that they have heard the Gospel news of the Lord Jesus. It seems to me that we must always seek out opportunites to genuinely befriend those around us who don't know the Lord.
As we've told you before, it is our joy to pray for you as your requests become known to us. We meet each Sunday morning as a staff when the teams are here, and it's with grateful hearts that we can reciprocate your love and support to us through intercession. Please let us know how we can pray.
Grace and peace,
Rebecca for all
# # #
June 20, 2011 – The Lord has provided!!!
Good Morning, Like many of you, we are into our dry season and hot weather. It isn't hard to notice here, as the grass doesn't have to be cut twice a week and the water level in the river is going down like someone pulled the plug. Sweat, and drinking a lot of water, become the norm.
The believers in the interior continue to grow spiritually as they receive the discipleship classes and apply the material. Recently, they have been asking a lot of questions to clarify certain aspects of the subject matter taught. This is a good thing, as it means that they are listening and pondering the material. The Holy Spirit has guided the missionaries in their responses, and many have clarity on these truths.  Pray that these resources will not only be understood, but also applied in their daily lives.
These next few months will have some adjustments as the missionaries take turns traveling back to their supporting churches to give a report and seek more personal support. In August, Rebecca and I will be going to the USA to share with all of you.
Great News: The Lord has provided the funds for us to finish the new boat.!!!
We are so thankful to God and those who gave. We are all called to build the kingdom, and when we all build, the kingdom is built.
Right now the boat is out of the water, as we are putting in the propeller drive shaft, rudder assembly and water coolant valves. The specialist will then align the motor to the shaft so we can get the fuel tanks in and start it up. We still have a lot to do, but we are making great progress. We can't tell you the exact date it all will be done, but we are working on it and expect to have it traveling on the river before we leave in August. We will use it on this river system (Madeira) while we're Stateside and Nildo can work out any remaining "kinks" before taking it to the Juruá. Pray for us, as this year the Navy modified all the laws that pertain to documentation of these boats, and not every item is totally clear on what they expect. This means that we build and do as we have been doing, and even in some cases, as they instruct us, only to have them later come tell us to change something. Hey, they are the God-established government here, but God is still in charge.
Pray for us to have the physical strength and wisdom in manufacturing and finishing up the last projects.
The Lord continues to bring lives into our arena to touch with the love of Christ, even when we aren't out on the river. We are all ministers of the Gospel of Jesus Christ, no matter where.
God bless,
Stan and Rebecca
# # #
May 23, 2011 – Abrahamson Update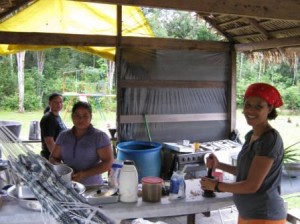 Let's see if I can condense all the news into one manageable email; we were so blessed when we met as a staff to share the individual reports, and the only appropriate response is gratitude for what God is doing among the river people. Thank you, Jesus! I think the pictures are self-explanatory, and they follow the order of the update—arriving with a boat load of young people, preparing the meals, water baptism, Bible studies, and various activities of the retreat.
Starting with the Carap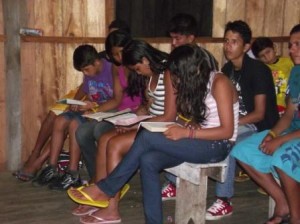 anatuba village, perhaps you remember the pictures of the river taking over and making it nearly impossible for Kathleen and Kátia to get around with the baby. Since Edson had gone down to the youth retreat at the Uruapiara with the young people from Carapanatuba, the gals came on back to Humaitá. It's a good thing they did; Ester developed a serious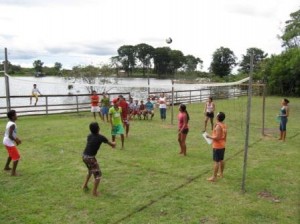 bronchial infection that would have been impossible to treat out there. But after Edson got back to the village after the retreat, he found that although the school and all other activities in the community were halted during the flooding, the believers took the initiative to keep coming together (by canoe). They've been encouraged by the boost they've received from the young people who returned "revved up". One of the things learned at the retreat was that each person has a respon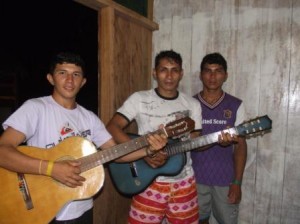 sibility in the church. Edson and Nildo told us that the boat load of young people arrived hours later than expected because brother Jesus was not familiar with the river and there was so much flooding that they went right by the mouth of the Uruapiara and had to turn around and backtrack. Everyone got a lot of mileage out of giving Jesus and Edson a hard time about that one!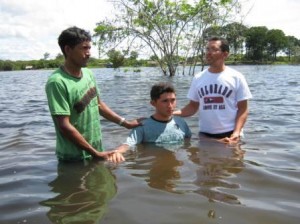 There were 27 young people at the retreat, two conversions and one reconciliation to Jesus. One of the greatest blessings to our staff was when one of the young people came up to them and said, "Is there any reason why I can't be baptized during the retreat? I want to make a public declaration of my salvation!" Nildo said, "Well, the only answer to that was "No, there is no reason!," because they had already given them the studies and the water was right at the doorstep, literally. So, then, four more people said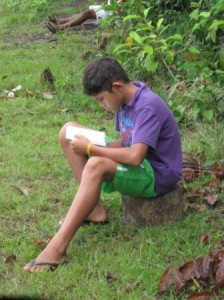 they also wanted to be baptized, so it turned into a huge celebration! During the baptism, two unsaved people watching came over and said that seeing the joy of the young people made them want to be Christians, too.
Since this was the first time for this kind of event, they limited the space to the kids already in the church, but Nildo said that there was so much interest among the unsaved youth that next year, they will use it as an outreach event, especially since they've already estab-lished to the young people how it's done; these kids will be able to do as much of the work for it the next time around. We want to keep their enthusiasm high for it so are already helping them start organizing and picking a date.
One man in the lake, Regis, overheard the teaching that the Bible says idolatry is wrong. He is not a believer, but he went to his father and confronted him with this information, asking why they worshipped idols. His father's answer? "This is a family tradition and we don't break it." Regis went back to the staff and has asked for more Bible studies. Pray for his salvation—when one member of a family in these communities makes a decision for Christ, it opens the door to an entirely new set of people.
There is a false prophe—a woman — who has settled into the Uruapiara, causing all kinds of confusion. However, we are rejoicing because the believers have been able to discern her as false, a great step forward from blindly accepting anyone who comes along making claims for Christ. This particular woman does not have a testimony to match her claims, which are wild, but the questions she's generated in the minds of the Christians out there have been the springboard for new Bible studies.
Another blessing this time was that the Gideons showed up with 3,000 Bibles and distributed them to every single inhabitant of the lake. It was a huge feat logistically, and our team was able to help them out. They were only there a couple of days.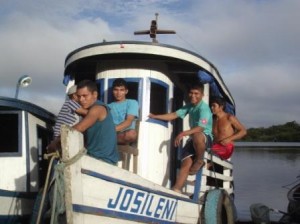 Here on the home front, things are busier than ever. The paint job on the boat is coming along, and starting tomorrow (Monday, May 23), they are pulling it out of the water to install the shaft, motor and transmission. We are seeing the end of this project getting closer, finally! Thank you for praying, and keep doing it!
Marília was not able to go back to the interior this time because she has two sick girls, seven month old Lorena and three year old Sophia. It's the bronchial thing going around and she's exhausted keeping up with two small ones who are hacking constantly. We're helping as much as we can, but there are some things that only a mama can do. Please keep them in prayer—it's hard to be separated from your husband, especially when the kids are sick, but he had to return to the interior for a couple of weeks with the teams.
I now have seven English students. It's an interesting variety, each one needing to know the Savior. Pray with me for their salvation; God has given me favor with them and the way I have structured their classes gives me plenty of one-on-one opportunities. It keeps me very busy, but it's a blessing to serve on this front, too.
Grace and peace,
Rebecca for all
# # #
Under the direction of Stan and Rebecca Abrahamson these Brazilians travel three large lake regions of the Amazon presenting the Gospel to the River People who have a mixture of folk and Catholic religions.
Westlink has assists with the on-going training of the planters and local leaders and is helping with funds for the construction of a new boat destined to be the ministry center in a restricted lake area.
# # #
April 17, 2011 – Abrahamson Newsletter
Dear Friends,
What a joy and blessing it is to belong to Jesus and to understand the true meaning of Easter. Because Jesus went to the cross for us and rose again conquering death, we have salvation in His mighty name! This is our message! Thank you for your prayers of protection over all of us as we go about the various activities involved in preaching the Gospel.
The missionaries were here for about ten days and left Friday evening on a commercial boat for the interior. This is a fact: the entire time they were here, everyone was healthy and doing great. The day before they headed out, Thursday, three of the children developed colds and fever, as well as Marcos. Baby Lorena didn't sleep all Thursday night, so that left her exhausted mother, Marília, to try and get last-minute things done before catching the boat. There are many things that can't be done until hours before traveling.
We don't believe the timing of all this is coincidence; this is spiritual warfare! We make a point to share it with you so you understand why we are so thankful to have your intercession. When the staff is all here, there are more people to keep an eye on things around here, and they can attend to their own business, such as banking, etc. Once they're gone, all of this must be absorbed into the activities Stan and I are already taking care of.
We are beginning the transition into dry season; it's getting hotter and the rains are more infrequent, but oddly, the river has continued to rise to the point where some of the streets in town are under water. This is true all over the Amazon. Remember the little stream that was a major trek to get down to in order to work on the new boat? Now, that stream has swollen and joined the Madeira and we have the opposite problem – the boat yard docks are all under water so once again, we are delayed in setting the motor into the boat. Compare the two pictures to get a better idea – it's the same place!
We are returning to the US near the end of August for a four month furlough; it's already been three years since we've been home to speak in churches and meet with friends and supporters. Our goal and desire is to have made at least one trip with the new boat before we leave; please join us in praying this into reality. Every delay has been beyond our control.
The value of the dollar has fallen yet again and prices continue going up (sounds familiar?), which wreaks havoc on our budget. Again, we need your prayers that the Lord will multiply the resources entrusted to us in such a way that all the needs are met.
This week, Edson and one of the brothers from the Carapanatuba, Jesus, are taking the young people to the Uruapiara for a youth retreat with the believers out there. We've been encouraging the missionaries to teach the people how to plan and come up with the resources on their own so they can learn how to do it without the staff doing everything for them; we pray that both the interior believers and our missionaries will be pleasantly surprised at how well it turns out. It is important to establish independent churches that function well with local leadership, but it's also a delicate transition. The circumstances are perfect, since there is such good oversight with everyone on staff present out there for this occasion.
When Stan and I took the team down to catch the boat on Friday evening, there were several young people from the lakes who were on the boat greeting the missionaries — some of them live in town with relatives to study — and it was so neat to see them mature. It's also encouraging when the believers share specific ways they have applied the Word to resolve their own problems and even conflicts in the communities in which they live. After fifteen years of saying "no" to her children being allowed to participate in Sunday School, one lady in the Uruapiara has relented and conceded to let them come. This is a seemingly small thing, but the implications are huge within the community.
I have taken on another class of English students, a mother and her daughter and two nieces. I would not ordinarily have agreed to teach children (ages 9, 10 and 17), but I had clear direction from the Lord that this was a Divine assignment. They are proving to be excellent students and I will have class with them until we leave in August. This request came from the mother of the two nieces, a friendship I have been cultivating for many years. When I see her, I am always reminded that she doesn't know the Lord as Savior — we have prayed for their salvation for a long time. They are a well-known family here in town and if they got saved, it would send shock waves through the community. Pray with us for them!
One funny thing that happened with this class last week was somehow I ended up telling them the story about the snake in the toilet. The aunt, Lenilza, was horrified and I assured her there weren't any snakes around now. About five minutes after they left, one of the girls, Leticia, called me to let me know that as they were leaving the mission base and turning onto the dirt road out front, a big boa constrictor was crossing the road! The girls got the biggest charge out of that, but we all felt sorry for their aunt!
The missionaries return May 8. We already look forward to a good report when they arrive, which we'll pass on.
Again, many thanks for your participation in prayer, friendship and financial support.  Our joy, His glory.
# # #
April 1, 2011 – Patterson Family Prayer Letter
FRUSTRATIONS:
Communicating in Portuguese. Even though preaching, teaching and "one-on-one" through excellent translators went much better than I anticipated, I still longed – so often – to be able to engage in conversations with precious people when there was no translation available. The only word I learned well was "o-bree-gaw-do" ("thank you"). That went a long way! Also, warm handshakes and hugs and smiles and thumbs-up went a long way too!
Adjusting to the heat and biting insects. I left cold Colorado. I landed in the midst of oppressive heat, humidity, and bugs in the Amazon jungle! Even though I breathed 100% better and enjoyed the frequent rain showers, the heat felt quite "heavy" and I did lose a bit of blood to mosquitoes and biting flies!
Beautiful people in bondage to Satan's strongholds. Much about this culture and its people is so beautiful and fascinating! (I could talk for hours about it!)  Yet, while the Bible clearly teaches that all persons outside of a genuine relationship with Jesus Christ are equally "lost", the depths of deception and enslavement to the enemy's power vary. With heart-break, I could see and feel in Brazil the terrible, centuries-old, life-degrading bondage to error and immorality! In some sense, I felt an even greater need there than we have here in the U.S. for much God-focused faith and prayer (see Matt. 17:19-21) to accompany the clear preaching and teaching of the gospel of Christ, which alone is the power of God for salvation (Rom. 1:16).
BLESSINGS:
I was privileged to work with a wonderful missionary team. They were a far greater blessing to me than I was to them! Along with Stan and Rebecca, the American couple who have led this ministry for over 20 years, I got to minister to and with 8 precious Brazilians. Two are single gals, Andreia and Katia, who love the Lord and His service deeply. There are three couples: Nildo and Maria, with their two precious children, Sophia (3 yrs. old) and baby Lorena; Marcos and Claudia with their precious 2 year old, Grabriella; Edson and Kathleen with their precious baby, Esther. These were all very gracious and loving! And they were so attentive and receptive as I taught them from God's Word. Pray for all these that their love for the Lord and His Word and work will continue to increase and flourish! And that God will strengthen them to continue proclaiming His life-giving Word to more and more of the needy, unreached "river people"! The whole team fed me and fellowshipped with me! They prayed for me and encouraged me and strengthened me in the Lord! To Him be the praise and glory!
On a trip down river to the Carapanatuba, I was able to help the missionaries do improvements on the church they have planted and built there. I also helped build a nice outhouse for the missionaries there – quite a contrast to the one they had previously had to use! I got to minister to the little nucleus of believers there. One that my heart went out to most is "Jesus", a very willing-to-serve and loving man with a dear wife and 10 children, who is currently suffering with malaria! Beyond the limitation of not knowing their language, I sensed a real love and rapport with many of the precious children in this village. This was so much like the feeling I've sensed with the youth in Jamaica. Join me in praying for these precious, needy people whom our Lord dearly loves!
LESSONS: (I'm beginning each of these lessons with "blessed are those" because they are all Biblical and might perhaps speak to your own heart and life. But each lesson was brought afresh to me in a very personal way during my times with the Lord on this Missions trip. The Lord "preached" them to me and I'm passing them on to you – first of all that you might pray that these get deeply woven into my own spiritual life and character, and then that you may ponder how the Lord may use them in yours.
Blessed are those who increasingly live more by faith, less by sight (II Cor, 5:7); who live "as seeing Him who is invisible"(Heb. 11:27) as being with them always (Matt. 28:20b; Heb. 13:5c; Psa. 46:1).
Blessed are those who keep their focus – not on temporal things – but on eternal realities, riches and rewards (Matt. 6:19-21; II Cor. 4:16-18; Rom. 8:18, 23-25).
Blessed are those whose faith focuses on and totally trusts in the Lord Jesus Christ (Heb. 12:2 ) and whose faith expresses itself in genuine love (Gal. 5:6).
Blessed are those whose faith triumphs, even when severely tested (I Pet. 1:6-7; 4:12; Hab. 3:17-19).
Blessed are those who by faith are willing to be flexible and "stretch-able" (for they will not be easily "broken" or "hardened" by hardships and "heat" which come while living for the Lord!)
Blessed are those who learn to live one day at a time (Matt. 6:34), moment by moment, fully engaged in the "now" (II Cor. 6:2b). The Lord reminded me that concerns about tomorrow's heat, or tomorrow night's mosquitoes, or the return trip home, or all that needs to be done when I get home, etc. not only wastes thoughts, precious emotional energy and spiritual focus, but it also robs me of the full experience of what God is teaching, and doing in and for and thorough me in the precious present! (God emphasized this need to live fully in the "now", now, over and over in my prayer times. He still does. I too easily let this all-important lesson slip from my mind!)
Blessed are those who humbly part with all their "pity-parties"! (It's not so hard to do this when I remember the big world out there with all its huge hardships, hurts, needs and sufferings – especially when I remember those of fellow servants of our Lord! Nothing so quickly shrinks the size of my self-pity as reminding myself of the sacrifices, difficulties etc. that dear brothers and sisters in the Lord daily, and often joyfully embrace, by His grace, that they might reach others for Him!
With you in reaching others with the glorious gospel of our great God and Savior,
Dean Patterson, Matt. 28:18-20
# # #
March 26, 2011 – Dear Prayer Partners
Well, we can testify that your prayers are being answered as far as rain goes. It's been a "good" rainy season. Thank you.
Church planters: Nildo and Marilia, Uruapiara Lake, Ipixuma community;  Marcos and Claudia, Uruapiara Lake, Jacundá community, and oversee Baetas church plant; Kathleen and Edson, Carapanatuba, will soon be helping in Jacundá; Andreia, Jacundá and will offer some help in Uruapiara; Kátia, Carapanatuba and we'll see how she does to determine her next place to help. All of them will be directly involved in the new region with the new boat, Jaurá.
The church plant in Jacundá, one of the communities within the huge Uruapiara Lake, has taken off. We feel we've really fine-tuned how to get the job done in the most efficient and effective way. The next several months are going to be working toward joining these two church plants (as much as possible due to the distance) so they can take encouragement from one another. We are tentatively planning a youth retreat over Easter and are praying to be able to get the young people from the Carapanatuba out to it. Please pray we will succeed.
Thank you so much for your support—we sense you stand behind us and we are all so grateful. We also pray corporately for Westlink. I can hardly wait to see you in October, Martha. May the Lord give you strength to do all you are called to do—you are a wonderful blessing in our lives.
Love,
Rebecca
Prayer & Ministry Team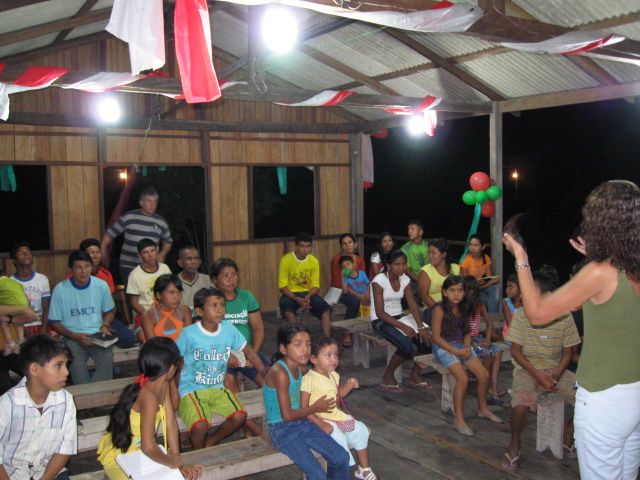 Teaching children – This is taken inside the Alpha, their present boat boat.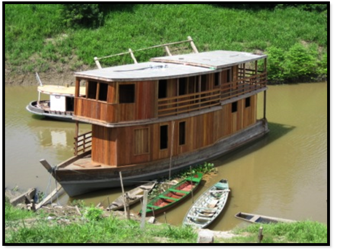 New boat for teaching and ministry. It is necessary to use a boat for base camp in the new region, since the Brazilian government forbids cutting down trees.
February 27, 2011 – Dear Friends,
This has been a week filled with interesting things, comings and goings, and opportunities to "sow seeds"!
First, the fiber-glass is completely finished on the new boat. (One of these days, we're going to start referring to it by its name, but though we have some good candidates, we haven't picked one, yet!) Stan got the glass installed and secured on the pilot's windows, and he has most of the preparation ready to install the motor and transmission when he gets the last part.  The nice thing for Stan is that he no longer has to traipse down a long steep hill to get to the boat. Remember the pictures of that hill? Now the boat is floating nearly level to the street, with only a gradual slope to get to it. This is especially handy when it's raining, you can imagine.
Second, Kathleen and Edson (Brazilian Church Planter couple)  had a successful trip into the interior for the first time with their new baby. Babies and children open so many doors for missionaries; when we were raising Marcelle and Sven (Abrahamson's children living in the U.S.) , they were always a magnet wherever we went. The same is true for our missionaries, and the believers in the Carapanatuba (first lake evangelized by the team) had a wonderful time taking their turn with Ester. This was also Kátia's first trip to the interior since the aneurysm (brain aneurysm that should have killed her) , and both she and Kathleen came back with glowing reports of how well she did. She helped with the teaching, and helped with Ester. Kathleen put in a special request for Kátia  to travel with them next time, again. We do not cease to be amazed at the mighty miracle God did in her life, always thankful.
They returned with an intriguing story. This church has been going through some struggles that have finally begun to improve. During this time, one of the key families moved into town, and it left a bit of a hole in their structure, but through this experience, the rest of the believers have had to step into more responsibility. One family had withdrawn, however, and finally on this trip, the father of this family approached Kathleen and Edson with what had been bothering him. It turns out that back in May, when Kátia was in such great need, he had come upon some gold while mining, and he had entrusted a nugget to this brother that had moved, to give to us as an offering to help with the bills. (This could be another subject, entirely, the love of the people for Kátia, how out of their own great need, they gave toward hers.) Unfortunately, we did not get the gold, and when our brother found out and confronted the other man, he was off-handedly told that another pastor wanted to buy a motorcycle, so he gave him the gold instead.
It's taken all of these months  for this precious brother to process that betrayal and finally tell our team about it. Needless to say, we are both disappointed and concerned about how this man, our brother in the Lord, acted in bad faith. In the end, though, these difficulties have served to strengthen the church. We are excited to bring a special treat to them in March by way of a visiting pastor friend from Colorado, Dean Patterson. Both the people and Pastor Dean will mutually benefit from their time together, and we know the Lord will encourage this small group of believers. Getting to be with them always has some kind of an impact on people when they first meet them.
Sometime in the next 36 hours, we expect the rest of the crew to show up. They've been in separate locations in the huge Uruapiara lake (second lake they are working in) . We have not had word from them since they left several weeks ago. Remember our motto: no news is good news.
Probably the highlight of our week was Monday; two pilots from Asas de Socorro (MAF) were landing in the places they are scheduling to serve this year. They landed in the Uruapiara, but all of the staff was out visiting, so they did not see them. Then they landed out here on the river in front of town; we were expecting them, as this was a logistics meeting, and it's always such a thrill to see that plane fly over with the pontoons on it! Stan and I met them down in a "little" stream off the Madeira River and brought them home for lunch and a meeting. I don't think there is anything quite as thrilling as meeting with other like-minded people when it comes to getting the Gospel out. The men had maps spread all over the table and the fellowship was rich — we feel so blessed to be able to serve the Lord as missionaries here in the Amazon. We never cease to thank the Lord for our supporters who share our vision and help us so much. Thank you to you, too! As the boat nears completion and details begin to settle for flights into the Juruá region, everyone's excitement grows.
Pray for Stan this week; he has to have some minor surgery done on his gum. We will go to Porto Velho for this. We are blessed to have a good dentist who is also a family friend over there. Pray, also, for our team to rest up before Pastor Dean arrives; once he does, we have a busy schedule. He will only be here for two weeks and we want to make the most of his time. Remember him, would you, as he makes the long trek down here.
Grace and peace,
Rebecca
# # #
Dear Friends,
It's been a while since we've written, and we've been busy during this time! As we mentioned in the last update, Dean Patterson, a pastor from Colorado, was coming, and we enjoyed his teaching to the staff. He was also able to make a quick trip out to the Carapanatuba with Stan and some of the missionaries; not only did he get to share with the body of believers there, he also got in on helping build an outhouse for Kathleen and Edson, much to their great relief.
It's always good for us to have fresh eyes from the outside. Sometimes, our surroundings become so familiar to us that we fail to communicate prayer needs that might astonish you. Dean commented several times about one of the brothers in the Carapanatuba, Jesus, who they found huddled up in his hammock, shivering with a malaria fever. He has ten children, including one who also has malaria, and their house has no running water and no electricity except for  a few light bulbs, which he runs off of a small generator. This is a precious family – Jesus has offered to take the young people in the Carapanatuba church down to the Uruapiara for Easter so they can participate in a youth gathering. Please pray for his healing and that the Lord will meet their material needs.
After having so many people around for several weeks, all of a sudden, it's very quiet around here. This week, it's been just Stan and I, but Andreia returned last night. Stan and I are catching up on projects, mainly office work, that got temporarily pushed aside. I also resumed my English classes with two women professors, Juliane and Cibele, so pray with us that this will translate into opportunity to speak the Word into their lives. God has also brought another woman into my life, the head of Social Services at the hospital here, and she has many serious problems that only the Lord can resolve. Please also pray for me to have wisdom as we meet together.
Stan's boat builder made a trip to Manaus and was able to purchase the brass shaft through-seal which we'd asked you to pray for. They have set up the first week of April to pull the boat out of the water to install the motor. We have only about eight percent of the finances left to raise in order to completely finish this project. This does not include the documentation with Port Authority, and we won't know what that will be until  an engineer inspects the boat. This is certainly a matter for prayer. We hope and pray that things don't get bogged down in bureaucracy, but that process can't even be started until the boat is finished.
The church plant in the Jacundá, a community up in the Uruapiara lake is very encouraging. The people are maturing spiritually and there is growth. This is a wonderful motive for praise to the Lord! The two teams of missionaries are out there right now, helping each other in both locations in an effort to bring all of the believers together for mutual encouragement. Although it's in the same lake, the area is so extensive that the people can't afford the fuel to easily get together with much frequency. But, by establishing connections among them, they can draw on each other for support when the missionaries are not out there. Pray for this to happen.
Though words seem inadequate in expressing our gratitude to you, our friends and supporters, we really are thankful to be backed by such a loving team who shares the same vision as we do, that of sharing the Gospel of Jesus Christ with the unsaved. Thank you. We pray for you in our group meetings, as well as individually. We feel so privileged to serve the Lord here in Brazil and know you are a big part of it. Please make us aware of specific prayer needs when possible.
Grace and peace,
Rebecca
# # #
Dear Friends, Greetings in the amazing grace of our wonderful Lord! "Mercy, peace and love be yours in abundance." (Jude 1:2) Per the plan I noted in my last letter, the bigger part of this past month, I have been in Brazil on a life-changing Missions trip. (Counting travel time there and back, I was gone one day short of 3 weeks.) There is so much to tell! My report would be "book length" if I shared all that is in my mind and heart. (I kept a journal throughout my time in Brazil) I'll select a few things under the headings: "Frustrations"; "Blessings" & "Lessons" which I experienced and learned (all of which God used and is using to deepen and stretch me in good and needed ways.) Feel free to call or come by or email me any time for more about this great trip! I'll share more in my next letter.