April 1, 2013 – The truck is on its way!
# # #
December 24, 2011 – Merry Christmas from David Davolt
December 9, 2011 – Christmas Shoe Box Reminder
Friends of GVCM;
The Christmas season is upon us and it is almost time for celebrative giggles to start echoing from village to village, and contagious smiles to radiate from one cute face to another as boxes full of your goodies are distributed to the children of Haiti.   Some of them who were blessed with your shoe boxes last year are waiting for the repeat of this moment with great anticipation. GVCM is blessed to have brothers, sisters and friends like you who are always willing to reach out to those who are less fortunate.
Each one of those children we minister to and care for have a different story to tell and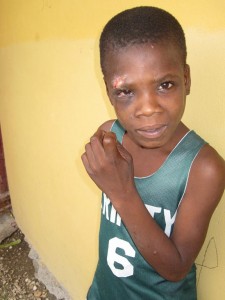 some of those stories would bring tears to your eyes. Like the story of Miguel who was rescued from a hole by the Haitian police at the Haitian Dominican border carrying on his body, soul, and spirit so many marks of abuse that only the love of God which we are so privileged to project on his countenance could erase. Miguel was thrown into that deep hole, waiting under the weight of his pain pushing him into even a deeper hole of despair, to be picked up again at the right time by his assaulters and sold across the border into slavery. Miguel was lucky, he was brought to our orphanage where we are doing all we can to care for him. But this is the story of one out of thousands who have not been so lucky. But please know that you have provided us with an opportunity to show the love of Christ to many communities and churches, and transform sad stories for many children into joyful chronicles. When you enable us to minister with so much love to the children, many adults become curious with a desire to taste the lasting savor of that Christian love as well. Please click here to see the CNN report on Miguel traffiquing story
We want to express our sincere appreciation to all of you who have participated in prayer or thoughts, or who have provided boxes to make this a success story again this year.
We are almost there but not yet. Our container is in the process of being put together for shipment, but two things stand in the way right now:
1.   We are still waiting for some of you who committed, but from whom we have not received Christmas shoe boxes yet. We would encourage you to please send them this week since the container is leaving next week Haiti-bound. We are a bit late, but we still think we can beat the traffic at the port with our NGO status.
2.   If you have not sent the funds collected with the boxes to our financial office yet, please do so as we need the funds to pay for the container, shipping to Haiti, pay customs fees in Haiti, and transportation to our site. We count on this special contribution since we do not have the extra cash to subsidize for the program. Please allow us to renew the plea we made to you a few weeks ago about our financial state as our responsibilities have increased after the destructive earthquake. We do not mean to bother you as you have been more than generous towards GVCM; but we would appreciate anything above what you are already doing to sustain the work in Haiti. The children are also growing and are in need of more food and other personal kits.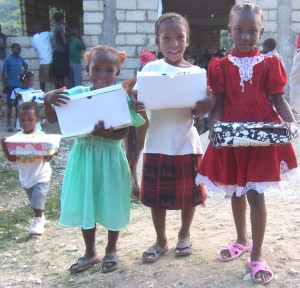 Christmas for a Haitian child can be at any time of the year. Christmas day is when the child receives that box full of goodies. Believe me, I grew up in the same setting and I know what it means for a child to be a recipient of such a gesture of love. We are going to keep collecting boxes all year long. If you feel getting on board with us any time of the year please do so. We will send a container to Haiti every time we have a full content. But please do not forget send your minimum of $10/box that we use for transportation and custom fees. Our friends from the Laparkan warehouse are receiving and packaging for us for free. Please pray for them as they have blessed us with free warehousing space as well.
Please be reminded that the collection for shipment should be sent to our financial address at:
P.O. Box 75158
Wichita, KS, 67275
Phone: 913-422-5907
Here is the address to send boxes:
The Laparkan Emergency Response Center
3775 NW 77 Street
Miami, FL 33147
305-836-4393
Please use instruct driver to use NW 75 St entrance.
Here is a list of Items you can help us with and ship to the warehouse.
Musical instruments for churches and school (Our pastors use them for revival services).
Accordion for churches with no power.
Small generators for churches.
Flash lights for pastors and teachers to study where there is no light at night.
Kitchen cookware, silverware, tableware, plates, etc.
Dry and can food.
Toiletries.
Laundry machinery and detergents.
Cleaning material.
Clothes and shoes for boys and girls.
Office material..
Unexpired medicine and medical machinery.
Working Laptop computers for our virtual classroom.
French books and bibles for our churches and the library.
Educational, Christian, and family DVDs and CDs for the children.
Christian music CDs for radio station.
Construction tools.
Farming machinery and tools.
Carpentry machinery and tools.
Transportation vehicles.
A tractor for our farm and framing equipment and materials.
We are looking for a backhoe-loader to maintain our road to the orphanage as it becomes impassable during the rainy season. many time we get stuck in the mud and a load has to come to the rescue.
A container of food is given to GVCM by Kids Around the World, the organization that has blessed our orphans with the playground, with shipping paid. We just need to get it out of customs in Haiti. This food will help us to address the starvation dilemma for many of the widows in our churches and our school children. Even though we are using our franchise for customs fees reduction, we need to get the container out by anticipation, which means the government will make us deposit a check until the franchise process is completed, and then reimburse us any balance. The process to get the franchise letter can take up to 3 months. We want to avoid the food getting spoiled at the port of having to pay extra storage time as they will start charging $30/day after 17 days. We think the Haitian government might impose the deposit of a check for up to $4000 to release the container. We would appreciate any monetary help we could get from our friends and supporter towards this project.
We want to encourage you to take the time to revel in the presence of the Lord with a heart of gratitude for giving us the hope that we are able to share with others. Without your prayers and contributions we would not be able to impact the lives of so many with the kingdom message. As He provides for us, let us continue to provide for others who are less fortunate.
I look forward to seeing all of you who are going to Haiti to help distribute shoe boxes or any other reasons for which you are going. We would like to host at least one team every other week. So please make arrangement to come and help by sending an email to: gvcmtrips@gmail.com, or contact Amber Bachelier, our trip coordinator directly at: amber@gvcm.org for any special arrangements concerning your trips.
Our goal is to find sponsors for 3000 children in 2012. You can help us locate willing friends to sign up or promote it in your church. We will send you profiles of children if you so desire to help this way.
Please click here to sponsor a child
Please join the GVCM cause on Face Book and continue to make a difference in the life of someone in Haiti for the glory of God. Please click here to join the cause and here to join the GVCM group
We also covet your prayers for GVCM, its leadership, and the flock the lord has entrusted to our care. We want to remain committed and focused on the agenda of the Master for Haiti.
With love and appreciation.
MERRY CHISTMAS AND A HAPPY NEW YEAR 2012
Yves Prophete
Executive Director
Glory to God in the highest, and on earth peace to men on whom his favor rests.
Luke 2:14 (NIV)
# # #
# # #
May, 2011 – NUMANA Food Distribution
The NUMANA food was very helpful as we were able to help the school and the community children in Fedja, Thomassique, and Morene. Many widows and IDPs (Internally displaced People) from the Fedja church and others from the community were served as well.
I want to thank WCC and the others for this wonderful effort that has reached the people with the imprints of your love. The many hours and finances you have invested into this have spoken loud about your dedication to make a difference for the cause of our Master at home and beyond home. The hands that have touched the bags from the US have made divine connections with the hands that have received them in Haiti, and will continue to touch the hearts of many who, through our actions, need to feel the tender care of the one who died for them.
Thanks again and may His Power be made available for you and the rest of His children at WCC.
Yves
The pictures were taken by Yves Prophete, our Westlink sponsored missionary with GVCM (Global Vision Citadelle Ministries)
# # #
One Year Anniversary Update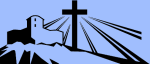 Today marks the one year anniversary of the most devastating earthquake in the history
of Haiti. The country declared a day of prayer. Schools were closed. Banks were closed.
And many businesses were also closed. The market in Mirebalais was much quieter than
a normal Wednesday. People paused in many locations to pray and remember the
250,000 plus that died in the earthquake. Many world leaders from Haitian President
Réné Préval, President Obama and former President Clinton have been involved inpublicly appealing to the world to continue helping Haiti rebuild.

The overwhelming responses of Christians in particular to help organizations like GVCM are making a difference even when world powers are still talking about doing something! Thank you!
Haitians were deeply affected by the earthquake. Nearly every family lost someone or
had family members injured and homes lost. We have been encouraged by the number
who have turned to God and accepted the salvation offered through His only Son Jesus!
Here at "All God's Children's Orphanage" we are anticipating a prayer meeting tonight with the area church and community to worship God and thank Him for all He has done this past year.
Please pray with us the God's light shines in Haiti!
GVCM has never experienced a year like this last one. We have had more visitors on campus and more contributors from around the world than ever before. We have projects going in many places to help share the same love God shared with us when He sent Jesus to earth. The need to build and re-build in Haiti is as much today as ever. This week GVCM has welcomed three different groups all at once and each has had a very distinct and needed ministry:
A medical team has been at the clinic in Mirabella and at various locations
A large group was here from a church in Minnesota doing mostly evangelistic outreach
A construction crew is here from Minnesota and New York working on the orphanage
We have been blessed the last two weeks with Erin teaching the children more English
It has my pleasure as President of GVCM to spend some time with Pastor Yves, the staff, visitors and to visit several pastors to encourage them. We were able to deliver funds to a church to purchase property and assessed progress in several communities. I am amazed at the dedication of our Haitian staff at the orphanage and in the churches. Pastor Yves does an excellent job of leading daily and casting vision for the future. (I found it nearly impossible to keep up with him this week, he solves one challenge and in
the mean time three more opportunities arise!) Without your partnership through prayers, visits and contributions we would not be able to support this network of ministry efforts that reach many.

Please consider starting the New Year:
With a special time of prayer each day for Pastor Yves, the staff in Haiti and the visiting teams Sponsoring a student orphan for $35 per month With a gift to help finish one of our many projects Encouraging your church to sponsor a trip to Haiti with GVCM.
God is Good! All the Time! God is Good!
David Davolt, GVCM President
Global Vision
Citadelle Ministries
# # #

Greetings to all our friends:

The Guard House
January was a very busy month and the first two weeks of February have been almost as busy. Mission teams from 6 people to teams of over 20 have visited GVCM! There have been up to three different teams on campus at once. Over 100 people have visited the orphanage in the last month. The mission teams have helped with building a wall around the orphanage, a team helped build a two story guard house, a team worked on upgrading the electrical wiring, we have had several medical teams, some have worked in evangelistic efforts, many havepreached and taught, a team worked with the deaf school, and so much more. GVCM executive board members David Davolt and Scott Johannes visited during January. Pastor Yves has been busy hosting groups, caring for the staff, solving problems, re-filing paperwork for our Haitian non-profit status, and strategically planning the future. He was blessed with having his wife, Samathe in country to help with a marriage seminar.Yves is the heart and driving force of GVCM. He inspires many to love  in the name of Jesus.Grapefruit for the Orphanage Kids And Our Guests


The needs in Haiti seem to be overwhelming at times but when we seek God's direction and try to take care of the opportunities one at a time, the results are amazing. The key is to remember GVCM is about loving Haiti by bringing God's love through Jesus to Haitians in tangible ways – preach the Gospel message: through our acts of kindness and provision; by providing food, clean water, and shelter; partnering to build meeting places for the church; equipping pastors to lead and offering a home for orphans. Our preaching is done much more than in a worship service or Bible study . . . it is done as we take our ordinary life and place it before God! (Romans 12:1)We have two very important needs as we move forward this year.
The Wall around the orphanage


The first is we must provide more personnel to care for the kids in All God's Children's Orphanage. We have wanted to and recognized that our workers were not only over worked, had few days off and were underpaid – they just can't keep up with all the needs of 70 plus children. We have stalled and kept waiting for more funds, all the time knowing something must be done. Social Services of Haiti, in their last inspection noted that we were seriously under-staffed. They have made "recommendations" that we hire a social worker and more help to work directly caring for the children. This "recommendation" is a must-do! This will tax our current cash flow but it is necessary. We are asking that you consider a special gift to help support the orphanage. We need more partners to commit to supporting a child at $35 per month. We will be moving ahead on faith that the funds will arrive to allow us to:- Hire more workers.
- Pay our current staff closer to the going wage in Haiti.
- Make plans to continue expanded the facilities to accommodate more children.

Working on the electrical
Our second big need this month is to hire a pastor to work with the church in Fedja that meets at the Orphanage. We need a Haitian Pastor that loves God and loves people. Because of the number of children in the orphanage, he must have a heart for the young and be able to minister to the many needs of our children. The church itself has grown considerable and will soon need a building of its own. They currently meet in a room that the orphanage will need to use for housing and care of children soon. Our cost will be $250 to $500 per month depending on the experience, housing needs and size of the pastors family. It would be wonderful for a church, small group or family to commit to this monthly support or at least part of it. GVCM would ask that you pray for the people of Haiti specifically continue praying for:- Church leadership for the Church at Fedja.
- Funding for the Orphanage and Pastor at Fedja.
- Pastor Yves for discernment and wisdom has he leads GVCM.
- The many mission teams planning trips to Haiti.
- Ricardo Prophete as he applies to return to Bible College in the United States and
his wife Dannilla who is with child and due in June.
- That God's Spirit will move in the Church in Haiti and many will become true
followers of Jesus.
- Peace and comfort to those still without adequate homes and shelter.Thank you for your partnership and concern for the people of Haiti,David Davolt
President
Yves Prophete
Executive Director
January, 2011 Missions Update
Happy New Year to YouDear friends of GVCM:
I rejoice as I remember you and all that you have done to make it possible for us to keep preaching the gospel of our Lord in Haiti and become every year, stronger and better agents of change in the lives of many. At this very intersection of time where I am caught upon the reminiscence of all the challenges we have been able to overcome together during the past years and the great anticipation of the best to come, I cannot help but to say a prayer for you!
Dear Lord;
I thank you for your Spirit that has comforted your people during the year 2010 and for the faith that has kept them strong. As we transit through another door of time, the first thing we want to see is your hands of grace, love, mercy, and peace opened wide to bless us and our friends and supporters as together, we have remained agents of change for the sake of your kingdom. We dedicate the first moments of this year 2011 to you and praise you as we anticipate all the great things you will do through us, your people, to transform our families, churches, and our countries for the best. Help your people to reflect upon your goodness and wake up every morning with a genuine son of praise sung with a heartfelt tune of joy to your name; for, your salvation has invaded our countenance and seeds of eternity are budding on the field of our existence. May this year be one when our resolutions to be better servants of yours, will be pursued with strength and great determination guided by the power of the Holy Spirit. Look upon each one of us with favor and multiply the investments your people have made in your work.
Keep us and our friends for you under the umbrella of your protection. This is our prayer we know you hear because we address it in the name of the one who saves. Amen!
A few bible passages to crystallize your spiritual vision for the year 2011:
Phil. 4:4-7 — 4 Rejoice in the Lord always. I will say it again: Rejoice! 5 Let your gentleness be evident to all. The Lord is near. 6 Do not be anxious about anything, but in every situation, by prayer and petition, with thanksgiving, present your requests to God. 7 And the peace of God, which transcends all understanding, will guard your hearts and your minds in Christ Jesus.
Isaiah 61:1-3 — 1 The Spirit of the Sovereign LORD is on me, because the LORD has anointed me to proclaim good news to the poor. He has sent me to bind up the brokenhearted, to proclaim freedom for the captives and release from darkness for the prisoners,2 to proclaim the year of the LORD's favor and the day of vengeance of our God, to comfort all who mourn, 3 and provide for those who grieve in Zion—to bestow on them a crown of beauty instead of ashes, the oil of joy instead of mourning, and a garment of praise instead of a spirit of despair. They will be called oaks of righteousness, a planting of the LORD for the display of his splendor.
Psalm 90 — 1 Lord, you have been our dwelling place throughout all generations. 2 Before the mountains were born or you brought forth the whole world, from everlasting to everlasting you are God. 3 You turn people back to dust, saying, "Return to dust, you mortals." 4 A thousand years in your sight are like a day that has just gone by, or like a watch in the night. 5 Yet you sweep people away in the sleep of death—they are like the new grass of the morning: 6 In the morning it springs up new, but by evening it is dry and withered. 7 We are consumed by your anger and terrified by your indignation. 8 You have set our iniquities before you, our secret sins in the light of your presence. 9 All our days pass away under your wrath; we finish our years with a moan. 10 Our days may come to seventy years, or eighty, if our strength endures; yet the best of them are but trouble and sorrow, for they quickly pass, and we fly away. 11 If only we knew the power of your anger!  Your wrath is as great as the fear that is your due. 12 Teach us to number our days, that we may gain a heart of wisdom. 13 Relent, LORD! How long will it be? Have compassion on your servants. 14 Satisfy us in the morning with your unfailing love, that we may sing for joy and be glad all our days. 15 Make us glad for as many days as you have afflicted us, for as many years as we have seen trouble. 16 May your deeds be shown to your servants, your splendor to their children. 17 May the favor[a] of the Lord our God rest on us;
establish the work of our hands for us— yes, establish the work of our hands.
Thank you for all you've done for the past years and what you will continue to do this year and beyond.
Happy New Year!
Yves Prophete
Executive Director for GVCM