Yes, I am one of those people that believe everything happens for a reason. Ultimately, everything should end up creating glory for our God. I've been back in America nearly seven months. 7 (Where did that time go?)!! Even though all of these months have passed, my love for the nation of Kenya has not diminished. In fact, I find my thoughts continuously drifting back to those days spent in The Valley of Darkness. But, when I think back, I do not see darkness. What is see is hope for the future, desire for change, empowerment of community members, eduction for the children; all ignited by the light of God. Even though that valley is filled with poverty and despair, there is a generation rising up that will change the climate of Kenya. Each beating soul has a divine purpose in that slum. Maybe some of them are even there to teach me, the crazy white girl, what a true follower of Christ actually looks like. There being a purpose for the Kenyans in the slum is a hard concept to grasp, but I think there is validity to the statement. If God wanted them to be born in America, or in rural Kenya, it would've happened. Their stories are not yet finished.
I pray that my desire for this nation does not cease, but I also pray that I am first and foremost following after the desire God has for my life (even if it's not something I want to do).  I feel God moving in my life. He's got some crazy plan in the midst, and I'm all about it (right now anyway!! Ask me again in a few months…). I can very easily see myself living in Kenya for a few years, but I can also clearly see me staying here and diving into teaching. Stay tuned for those decisions!
My friends, fortunately, my time away from Kenya is not so long this time. I have been asked to lead part of a large team going to Nairobi this coming summer. There will be a team of about thirty people who will be split into sub-teams according to their gifts and areas of interest. I will be heading up the children's portion of the team. The area of Mathare Valley that Pathway Church has adopted is called Mabatini. The school in Mabatini has 400 little beauties. I am going to be writing a curriculum that will unify the loved VBS program and the CHE initiative. CHE (Community Health Evangelism) is a tool used in Nairobi that teaches generic health skills, assesses the needs of the community members, empowers leaders within the community, provides prevention techniques for Malaria and HIV/AIDS, and evangelizes. This ministry is extremely holistic; meeting all aspects of the individual. CHE leaders from the centers will go into communities and find individuals who can lead other CHE groups. By doing this, the ideals can accelerate, creating more believers. CHE is very much about empowering people to be the solution to their problems. This ministry is generally given to the adults, but I think it is also extremely vital to teach the children about CHE. What better time to learn new concepts than when you're a child? By uniting CHE and VBS that will create an optimal environment for the work the nationals are already doing (CHE) with the programs that many teams bring in (VBS). Hopefully, by linking the two, future teams will also be able to use this curriculum and the current 10,000+ kids in Mission of Hope will learn the Good News. That is always the goal, to love and share.
In six short months I'll be back in that beautiful land, soaking up the joyous laughter, reuniting with friends, and falling deeper in love with the Nations. I've asked you all to find your Kenya. Find the place or thing that makes you come alive. If you would like to know more about this trip going in August, please ask me. I would love to speak to you about it.
Please be in prayer for: the forming of the team, the support raising, the needed plans to fall into place, the Kenyans receiving us, hearts being touched, and eternal futures being secured.
Thank you,  Abby.
Thank You Friend
# # #
January 13-20, 2012 – Pathway Serving Team to Haiti - Lisa Price, Sam Richardson, Melissa Meyer, Pam Bohm, Kimberly Jones, Martha Smallwood — Purpose: encouragement and teaching
Here is the followup on this trip:
Service was sketchy at best while we were there and I asked several times & was told it was not a good time, electric was down or the person who could let me in (it is in a locked office) was not there at the time. However, We did feel your prayers & the prayers of those lifting us. Travel to and from presented some obstacles with weather & delays but in the grand plan, those even worked out just fine.
We were safe the whole time.  No major illness or catastrophe happened. Praise & thanks to God!
 Martha, Kimberly & Pam had quite an adventure on their back roads excursion with Yves. While the journey to the outlying churches was rough & physically demanding, they report that they had an incredible spiritual journey. They were blessed as they met & fellowshipped with others. Others were blessed by the messages & prayers shared. I know the members & pastors of the churches they went to were so grateful for the effort made.
Sam, Melissa & Lisa had an awesome experience at the Orphange compound. Melissa & Lisa were able to work directly with the 11 children in the Deaf students cottage & classroom. They were so thrilled to have us there for the extra time, attention & teaching. Their teacher was thrilled to have the extra hands to help her with the children. Their class is of the "one room school house" variety with 4 boys around age 5-6 & then 7 girls from age 11-18. Sam kept busy with a group of guys who were doing construction & using a giant drilling machine to drill for water. Doyle, the American man who shipped the drill unit over, was in charge.He & his wife are on their 25th trip to Haiti.  Sam was able to experience group effort & work thru a translator from English to Creole.  The littlest children loved Sam & took to him right away. We have some cute pictures of our gentle giant with his little friends. Melissa tirelessly played with the children from the orphanage. She was great to make connections & remember names.
We all enjoyed the opportunity to meet & mingle with the staff. They are dedicated & hard working. To care for, educate, support & love 70++ children is an overwhelming task. They also minister to the local schoolchildren who attend there as well as families outside the compound. GVCM is far reaching in their ministry!
We worshipped with the children & the local community on Sunday & shared a greeting from our family at Pathway.
Lisa Price for Team Haiti
Trip Schedule:
Friday, January 13, 2012 Leave Wichita 6:30 am.  Arrive in Port au Prince and travel to Fedja to meet the children at the orphanage and Deaf School. Prayer:  Safe travel with no incidents or lost luggage.
Update: their flight was cancelled this morning due to weather in Chicago.  They were rescheduled.  Two went out this morning and the 4 other team members left at 2:40.
Saturday, January 14 Kimberly and Martha will teach on Morning Prayer on the GVCM radio network. They will pray for request phoned and the nation of Haiti. The traveling team of Kimberly, Pam and Martha will travel to Gonaives to spend the night. The Children's team of Lisa, Melissa and Sam will remain in Fedja to minister to the children, staff and community. Prayer: Discernment and wisdom as we become involved with Haitians.
Sunday – January 15 Children's team begins work at the orphanage and Deaf School. Travel team goes to Beudoret to participate in dedication of the church building WCC helped fund. Travel to Cap Haitian to share in the evening services. Prayer: May their witness and testimonies be clear and powerful and glorify God.
Monday – January 16 Travel team to Milot to encourage the pastor and congregation.  Horseback ride to the top of the Citadelle to pray for the spiritual release of Haiti, opening of eyes and hearts to the gospel, and the rise of honest leaders in the government. Travel of Terrier Rouge to see the work there if time allows. Prayer: Travel safety, endurance and wisdom in prayers for Haiti.  May the Children's team have an overflowing of love for the children and discernment of ways to encourage the staff.
Tuesday – January 17 Travel Team will pray with the women of Dondon.  Travel to Thomassique to visit the work. Prayer: Strength, health and joy in serving for the entire team. Update: Today the travel team is praying with the women of Dondon. They will travel to Thomassique to visit the work. The Children's team will continue working at the Orphanage and Deaf School with the children. Please pray for strength, health and joy in serving for the entire team.
Wednesday January 18 After special time with the ladies of Thomassique the Traveling Team goes to Hinche to visit Pastor Aneas and the bible college. The team will be reunited at Fedja in the evening. Prayer: Wise teaching of the ladies and encouragement of the pastor and bible college students.  Safety in travel and good health. Renewal of strength and energy for those working at the schools. Update: The Haiti team had plans to go to the top of the Citadelle to pray for the entire country of Haiti. Here is more information on what the Citadelle is. Located on the highest mountain in Haiti is a fortress built in 1817, called the Citadelle. This fortress was erected by a Haitian King in an effort to protect the country from Napoleon trying to take the country back, after Haiti won independence in 1804. Global Vision Citadelle Ministries is establishing its work to further the gospel in Haiti near the base of this mountain that is now only a symbol of a hope for Haiti having a secure future. The Citadelle represents the highest aspirations of the Haitian people.
GVCM wants to connect with the Haitian people's highest aspirations through the gospel of Jesus Christ, with the Lord's promise that when the gospel is obeyed, and the Church established in the hearts of a people, that 'the gates of hell will not prevail.'
Thursday – January 19 Travel team to share with the ladies of Mirebalais.  A radio teaching broadcast with a call in segment. Prayer: Wisdom and clear communication of the Gospel.  Good closure as the trip ends. Update: The Haiti team will return to Wichita tomorrow. Please pray for good closure to the trip. Pray for safe travels. Pray that God has been glorified! More information to follow when they return.
Friday – January 20 Morning flight out of Port au Prince and arrival in Wichita that evening. Prayer: Good closure for the team. Safe travel on the return trip. May we have completed a trip of encouragement, teaching, prayer intervention and completed God's purpose for our trip.
# # #
Nov-Dec, 2011 – Kenya Team Notes

(Mabatini is our adopted village.  We have provided funds to purchase the land for the school, build the temporary structure and bring clean water to the village.  We help support the Community Evangelism Workers for Mabatini.  We are very involved in the physical and spiritual transformation taking place there.

)

Here are a couple of videos you can watch that tell more about Kenya:
Click

here

to learn a little about the Mathare Slum in Nairobi, Kenya.
Click

here

to see what the team did while working with Missions of Hope in the Mathare Slum Nairobi, Kenya.
You can also follow Debbie Mar on her special blog.
December 11 - WOW God is good!  The team arrived home tired but blessed Saturday afternoon.  We had all been awake since around 6 am Friday morning, when we left for our safari.  We ended Friday boarding a plane for home at 10:55 pm, finally arriving in Wichita Saturday afternoon at 4pm (after 23 hours of flying, with the time changes).  We finished our trip Thursday and Friday on a safari, which allowed us to see just how beautiful Kenya was after spending 10 days in the slums seeing the poorest of poor, and we were able to relect on what God had been doing over our time there.  It was definitely a time of reflection on how blessed we are here but also on the needs around the world.  I know that I came home reflecting on how much we can do if we are just willing to step out and touch the lives around us.  The ministry Wallace and Mary Kamua have in Mission of Hope (MOHi) is one of love for their people and it shows very much in how the schools are run and the attitude of the staff and people you were around.  Then to go to church today at Westlink and hear Todd ask us to "step down" and help those around us it was a great reminder that you do not have to go to the other side of the world to help but that each one of us need to look around and step down, put ourselves aside, and help someone else.  I would challenge each one of you reading this to do just that.  If you are looking for a way to do it, Missions on Hope could use many many people to sponsor a child for only $35 month. For this small amount, you can take a child out of the slum and give them an education, medical help, food, and a chance to make a life time change.  Of the children sponsored who have completed their primary grade education 99% of them have passed the entrance exam to go on to High school over the last 3 years thanks to MOHI (typically 50% national pass rate, <1% for children in the slums).  These are children that, if not for the love of someone else, would not be able to attend school and have that opportunity to step out of the slum or possibly never come to know the Lord and how much he loves them. http://cmfi.org/partner/partneringproject/hopepartnership/child-sponsorship

Thank you very much for all the prayers and support you have given our team.  We were truly blessed and loved by you all.
Blessings,
Patti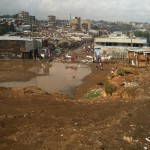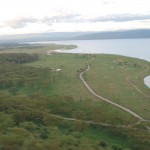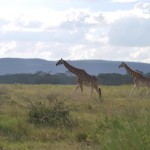 December 9 – The team departs Nairobi at 11:55 PM for flight home.  Pray for good connections and rest.
December 7, 2011 - It was another busy day in Kenya. Bryan D and Matt McFarren spent the day in training with youth leaders while Debbie spent time with the teachers in the Kosovo center. The rest of the teams had another great day of teaching, playing and loving on the children! Today we had 302 children in our VBS program sharing "Making Wise Choices" they were such a great group of children; singing praises to God, sharing the many markers quietly, while in the groups of 80 – 100 children in a room 10×10,(some of the children are standing coloring on their papers held against the wall as there was no more table space), listening to the story of David's life and choices he made or playing games in the field outside the center. Today we have been enjoying the sunshine and dry ground after many days of rain. Then we attended their graduation ceremony and shared in the joy the parents, center leaders and community have for these children. Please join us in prayer for Mission of Hope and for sponsors for the many children on their waiting list to attend school.

We were back at Pangani, where we started on our first Monday.  But this time, we were doing our Bible school program for the students. The kids were very excited upon our arrival and we were greeted with big smiles and bigger cheering!  I believe the team would all agree that this may have been our most challenging day, primarily due to the number of students in each classroom where we were telling the story, leading songs, helping with the craft, and playing games.  Although the classrooms may have been slightly larger, each session had well over 100 children.  Despite the conditions, the story was told!
After Bible school and lunch, Mary Kamau and a couple of Missions of Hope center managers met with us to convey their heartfelt thanks.  It was an emotional send off and a wonderful ending to our time here.  They asked us to carry the message back home to our churches that our efforts and support mean the world to them, and that the light of Christ is shining in the valley of Mathare!
John 1:4  In him was life, and the life was the light of men.  The light shines in the darkness, and the darkness has not overcome it.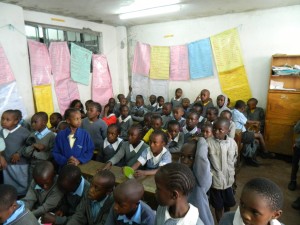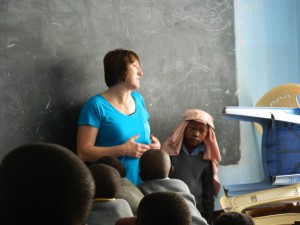 December 5, 2011 – Today we began week two at the Baba Ndogo school.  We were able to share the message of "Making A Wise Choice" with 302 students.  They were so loveable and excited to see us.  The weather here has been very rainy yet each day the sun has come out for a short period of time to help dry things out.  We are staying at Gracia House and as the name says they have been very gracious and taken very good care of all of us, even to the point of washing our dirty shoes (which can be quite a surprise when you go to put them on in the morning).
Blessings to all,
Westlink team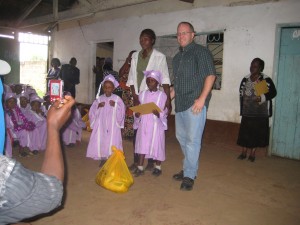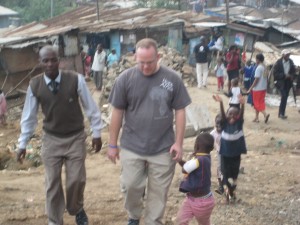 December 4, 2011 – Today we went to the Kosovo school to present our program to students from various schools, who have just completed the 5th grade.  Of course, our "routine" changed again!  We started with all the students in one large room and taught them a couple of new songs before splitting up into four groups.  As these kids were a little older, we replaced the craft session with some "Minute to Win It" type games, which they really enjoyed.  Some team members got the opportunity to help in different areas and to interact with the kids in new ways.  It was also great to get the chance to talk with these older students.
We ate lunch at the Kosovo school and then, since it's Saturday here, returned to the Grace House for some downtime.  It was nice to have the opportunity to spend some time with other team members, to get to know more about each other, and to discuss our experiences over the last week.  God is definitely at work, not only through us, but in us.
It's been an amazing week and we're looking forward to church tomorrow and spending more time with the students during the coming week.
Patti and Kenya Serving Team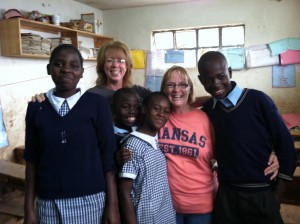 December 2, 2011 – Today we visited Joska which is the Missions of Hope school for kids that are middle school age.  This week, however, the school is hosting a camp for high school aged kids.  We left Nairobi at around 8 AM and it took close to 2 hours to get to Joska.  Once there we met up with a team from Parkview Christian Church which is located near Chicago.  That group is staying at Joska for the week and helping with the high school camp.  We all had tea and took a few minutes to refresh from the long drive then we toured the facility.  Missions of Hope is expanding the facility to accomodate more children.  We saw the new buildings as they were being constructed and toured the exisitng dorm facilities.  New additions over the last year have included a new housing, more greenhouses, a poultry farm and a fish farm.  They are now able to supply many of the vegtables, eggs and some of the meat needed for the facility from these programs.
After the tour we attended a service that was being held as part of the youth camp.  The message was being given by a pastor named David.  He delivered quite a stirring sermon that was well received by both the students and our team.  When he was done, we were introduced to the students.  One of the things the students wanted to know when we introduced ourselves is how old we are.  In Kenya, the older you are, the more you are respected.  I won't tell you who was the most respected in our group.
After the service we had lunch.  We were again joined by the group for Parkview as well as the rest of the camp staff.  When lunch was complete we boarded the bus for the trip back to Nairobi.
Tomorrow, we are back in the schools in the Mathare Valley to contuinue the VBS program.  All is going well in Kenya, please continue to pray for us as we start the second half of the mission trip.
Brian Mock
December 1, 2011 – Today we stood upon Deuteronomy 31:6 "Be strong and of good courage. Do not be afraid or terrified because of them, for the Lord your God goes with you; he will never leave you nor forsake you.". When we arrived at Bodeni school we found that we had 729 students which were divided between to separate buildings a distance apart to work through our program. This required the team to split in half and each person to take on a part of the program on their own. After a very successful morning we then helped package the food to be given to the parents. We ended the day by attending the graduation ceremony and helping to hand out the certificates to the children and offering them greetings and blessings from all of you at home
From the Team!!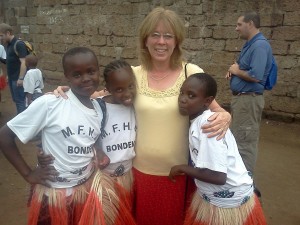 Debbie Mar – Today, I spent time apart from the team in six classrooms observing and working with teachers and students.  Then in the afternoon, I was able to pray for the teachers as we spent time discussing together classroom strategies, and the challenges and joys of teaching.  We had an honest exchange of teaching ideas and thoughts on the challenges teachers here face.  They are very receptive to learning new strategies that they may not have been taught previously to share with their students.
Justine has already put us (westlink)  on the schedule for this summer to bring a team of teachers back to exchange teaching strategies, and encourage the teachers who are working in such difficult conditions.   My personal dream is for donated laptops so that the teachers can have a network of resources to use.  Please begin to pray concerning God's direction and the raising up of people and resources for this possible future venture.
Thank you for the prayers.
November 30, 2011 – Today was Christmas at Mabatini, the school that our church sponsors.  We had 340 children rotate through a vacation bible school activities throughout the day.  This was their last day of school and we had a graduation celebration at the church for the younger students advancing to the next level.  We climbed the hill to the church, past a large pile of rocks that blocked the road, beyond the ever-growing pile of garbage, through a herd of goats to the ceremony.  Complete with graduation cap and gown, praise songs to the Lord, pictures, and even a short congratulatory, encouragement speech from Debbie.  The community was very welcoming and receptive to our interactions with the school, and blessed by the food baskets we had spent the afternoon preparing for them to take home over their break.

The entire team is blessed by the believers here who embody the unity in Christ the church is meant to be.  Even in extreme poverty, God is praised continually for his goodness and his name is lifted up boldly in the land.


November 29, 2011 – WOW how do I describe today?  We had the opportunity to work in the community of Mabatini.  We spent both the morning and afternoon broke into groups of 4 or 5 and went out with the CHE social worker to visit homes in the slums.  I will share the experience that my group had – we first met Alice and shared the evangecube and prayed that God would continue to strengthen her witness and expand her business of selling porridge to bring in money to support her family.  After that she took us to the home of Mohammad, Armstrong and Johnston where again we shared the evangecube and had the honor of praying the prayer of salvation with them and welcoming them into God's family.  They knew of God but had not ever made that personal commitment to him.  Then Alice again took us to the home of Salomie and Evelyn where we were able to share the HOPE cube (HIV information) with them and just offer God's love and grace.  Our CHE worker, Merriam, was so filled with God's love that she was able to make them feel comfortable.  We finished the morning off visiting with Rose who is the mother of 4 children.  Her seven year old son does not walk or talk and she asked that we pray for healing and wisdom for her in raising him.  Then it was back to the center for lunch (more food) and a time of sharing our stories with each other.  Then since the supplies for our food tubs had not arrived we went back out into the slums and met Beatrice, sharing the evangecube.  About the time Merriam finished the cube we heard a voice behind the curtain and out comes her husband and about that same time another woman, her sister, Helen came to her door and wanted to hear what we had to say.  So she shared the cube a second time and again we were able to pray the salvation prayer.  Our hearts were filled to overflowing with God's love today as we took in the poverty around us but yet the love that these people have is amazing.  We had many many children come running up to us saying "How are YOU" , take my picture.

What an awesome God we serve and I thank each of you for your prayers and support of us here.  Please keep the team in your prayers as some are feeling the effects of long days of travel and changes in foods.
Blessings,
Patti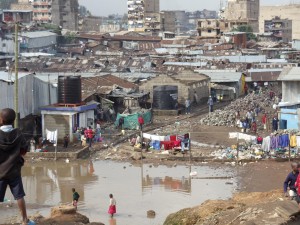 November 28, 2011 - Just sending you a few notes about our first few days.  Our flights and connections were smooth, and all our supplies and luggage made it through customs.  We are thanking God for going before us.  Today we spent the morning at Mission of Hope and learned some background about the many ministries that are giving people hope in the Mathare Valley.
We had an opportunity to tour the facility and school.  Then we broke into teams of 3 or 4 and with a host, toured the slums on foot.  Many of the children called out for us to take pictures, and gave us a "hearty greeting"  of "How are YOU".  Perhaps you have to be here to understand the joy we felt from their warmth, as we were engaged by hand-holding children and men and wemon who greeted us with smiles.My group met a woman named Grace who is a grandmother of 6 young children whose parents had died.  She welcomed us into her home and we had a chance to encourage and pray for her.  As I entered her "home"  the thought in my mind was " this home for 7 is the size of my walk in closet".  Yet, she praised God, and shared her hope that her children get a good education and that God in his mercy would continue to meet her needs.
Tomorrow we will be working on organizing the food tubs and I will be in the classroom with teachers in Mabatini (spelling?) sorry can't find my cheat sheet!  God Bless.
Debbie
November 28 – Hi,  we all arrived here safe and sound.  All the luggage also arrived!!  Now it is time to grab some sleep so we can start the day in a few hours.
Blessings,
Patti
# # #
November 3, 2011 – Pastor Carter Reports from India
I just want to let you know that "going beyond the backdoor" really does make a difference. I'm seeing that reality first hand with our team in India.  Yesterday we dedicated a well so that hundreds of people can have clean drinking water.  We also dedicated a Life Center (church building) and helped to train 90 church planters who are reaching out to the unreached in rural India.  All of this is happening in our adopted region of Amaravathi.  Because you had the guts to generously give, we are seeing God's Kingdom expand in this part of the world. Our team is on the move today as I write this email.  We're traversing on the backroads of India to a Pastor's Conference with church planters and church leaders from all across the country. I know that you'll be blessed by Bob Sjogren's message this weekend in all our services.  He is a great teacher and a great champion for what God is doing all over the world.  Don't miss it! I'm looking forward to giving you more highlights of what God is doing in India as we look at Jesus' words in Matthew and finish up our "Beyond Your Backdoor" series.
In His Great Adventure,
Todd Carter, Lead Pastor
# # #
October 7, 2011 – Belarus Update from Gene Carlson
He will return home to Wichita on November 15th.  As of October 7th, he is in Doha, Qatar until Nov 5th.  For a full Mission Prayer letter, please e-mail mary.kranick@westlink.org and one will be sent to you!
Hello Family and Friends:
There were 12 students in the class at Minsk.  4 from Russia, one from Tajikistan, one from Ukraine and the rest from Belarus.  There were two Jewish Pastors/Rabbis from Messianic congregations in Moscow. That made an interesting class…that I'll tell you about when I get back.  I felt the class was very responsive and appreciated the class.
I'm now in Vienna and will fly to Qatar tomorrow for the third leg of this two month event. I will be preaching this weekend for one of the Filipino churches I've worked with over the years.  They always appreciate my ministry with them.
My health is holding in there but I'm feeling quite tired.
Thanks for your prayers..they really make a difference.
Love to all!
Gene
# # #
September 23, 2011 – Note from Gene Carlson
Dear Brothers & Sisters:
The first leg of my extended missionary trip is over.  We completed the class on biblical interpretation yesterday (Thursday)..  There were 13 students.  2 from Bulgaria, 1 from Romania, 1 from Moldova and 1 from Estonia. The other 8 were from Hungary.
I received this very nice "Thank You" card from the class yesterday:
"Our Dear Professor!   We are so thankful for your teaching and loving heart to us, for your attention, for your understanding of our weaknesses and mistakes.  Your life and your personal example will help us to continue this process in our liives…in our families and in our churches.  Your loving Hermeneutics Group"  Each one signed the card.
That's the paycheck of the ministry..the gratitude of the students.
On Sunday it's on to Belarus..where I'll repeat this class, but instead of two weeks, we'll do it in a matter of five days…teaching seven hours a day. So pray that I'll have the stamina to go the full distance.  And pray for the students as well…and, of course, the translator.
Love to All…your prayers make the difference.
Gene Carlson
# # #
August – Joplin Tornado Assistance
The Westlink Short Term Missions has commissioned a series of trips to the Joplin area to provide skilled labor and other assistance to those affected by the May 22nd tornado.  Over the weekend of August 19th, a group of 19 traveled from Wichita to give what aid they could to those in need.  The group was housed and fed by the First Christian Church of Carthage, MO.  The group split into work teams depending upon the skills needed and provided relief service.
One house was completely roofed for an elderly lady named xxxrachael.  xxxmichael's house was destroyed, but a single car garage was still standing.  This garage walls were straightened it was re-roofed to provide needed dry storage for recovered possessions.
At the home of xxxdick & xxxJane, there was a lot of damage to the main level of the home but they had managed to dry-in the attic to have a place to live.  The detached garage roof had been destroyed.  A team before WCC had managed to set rafters but ran out of time to finish the job.  God provided the opportunity for our group to complete the decking and dry-in the garage the very next day.  Again, very valuable dry storage greatly needed by the residents.
A team traveled to a small Baptist church in Desquene, MO. This church had been damaged but provided their facility as a triage medical center immediately after the tornado.  They have housed victims and volunteers for weeks.  In an effort to better serve the community they have converted their basement into sleeping quarters for up to 50 volunteers.  Showers are a big need in their building.  WCC sent in a small team to aid in completing three showers in a portable building next to the church.
"….thank you so much for everything that you have done! The showers look absolutely amazing and you guys were such a help! Please let me know if you are interested in coming back, we would love to have you!
Thanks so much,
Megan"
Yet another group was sent to do some tile work at a home that had been badly damaged.  Upon arrival, it was obvious to our workers that the house was far from being ready to have the floor work completed.  Further investigation revealed a severe problem with mold in the home.  The homeowners are a young couple that were preparing to bring a newborn premature baby home in the next couple of days.  Our leaders were able to convince the owners that the home was not safe in its present condition.  God put us there for a reason….
Again, God formed the perfect team and provide the opportunities for us to serve!! There will be teams forming for future trips.  Please consider stepping out to help those in need.
(pictures)
# # #
July, 2011 – See what a short term "teaching" trip looks like in the Ukraine
# # #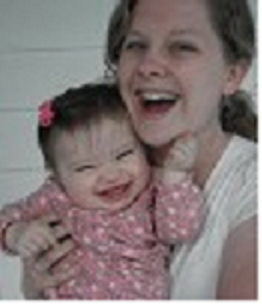 Katie Hines — We are supporting Katie on a 18-month mission trip around the world where the team works with national missionaries on each step of the way. "Katie and her family are members and attend Westlink. She is one of our youth following Jesus' command to 'Go.'" Martha.
Stay current with Katie's adventures here.
# # #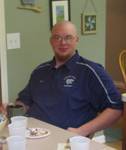 Weston Jones, son of John and Kimberly Jones, has left for  Laos for the summer. He will work in a milling operation there (his study emphasis at K State).  This is the business used to support evangelism and church planting in this region. Support him in prayer and financially as the Lord leads.
June 11, 2011 - Hello All,
Thailand–
It's been less than a week since I left Wichita and it's been an eventful few days to say the least. It is a little hard to try to gather my thoughts through all of this but I'll try. I left Wichita on Monday and arrived in Bangkok without any issues and even met some nice people along the way. After arrival my host and I got in a taxi and went to the Hotel in Bangkok. It was great to finally meet this person that I had spent a great deal of time communicating with in preparation. Next day I was thrown into the fire.  We spent the day eating and traveling around Bangkok taking every available form of public transportation including boat. During the morning we traveled around and looked at equipment for the mill which mostly consisted of him talking to the store owners and me listening to a language I don't understand.
After lunch it was decided that the prices in Thailand were not any better than what we could find in Laos. What surprised me the most was the availability of equipment.  Just walking around the market we found numerous shops that carried milling equipment. After a Thai lunch we walked around the market a bit then headed over to the only tourist like activity planned for my entire summer. I was taken over to the Emerald Buddha temple in Bangkok which is where the king of Bangkok prays. This trip was mostly spent us talking about Buddhism and eastern society. After some more Thai food for dinner we boarded an overnight train from Bangkok to Nong Kai where my host's wife would pick us up.
The train ride was actually quite fun. After waking up I was able to watch the Thai scenery fly by. When we got off the train I met my host's wife and his daughter who was feeling sick the day before so as a caution they brought her down in case they needed to go to the doctor but she did not, thank God, and over the counter antibiotics (which are apparently easily available over here) helped.  After breakfast which was more Thai food we went to a few more shops for parts and then a chain store similar to Sam's for them to stock up. Large businesses are outlawed in Laos so they travel to Thailand to stock up when they can. Then we pressed on to the Lao border.

Laos-
The Lao border was an interesting experience.  After signing some paper work and paying 36 dollars I walked through with not a question more. Later after settling in my host family asked me to go get some French bread which is a very popular food made by the local Lao. Which meant driving their stick shift truck threw the Lao streets with nothing more than 3 hours experience in the country, one prior experience driving stick, and some shady directions. But thank God no problems.   Driving on the Lao roads is not all that bad unless you mind pot holes, scooters, and no real road rules. I got home safely and had my host mother's amazing cooking.
Cue next day I wake up at 5:30am unable to go back to bed so I start my day then. After breakfast, reading and a shower we headed to my first day at the mill. Where I met the other workers and by "met"  I mean saw their faces and heard their voices – they don't speak any English. So I and my host talked about what he wants to do with the mill:  what their goals are and how we can do that. We developed a plan of attack and are hitting the ground running.
The animal feed mill will be running by the end of next week which is great because this will create profit for the mill and will open up many doors and opportunities in the future. Next will be the food trial lab which we hope to have operational by the end of the month. At the trial lab we will be able to produce (hopefully) Full Fat, Low Fat, and no Fat Soy flour, Corn Meal, Corn flour, and Rice flour.
After lunch at a local noodle shop we went into town and got some supplies for the mill then went home where my host mother was preparing for company for the night. That night for dinner my host mother prepared a Jewish style pre Sabbath day dinner with a Lao twist on the food. This mostly served as a time of fellowship with my host family and a time to meet the other missionaries in the country who I would be seeing all summer. This proved to serve to show how small the world is when in conversation with a former missionary to Thailand who now is back in the states Hillsboro,  KS to be in fact that they knew an old friend of mine from high school who now goes to Tabor. Next day I woke up again at 5:00 this time a pattern is getting established I don't like. But that is today and me, my host dad and his 3 kids who are awesome met up with another missionary I met the night before and 4 of his 8 kids. We went to the mill for a tour for them and then hit the beach. After swimming we came back to the house where my host's wife had BBQ ribs waiting for us. So far it's been a pretty good week. Tomorrow is church.
I don't know what I've decided  about the fact that I will live by the idea of I'll wake up every day and wait till I'm told what I'm doing that day.  So far it's worked out well. My host has arranged a dirt bike for me to ride for the summer a little 125 2 stroke that's on loan from the mill.  I just have to replace the front brake lever that is broken off and the turn signals are also broken off.  Thankfully parts are cheap and at any number of shops just a few minutes away. My host wants me to be able to be independent from him and get to know and work with some of the people my age, local Lao and other people doing similar things to me.

So a lot has happened in a few days but please keep this in your prayers.
1) God teaches me much while I'm here.
2) God continues to keep me and my host family safe.
3) God opens doors for me to work with the locals
.
4) that I have wisdom as we plan and make decisions on the mill.
5) God would show me his will for my life.
6) I am a blessing to my hosts who have been so wonderful to me.
7) I learn some of the language to make this easier

.
Thank you,
Weston Jones
June 7, 2011 – My name is Weston Jones and I am to be travelling to Laos and Thailand for a mission trip from June 7th to August 4th 2011. God has led me to this great opportunity over the last 6 months thru challenge and preparation. Up until this last semester, I have been a student at Kansas State University studying Grain Science in the college of Agriculture.  I was challenged to rethink my future and changed my goals from the simple american dream to a desire to serve God by becoming a missionary. I took a semester off of school to think about my options and seek God's plan for me. In this I was led into conversation with Todd Hutchinson who then connected me with Kevin Ingram the President of Manhattan Christian College. After my meeting with Mr. Ingram he connected me with a missionary . This missionary invited me to come over to Laos to their facility to help them with the set up and design of their mill and the products they will be producing.
This man has been a missionary for many years in South East Asia setting up businesses to gain him long term access to countries with closed borders to Christian missionaries. He is himself from western Kansas and graduated from Kansas State with a Agronomy degree in the 80′s. The business he has set up in Laos is a research facility for agriculture something normally done by University's in the States but in less developed countries this is not something they have access to. They extend what they do beyond research to also training of local farmers to increase to better enable them to produce crop and better their livelihood.
Outside of the business is something I know less about and will let him explain what he is doing himself. The initials are people in the community whose names need to be protected…
The Lord is working in overdrive…after waiting 10 years for some, 10+10 years for others and 10+10+10 years for others.  God is moving.  I just wanted you to hear a little.
• The 12 who come to Christ in the first HC Church is now 30+.
• The church has a lot of young adults and very excited.  It has about 300 members after 5 months of opening.
• It is reaching into the surrounding community.
• It really wants to start the working center
• They already have church member with a strong faith, an approapriate location and he is a metal worker and mechanic
• Mr. A fits into this idea perfectly…Go figure…God figured.
• There is an identified market for the things this vocational/business can fill.
• The church has a structure for leadership training for every memeber.
• It is a year long program.  It is broken out into 4×12 week courses, with a graduation ceramony on the 13th week
• It is not done in any of the LEC churches.  LEC is the Laos Evangelical Church.  The registared church that interacts with the government
• The other LEC churchs are watching and liking very much what they are seeing
• He said a "spy" for the LEC church is so excited about their structure and faith that he is their best advocate and worker
• NP said that a leader at the LEC said that it is noticed that the people DV and NP disciple have a stronger faith and are better church and Christian leaders. When I asked, "Why".  NP said because they stress servant/leadership and put their mentored people into active positions of leadership
• They also have a cell group structure where members can go twice or three times during the week for teaching and training
• DV and NP train the trainers
• There is talk how S fits in.
• This is the first time I saw DV get animated
• He was animated when he was talking about how the HC would reach into the community
• The first talked about how the HCs would help the people finanically.
• He talked about oppertunities to strengthen the brothers
• He talked about opportunities to witness in the non-Christian communities surrounding the HC Centers
• He talked about the structure of the HCs.
•  I think I heard my ideas that I talked with XP about come back to me through DV.  It is the highest compliment to be quoted back to yourself.  It is like the cook feels after someone begging for 3rds.  Or maybe it is my ego and DV and XP had his own ideas and the Holy Spirit is leading us into unity.  Either way I am happy, humbled and estatic to be a very small part of this.
• He talked about how the organizational chart for the HCs should be set up
Back to Weston…
This is what I expect to obtain out of this experience.
1) Grow closer to God by serving Him.
2) Gain a little more clarity on the will of God for my life.
3) A greater understanding of what it is like to be a missionary in a foreign and closed country.
4) An understanding of what it like to accomplish missionary work in a business context.
5) Being blessed by being able to support a long term missionary in their efforts.
6) Culture Shock
7) Many things I am not expecting
# # #
March 23-26, 2011 – Alpha Christian Children's Home
This team completed their short term mission trip to the Alpha Christian Children's Home in Perry, KS from March 23 – 26, 2011.  They were able to complete the basketball court with an adjustable goal, 2 tether ball poles, fencing and landscaping the current playground equipment they were able to put in last year.  Lastly, they were able to make a sizable donation to the Children's Home to assist in the reroofing of the school.
Praise the Lord for making a difference! Here are some pictures.