January 22, 2013 –

Update


Pathway has supported the Church Planter Training Facility for many years as well as sponsored most of the families going through the training.  We can praise the growth and development of the church in Tanzania and give thanks for the steadfast workers.
# # #
January 31, 2012 – 4 New Church Planter Families
Four families graduated from the Church Planter Training Course in Tanzania in December and have now returned to their village areas to start new churches. One couple, Philemon and Debora, are moving to an area called Maware to begin a new ministry. This tribe shares a border with the Wagogo people, a very large unreached people group that the Marware fought against in a bloody war in 2002. The CMF team has made initial contact with the Wagogo, as well, and will be working with both tribes. Pray for the four new church planting families and for the new work with the Maware and Wagogo people.
# # #
January 12, 2012 – Tanzania Church Planters

Note from Martha:
Gary is the head of the Tanzania Church Planting school which Westlink helped build.  Pathway is now supporting the preparation of the new church planting families from the various tribes in rural Tanzania and their on-going supervision.   This effort has carried the gospel into areas where churches would not be planted if the locals ( nationals) were not the ones doing the work.  Thank you for supporting Pathway Missions.
Greetings from Tanzania,
We have had a wonderful fall ( our spring) and it is green and cows are fat and happy!
We continue to thank God for you and the ministry of Pathway Church.  I have been away, and there was no way to put together a video presentation on short notice.  I am happy to do this, but I would need more time to prepare.
The most recent class of Church Planter Students completed their course on Dec. 16th.  This may have been our best group of people. They really connected well with each other and with the concepts that were taught.
The other exciting thing is that this course brought in two new People Groups.  We now have families planting churches among the Wakuria and Wajita!!  We have them on our list of unreached people groups, but we were surprised that God brought them to us so quickly.  It helps remind me that this is God's ministry, and He is leading it.  He continues to lead us to unreached people groups and people who have a heart to reach their own people.  Another exciting development is that just recently we have made contact with two new people groups, the Wadaruma and the Wagogo.
We are preparing now for the next course which will begin on February 20.  Right now we have 6 families for sure who will be coming, and 2 others that I will get a confirmation from next week.  So, if possible we would like to request the next installment of $12,000 for the next course.
Blessings to you as you minister in Tanzania and around the world!
Gary Woods
# # #
November, 2011 – God is Faithfully Building His Church
# # #
July 29, 2011 – Tanzania Church Planting course
I hope you are well. We are doing well here. We are rejoicing at the birth of our granddaughter, Kecia, this last Friday in Nairobi. Mother, Dad and baby will all return to Arusha tomorrow with my wife, Judy.
The February thru June course went very, very well. We had 4 families from the Maasai area of Matale. This is the area where 500 baptisms took place over the last year. The church leaders felt that the time was ripe, and that they needed more people trained, so they chose 4 families to study. These families will be sent to new areas around the Matale area.  This is definitely the time for the Maasai to come to Jesus.
We also had our first Baraguyu family. In the 1980′s CMF began a work among the Baraguyu, in fact the current Executive Director of CMF, Doug Priest, was a missionary there. CMF had to close the work due to problems in the government. I have had the privilege to restart this outreach work to the Baraguyu. This is the first family that has been trained, and we expect more next year. There are vast areas of unreached Baraguyu people down outside of Morogoro, Tanzania.
The other family was from the Digo tribe. The Digo have about 150 Christians among 230,000 people. We are excited to train Digo families to reach out to their people. We have another Digo family coming to the August course.
It is such a blessing to see the joy on their faces, as they are empowered to go back and bring the good news to their villages.
The next course will begin on Aug. 15. We have 6 families coming for this next course. It will be exciting as we are venturing into two new tribes ( Kuria and Jita). We also have one more family from Digo coming. God is faithful, and we are excited to see what He will do next.
We bless you for your heart to reach unreached people by using Nationals.  We believe that this is a strategy from the very heart of God.
Gary Woods
CMF International, Tanzania
# # #
June 22, 2011
I hope this email finds you well.
This has been a busy few months, but God is doing his work here in Tanzania. We have had more visitors this year than any year since we have come to Africa. It is good to let people meet those that they have read about in our newsletters! As you probably read, Judy is in the US right now, visiting her sister who is going through breast cancer treatments. So, we would appreciate your prayers for her travels and for her sister, Sandy.
Anyway, The present course has gone very well. I'm sure that you have received the updates that I have sent, with pictures of the students. We have six families. Four families are from Maasai. The Maasai have now planted 11 churches, and with these four families, they plan to plant 4 more churches! We have waited a long time, but in God's timing, we are now seeing the growth. We have started a discipleship program in Maasai to help with the many new believers. We are training 15 in discipleship right now, and they will work with the new believers.
The other two families are from the Digo and Baraguyu tribes. We have now trained 2 families from Digo, and we have two more scheduled to come for the next training in August 2011. This is our first Baraguyu family, and we expect that we will have more next year.
The graduation is this Friday, and then they head back home, to start CHE and the whole process of church planting.
I have had the opportunity to visit several of our past students in different areas. They are doing well. Even though some of them are only seeing slow growth, I was happy to see their faith and determination! They are not discouraged. They can sense the victory coming!
We have seven families for sure that want to come to the next course in August. Then the Maasai want to send at least one more, so we could have 8 or 9 families in the August course. I am going next week to interview one of the Digo families, as I have not meet them before.
We are very thankful to God for bringing Westlink into partnership with CMF Tanzania, as we enable Tanzanians to reach their own people!!
Blessings on the Ministry in your area,
Gary Woods
CMF International, Tanzania
June, 2011
Yohanna was a witch doctor before he became a Christian. Many came to share with him about Jesus, but he told them that he didn't want to hear that name again. One day he became very sick, and began to think about the fact that he might die! He decided that maybe the Christians could be right. He sought them out, and asked them to leadhim to Jesus.When he accepted Jesus, he was instantly healed!! Then heknew that Jesus wasreal. He and his wife,Marta, came to our church planter training course, and gotvery excited to get out there and get started.
They went back to their village and began teaching literacy,and seven learned to read and write. Marta became pregnantand they decided to delay moving to their church planting site,until the new baby came.
One month after the baby arrived, Yohanna hired amotorcycle taxi to carry Marta, and 4 children. The fifth child,9 years old, drove the cows, and Yohanna carried the pots and pans etc on his bicycle to the new site. I don't know how many trips it took him to move everything, but 2 weeks ago, I visited the family in their new site. They were very excited to
be there and begin the ministry. They already have 20 new adult believers and 14 children.
The neighbors came to meet me, especially since they had never seen a white man or a car before!! In fact I could not drive to their house, as there was no path for the car to pass. As it was, they had to cut a path for us to reach the place where we parked the car.
God is reaching out into the bush, among unreached people, and bringing them into His Kingdom!
Thanks for your sacrificial giving to make it possible for this ministry to continue.
Judy to the US = Judy is going to return to the US at the end of the month to spend some time with her sister, Sandy, who is being treated for breast cancer. She will be gone 5 weeks.
I will continue traveling and ministering with our church planters around the country, and Jack will continue with his 3rd term of his sophmore year.
Thanks for your continued prayer and financial support that makes to possible to send out families like Yohanna and Marta.
Blessings,
Gary, Judy and Jack Woods
March, 2011
Gary, Judy & Jack Woods CMF International Newsletter
Where does time go? This has been a very busy season of our life.  So far this year, I have traveled 12,000 Kms (7200 miles). I have had the privilege of visiting many of our church planters in their homes, and drinking alot of sour milk!!
I can't believe that it is March 16th, but life doesn't slow down in Africa. We continue to enable Tanzania Nationals to plant churches in some of the most unreach places in Africa. I feel very blessed to even know such giants in the faith, who have made "making Jesus known," the top priority in their lives.
We have been blessed by visitors so far this year, and we have several more of you who are coming in the next few months. You are a blessing to us! Let me share some updates with you.
One of our new supporting churches, St. Francis, KS, came to see and understand more about our ministry. We were blessed with two young couples (and after the tickets were purchased, both women found that they were were child!). So, these 6 came and met, tasted, smelled and touched the ministry here in Tanzania. We were able to take them to see our work in the Maasai area, as well as the Barbaig, and Nyaturu and Digo areas! They did great!! It was a whirlwind, but in the end, it was all good-stomach problems and all. When supporters come, they become our best prayer  and financial partners, as they know exactly what we are doing. Thanks for coming and blessing us and the church planters.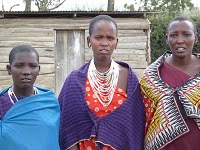 New Training Course – Six families
Our new course has begun. Since there have been 500 new baptisms in the Maasai area in the last 11 months, they felt the need to have more families trained, so they sent four families. We also have one new Digo family, and one Baraguyu family. God is good, and we anticipate what HE will do through these families. I will be teaching beginning the week of March 28.
Bill Groom
The CMF International board meeting was held in Nairobi, Kenya, and Judy and I attended. It was good to be with the staff and board members who stand behind us as we carry out the ministry in Tanzania and Kenya.After the board meeting, we had the privilege of bringing Bill Groom, a CMF board member from Compass Church, in Colleyville, Texas  home with us. Bill had time with our whole CMF Tanzania team, and then he and I went out and camped in the "bush" and saw what God is doing there. Bill had the chance to meet Joseph ole Nteten, one of our church planters, who has ministered under difficult circumstances, and yet stood faithful.
He and the other church planters in Maasai are now reaping the harvest! They have the problem of having 500 new believers to disciple! What a problem to have; PTL. Bill also witnessed the first permanent church building being built, and even helped put rocks in the foundation!!
We so much appreciate your prayers for our family. Jack is doing well in boarding school. Kendra and Jeremy are expecting their first child in July here in Tanzania. Harmony and Phil and Kaitlin and Andrew are well in Portland, OR, though we continue to pray for Phil to find permanent work.
Pray for our 35 church planting families as they carry the Gospel to unreached places. Also, pray for the 6 families who are studying in the current church planting course.  Please pray for our safety and protection at home and as we travel.
Thank you for continuing to give financially in these difficult days. As we see the news, it should spur us on to carry the message before that great day when Jesus will come through the clouds!!
Sincerely,
Gary, Judy and Jack Woods